Yodeck presents a game-changing solution that allows you to create high-quality digital signage even with a limited budget. Even with free signage software, you can effectively convey messages, promote products, and engage viewers in a dynamic and impactful way.
The power of digital signage
Yodeck's digital signage is a cost-effective solution and offers business enhancement with free signage software. It provides an immersive and captivating medium to share information, boost brand visibility, and influence customer behavior. Whether creating retail digital signage, digital menu boards for a restaurant, or office digital signage, dynamic displays can revolutionize how you communicate and engage with your audience.
Introducing Yodeck's solution
Yodeck is a robust and user-friendly digital signage platform designed to empower businesses of all sizes, including those with modest budgets. Yodeck's philosophy centers on making digital signage accessible and effective for everyone, regardless of financial constraints.
Key features of Yodeck
Simplicity at its best
Yodeck's interface is built for ease of use. You don't need to be a design expert to create engaging content. The platform's intuitive drag-and-drop design allows you to create stunning visuals effortlessly.
Free plan to start
For those just starting or working with limited resources, Yodeck offers a Free signage software plan. This plan enables you to manage one screen, upload images and videos, and schedule content. It's the perfect way to dip your toes into digital signage without financial commitment.
Templates galore
Yodeck provides a rich library of customizable templates tailored to various industries. From retail to hospitality to corporate communications, you'll find templates aligning with your goals.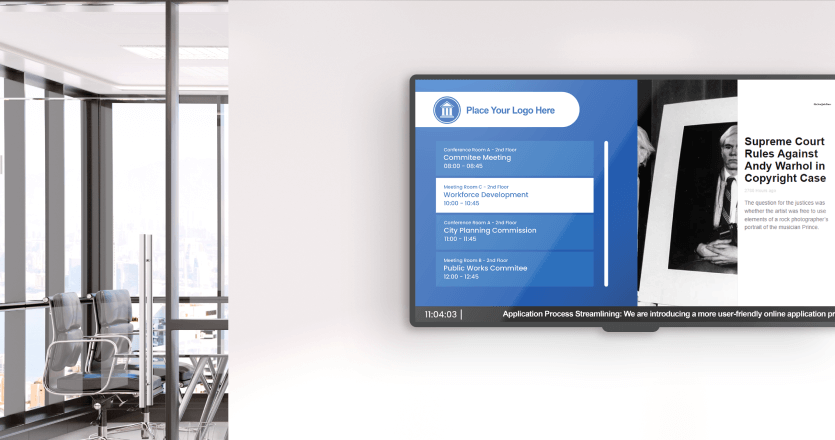 Scheduling and remote management
Set up content schedules in advance and manage your displays remotely. This feature is handy for businesses with multiple locations.
Media integration
Enhance your digital signage with images, videos, and animations to create a dynamic visual experience that captures attention and conveys messages effectively.
Affordable pricing plans
While having the signage software of Yodeck is an excellent starting point, you can also choose among flexible pricing plans designed to upscale your business with more advanced features.
Standard plan
Best for users getting started with digital signage with growing needs, the Standard Plan offers extended scheduling options, Screen Layouts with Zones/Regions, and Free Stock Images & Videos.
Pro plan
Stepping up, the Pro Plan is Best for growing teams managing such content. Provides advanced media scheduling, real-time monitoring, and access to priority support, ensuring you're always equipped to deliver exceptional signage experiences.
Enterprise plan
Tailored for organizations with advanced security needs, the Enterprise Plan includes Granular Access Control with Workspaces, customizable user roles, and Player Storage Encryption.
Inspiring templates
Yodeck's various free digital signage templates can cater to every user's need, ensuring a seamless and captivating content creation experience.
Featured product showcase: Showcase your star products with vivid imagery and compelling descriptions to entice customers and drive sales.
Event countdown: Create anticipation for upcoming events by displaying a countdown timer, engaging your audience, and building excitement.
Menu specials board: For restaurants and cafes, the Menu Specials Board template enables you to effortlessly display your daily specials, enticing patrons to try something new.
Social media feed: Keep your signage content fresh and dynamic by creating engaging social media walls. Share your latest posts, reviews, and customer interactions.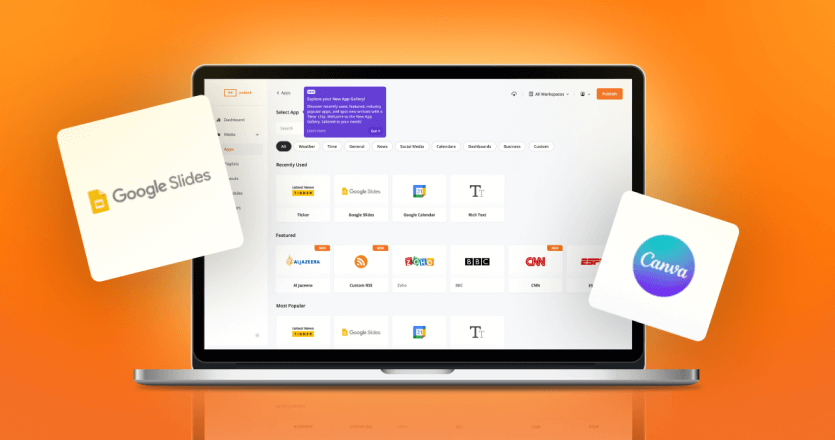 Free digital signage tools to use with Yodeck
Here are two of multiple free signage software apps that seamlessly complement Yodeck, enabling you to create captivating displays that engage your audience:
Google slides: One of the simplest ways to create the cheapest digital signage is by utilizing Google Slides. This free tool allows you to design slideshows with images, text, and animations. Once you've created your content, simply set up a computer or device connected to a display screen and access the presentation in full-screen mode.
Canva: Canva offers a range of free templates designed specifically for digital signage. With its intuitive drag-and-drop interface, even those without design experience can create stunning visuals. Canva provides a variety of elements, such as images, icons, and fonts, allowing for personalized and professional-looking signage.
To sum up
Remember, creating impactful digital signage isn't just about the technology – it's about engaging your audience and conveying your message effectively. With Yodeck, you're not just getting a platform; you're gaining a partner in enhancing your communication efforts. So, whether you're a startup, a local business, or a growing enterprise, Yodeck is here to help you make your mark in digital signage, regardless of your budgetary constraints.