There's no denying that school campuses can be crowded, busy places. The right signage can help staff and students find their way around, prepare for classes, and stay safe in an emergency.
Wayfinding signage tells people where they are and where they need to go. It's essential whenever a large group of people has to navigate a space. In schools, these navigational signs can also play a role in security, health and hygiene, and emergency procedures.
In this article, we tell you how wayfinding signage can be used in schools and show you how you can use digital signage to upgrade your current systems with Yodeck.
What is Wayfinding Signage in Schools?
Wayfinding signage is also known as navigational signage. Essentially, it helps people find their way around—whether in a town, stadium, hospital, or an educational institution like an elementary school, high school, university, or college.
Within a school setting, these wayfinding signs can have different purposes:
They can tell a student, staff member, or visitor where they are and where they should go next.
They can give more information about the environment, for example, showing the way to the nearest accessible entrance or bathroom.
They can provide guidance and safety instructions.
Once people have used wayfinding signs to orient themselves, regulatory signs can also clarify the rules for how people should navigate the space safely and considerately.
For example, if there's a fire door between the hallway and a certain school department, a regulatory sign on the door will remind people that they need to close the door behind them. This is an important part of protecting students. 
How to set up wayfinding signage to keep students safe
When you're setting up a school wayfinding system, start by thinking about the different stages of the journey from the parking lot to the classroom. Chances are you'll need some signage to help people get their bearings at the start of each new stage.
Although even the youngest children will learn their way quickly, remember that new students may join the school throughout the year and that visitors, parents, and substitute teachers may also have to find their way around. Signage can be the key to keeping these people safe and on track.
Here are the essential wayfinding signs that every school should have.
Welcome signs
Every school needs a sign to welcome people and let them know that they've reached their destination. For campuses with multiple entry points, it can also be helpful to provide a map showing exactly where you are in relation to each building.
As well as being friendly and communicating the values of the school, a welcome sign should also explain the procedure for visitors signing into the site. This is an important part of protecting students since it directs visitors to a place where your staff can confirm that they have the right to be on campus.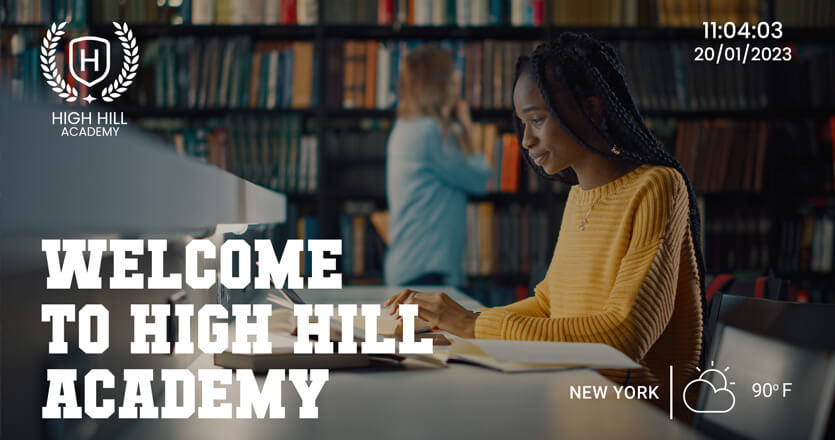 Directional signs
Inside each of your school buildings, you'll also need signs that let people decide if they're in the right place and tell them where to go next.
A sign at the door might point to the reception desk or say which departments are on which floor. You can then add a sign at the top of each staircase to remind people which rooms they can find in each hallway.
Making sure that people can navigate the different parts of the school is important for safety because it helps to stop students from becoming lost on their way to class. If they do lose their way, it also makes sure that they know where to go to find help.
Identification signs
Schools use signs to identify each classroom in a building in a way that corresponds to the students' timetables or schedules.
Some identification signs—like those for bathrooms, fire extinguishers, or emergency exits—are legally required. Others—like signs for the library, teacher's lounge, or cafeteria—are simply there to help students move safely, efficiently, and independently through the school.
School regulatory signs
As well as showing them how to reach their classes, school signage tells everyone in the building about the rules that are in place to keep them safe.
For example, to prevent bottlenecks and delays when many students are moving around, signs can remind people to keep to the left side of a staircase or avoid congregating in a certain area.
Signage can also help to protect staff and students in another sense. In the wake of the covid-19 pandemic, we're still acutely aware of the importance of hygiene in schools. Regulatory signs can be used to remind students to wash their hands correctly or cough into their elbows, to indicate where they can find hand sanitizer, or tell them where to go if they start to feel unwell at school.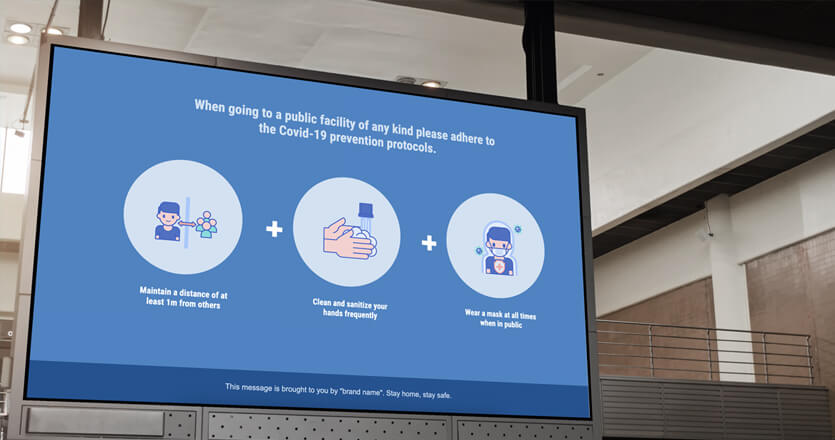 How digital wayfinding signage can be used in schools
Traditionally, school wayfinding signage has been physical and static. Schools have used plaques with classroom numbers or taped-up temporary signs, for example, to remind students to be quiet in the halls while others are sitting tests.
In comparison, digital wayfinding signage is robust, customizable, and flexible. With Yodeck, you can help to reduce stress and make the school safer for everyone. Here's how.
Digital signage lets you give more information to staff and students
Yodeck's content management system (CMS) lets you set playlists as well as static screens. This is a great opportunity to give people more information about your school without creating a sign that's cluttered, difficult to read, or even overwhelming.
Instead of just saying 'Hello', your welcome signage could now show a playlist including:
Information showing visitors where to go or guiding them through school security measures
The time and date, helping students to keep to their timetable
Appointments from the school's Google calendar showing events that day
Advertisements for events like orchestra recitals or sports
An app with the weather forecast for the day so students can plan accordingly.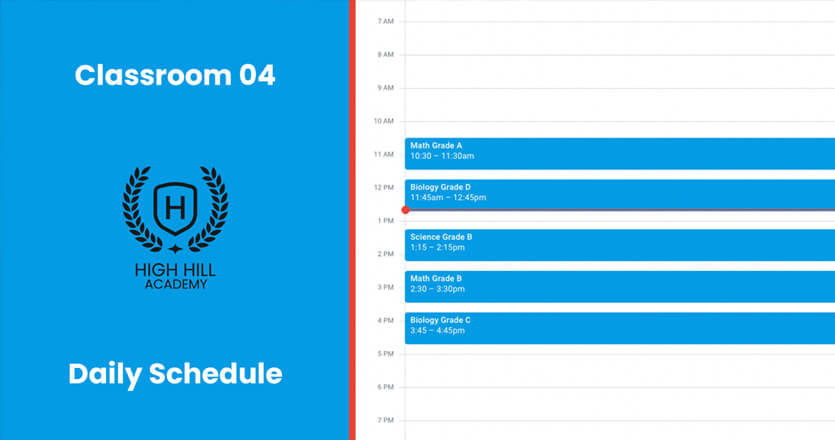 These custom signs are also useful in school settings because they make sure that everyone in the building has the same information.
You might have members of staff who are too busy or move around too frequently to check their emails. Your students might not be permitted to check their phones during the school day. But displaying essential information on a digital sign is a reliable way to keep everyone informed, which is ultimately a step towards keeping them safe.
Digital signage adapts to multi-use spaces
When you use flexible digital signs rather than traditional plaques or floor graphics, you can switch signs on or off as needed and display different screens in different parts of the school.
First, this can help different departments to remind their students of the information that's relevant to them. An update on the upcoming French field trip isn't very useful in the chemistry department, but a targeted reminder in the right place could make all the difference to the student who still needs to hand in their permission slip.
Second, digital signs are also great for multi-functional rooms in a school. You might have science labs which are used by multiple faculties, or a drama classroom that's also used for choir practice. By using a digital sign to display the timetable for that room, you can reassure students and staff that they've come to the right place at the right time.
And flexible signs are also helpful in high-traffic areas. During the time between classes, you can use the signs to remind students to keep moving to avoid a crush. Then, during the rest of the day when there's more time to stop and look, you could display another screen aimed at building community and school spirit. You can even let the students get involved in creating these signs, to help their learning and give them a sense of ownership of their space.
Digital signage reminds people of the procedures in an emergency
Teachers and schools have a duty of care toward their students. It's a serious responsibility and, in an emergency, you want to do everything in your power to protect the people in your school.
Digital signage can also help you to prepare for the worst-case scenario.
Yodeck's template layouts include slides about the emergency procedures for a fire, an active shooter, or a natural disaster. As long as it's safe to do so, an administrator would be able to use the Yodeck CMS to send an emergency message to every screen on campus. This helps with evacuation—a scenario where wayfinding is imperative—and protects the people on campus while they wait for help to arrive.
Easy, Affordable Wayfinding Signage for Schools
Digital wayfinding signage can be a valuable addition to your school's health and safety procedures. At Yodeck, we make it easy for schools to install this technology.
Our digital signage systems are:
Affordable, with the first screen free forever.
Robust enough to be used in high-traffic areas like school corridors and reception areas.
Flexible, with the ability to customise your screens and add as many displays as you want.
Intuitive, with a no-code, easy-to-learn CMS and hundreds of template layouts and apps to choose from.
Secure, with rigorous data protection measures to keep your information safe.