We all know that office signage is the secret ingredient to transforming your workplace from ''just a place to work'' into a captivating and enjoyable environment. Not only does it help with effective communication, but it also adds to the overall atmosphere of your office. Let's explore together, one by one, 10 inspiring concepts to rejuvenate the ambiance of your workspace. Additionally, we'll provide some extra tips on how to create visually stunning and impactful digital signage by following the best practices.
Dynamic wayfinding signs
Put an end to confusion! Effortlessly guide your colleagues and visitors with captivating interactive wayfinding signs that seamlessly blend information and enjoyment. Embrace the power of touch screens, enabling everyone to navigate your office space like a pro.
Video walls
Transform your common areas or conference rooms into captivating spaces with stunning video walls. Whether you're displaying company updates or inspiring videos, these impressive installations will grab attention and infuse your office with dynamic energy.
Appreciation wall displays
''Put them in the spotlight!'' Design captivating digital signage boards that proudly display employee achievements. Henceforth, by featuring their photos, names, and remarkable milestones, you'll uplift morale and turn your office into a hub of celebration and success.
Event calendars
Design dynamic digital signage displays that announce upcoming office events, meetings, and social gatherings. By incorporating all the details, precise timings, and locations, you ensure that nobody will miss out and boost anticipations!
Digital menu boards
''Treat your eyes!'' Elevate the ambiance of your office cafeterias or break rooms with captivating digital menu boards that go beyond just listing food. Display mouth-watering daily specials or nutritional information, keeping everyone informed and engaged.
Safety & emergency alerts
Make safety your top priority! Harness the power of digital signage to communicate important safety messages and emergency alerts effectively. Whether showcasing evacuation routes, sharing safety protocols, or delivering real-time notifications, ensure that everyone is well-informed and protected.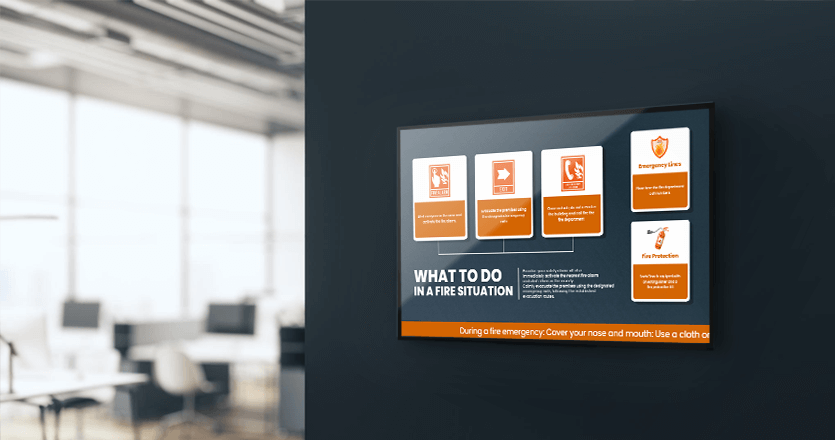 Motivational quotes & messages
Brighten your office with digital signage design displays showcasing positive messages, motivational quotes, or significant facts. Strategically place these wall screens in high-traffic areas or break rooms to deliver a daily dose of inspiration!
Social media walls
Unleash the power of connection! Engage your office team by showcasing captivating digital signage designs that incorporate real-time social media feeds relevant to your company. Highlight glowing reviews, employee testimonials, and trending branded hashtags to create a buzz and foster a strong sense of community.
Data dashboards
Unleash the power of data! Seamlessly blend digital signage with dynamic data dashboards to present real-time metrics and key performance indicators. Foster an environment of friendly competition, encouraging them to track progress and embrace a culture driven by data insights.
Personalized welcome displays
Leave a lasting impression on visitors with mesmerizing welcome screens that showcase your company logo and deliver a personalized message. Set the stage for professionalism right from the entrance, leaving visitors engaged and happy!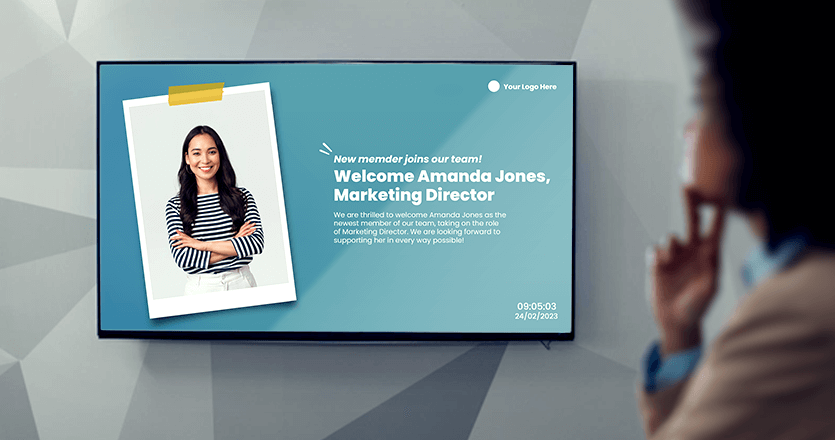 Some tips for best practices for Office Signage Design
Less is more, so let creativity soar!
Embrace a clean, clutter-free signage layout that promotes effortless readability and allows creative elements to shine.
Picture-perfect moments every time!
Embrace high-resolution images and videos that deliver a visually striking impact, leaving a lasting impression.
Stay true to your brand's essence!
Infuse your signage with brand colors and fonts, creating a consistent and unforgettable visual identity.
Size it right!
Adjust font sizes based on viewing distances, guaranteeing easy readability from any angle or distance.
Bold and bright, colors that ignite!
Opt for easy-to-read fonts and employ contrasting colors that enhance visibility and grab attention.
Revamp the old, and embrace the new!
Regularly refresh and update your signage content, ensuring it remains fresh, relevant, and captivating to captivate your audience.
To summarize, with these ten revolutionary office signage design concepts at your fingertips, coupled with expert techniques, you are ready to transform your workspace into an enchanting realm bursting with energy. Unleash your creative prowess through inspiring office signage that captivates and astounds you. Step forth fearlessly, harness the boundless potential of office signage, and propel your workspace into a realm of dynamism and unforgettable allure. Get ready to embark on an extraordinary journey into the world of office digital signage like never before!