Digital signs can help large groups of people navigate a complex space, show the most exciting news from an organization, and help build a sense of community. In fact, they're perfect for a university campus. With Yodeck, the opportunities for modern university signage on campus are endless. 
Here, we'll take you through some ways to use digital signage to help and support students and staff across your campus, including
Communicating important scheduling information
Helping people to orient themselves on campus
Building community and combating feelings of isolation
Keeping people safe
Why Digital Signage?
Unlike static signs, education digital signage is customizable and adaptable. You can use digital screens in different ways in different parts of your campus or even at different times of the day. 
This dynamism gives digital university signage some significant advantages over traditional signs, shields, posters, or placards. 
Digital signage is attention-grabbing. The movement of changing slides or video clips catches people's eyes, and displaying signs on bright LCD screens makes your content easy to read indoors or outdoors, in large or small spaces.
Digital signage is robust. Compared to temporary paper signs, a screen won't be ripped, stained, or fallen. And Yodeck works with any screen so that you can build the perfect solution for your space. 
Digital signage saves printing costs. Instead of printing new flyers for every student event, just update the content on your screen to show the latest social program. It saves paper, design time, and delivery costs. 
Now let's look at some practical examples of using this flexible signage solution to improve the campus experience for your students, staff, and visitors. 
Digital informational signage makes communication quick and clear
When large groups of people are using a space—whether that's students in different courses making their way to lectures, conference attendees going to talks, or visitors on a campus tour—they're sure to have questions about what's going on. 
This is where informational signs come in. These signs are there to answer questions and help people plan their day. As digital signage lets you cycle through information instead of displaying one thing, you can communicate much more information.
Another great feature of Yodeck's content management system is the calendar sharing feature, which lets you send your Google Calendar straight to your screens. Since you can display different information on different screens across your entire campus, each department can show its own events, or events across the university. 
You might also consider switching to adaptable digital signs to show:
Important information for new students registering on campus at the start of the semester
The opening hours and availability of school sports facilities
The timetable for conferences or events happening at larger venues
Menu boards in your student union, campus cafes, or canteens in your dorms and residence halls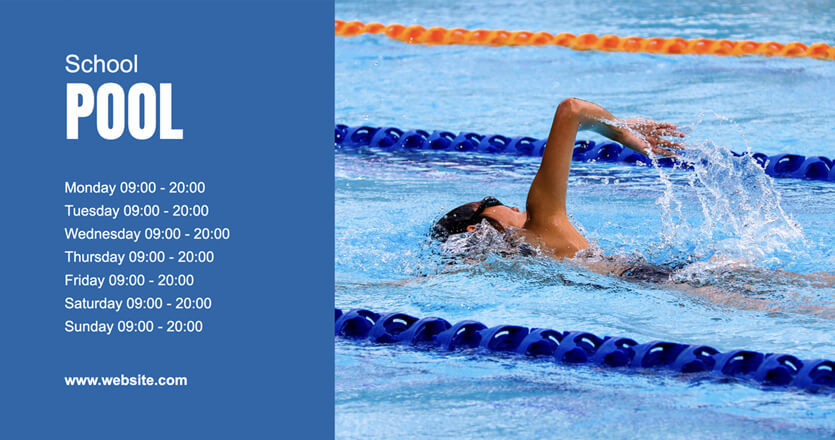 When you use digital signs to communicate important information, you help everyone take full advantage of the services, events, and facilities you offer. And when they're better informed, they'll feel more confident and they'll be able to use their time more efficiently, which ultimately improves their experience. 
Digital signs are adaptable and flexible
University campuses are full of diverse experiences. Within the same building, you might have tenured staff, PhD students writing chapters of their theses, undergraduates learning to research their very first papers, even teenagers considering if this university is right for them. 
One of the best things about digital signage is that you can change and adapt your screens to show useful content for students at every stage of their journey.
Take the campus library. Here, you can use digital signs to help students do their best work by showing them their options for study spaces. You could show the schedule for group study rooms and display the current opening hours so they know how long they can work. You can also supplement this informational content with more entertaining content—which can help reduce the stress of exams. 
For example, with Yodeck's playlist and apps, you could use digital signs in the library stairwells or social areas to show study, wellness, or mental health tips. Yodeck even lets you add a QR code to your screens, which you could link to an essay writing or revision playlist to help students concentrate. 
The possibilities are endless, and you can always have the option of adapting your signs to their audience so they can provide the most helpful information. 
Digital signs help to build community
School spirit is an important part of university life. In fact, the sense of community is one of the factors that many students consider when they're choosing where to study. You can use digital signs to foster this sense of belonging.
For example, you can use signs across campus to
Encourage students to support their school teams in sports or other competitions
Highlight good news from your campus, like breakthroughs in your science department or publications from your faculty
Celebrate your alumni, or even highlight current students who have achieved something remarkable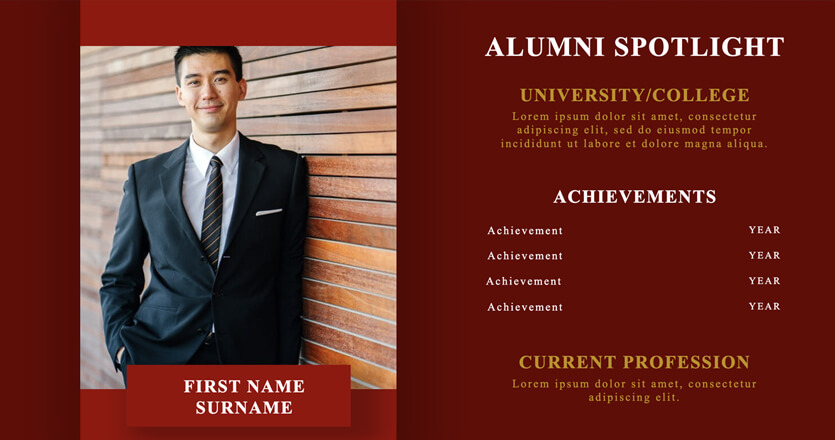 By using your school colors across all your signs, you can use your screens to further strengthen the sense of your school's identity and help students connect. Advertise events from different societies or residences to encourage students to meet new people and try new things, which will help them to feel like they're putting down roots. 
Also use your digital signs to make students feel supported and ensure they know where to go if they need extra help. For example, provide the numbers and addresses of student support services to help with homesickness, exam stress, money problems, or any other issues your students might be facing. 
It's also worth knowing that, with Yodeck, you can schedule different screens for different times of the day. This means that you can display, for example, the number for a listening service after student services close for the day. 
Whatever the needs of the people on your campus, digital signage lets you respond. This is a practical way of improving the university experience for everyone. 
Navigational signage makes campus wayfinding easy
University campuses can be massive, sprawling places. Whether your campus has many smaller buildings scattered throughout a city or it's housed in several large buildings, people will probably need some extra help finding their destination.
This is where wayfinding signage comes in. Digital signage means you can display more detailed maps or plans, and even add more information if you know a large number of visitors will be trying to navigate a certain area—a definite upgrade for your campus. 
Digital wayfinding signage is particularly useful when you have a multi-use space, for example, if lecture halls used by staff and students during the semester become a theatre space for a summer school when the students aren't there. Instead of taping over signs for the matriculated students with temporary signs for the summer school, Yodeck lets you push a new screen with the latest information whenever you need to.
And when fewer people become frustrated—or even lost—when they're moving around campus, they feel welcome and leave with a more positive impression. 
Digital health and safety signage keeps people safe
Digital signs can also help you fulfill your duty of care to the people on your campus. 
Mark dangerous areas
You can use digital signs in places where it's not always safe to go without PPE. In an educational institution, that might mean placing a sign at the entrance of a science block to advise people about safety procedures before a particular lab. This could also be useful in art schools, for example, where there are facilities for dangerous crafts like glassmaking or metalwork. 
Protect in emergency situations
Because Yodeck's digital signs are controlled from a central account, you can also set screens for emergency alerts that you can push to every screen on campus with a few clicks. Then, if the worst should happen, you can communicate the proper evacuation procedures to everyone on campus almost instantaneously. 
Keep students healthy
Use your digital signs to remind students to sanitize their hands, avoid shaking hands, or stay home when they're sick. You could also consider using your signs to raise awareness of common illnesses and alert students if there's an outbreak on campus.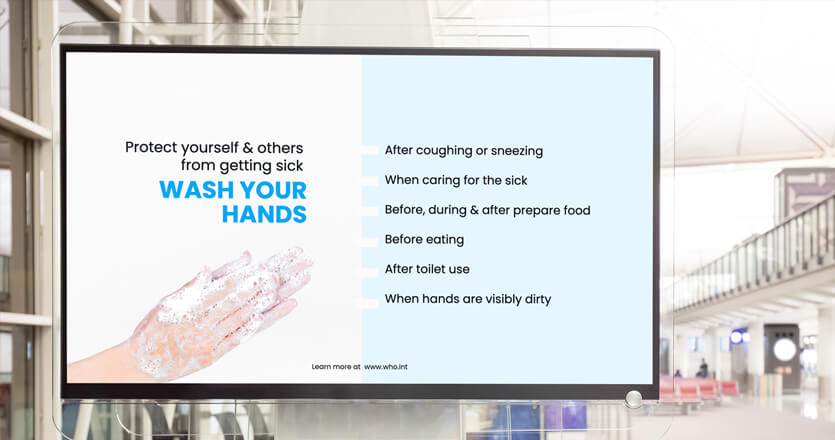 All of this improves your university campus by helping keep people safe—whether you're facing an emergency or just encouraging the day-to-day habits that keep everyone healthier and happier. 
Case Study: How New York University Found Innovative Uses for Yodeck's Digital Signage
New York University's Shanghai campus has been taking advantage of Yodeck's features with its clean-air project. NYU's researchers needed a way to visualize and display live data from air quality sensors on screens, and Yodeck was the perfect solution. 
Yodeck's digital signage solution, run through the Raspberry Pi computers the researchers had on hand, was perfect for NYU. The screens didn't require costly hardware, and so they could be set up quickly to make the latest air-quality data available to everyone on campus. And because Yodeck could display a live feed instead of a series of slides, they were able to show current, uninterrupted data throughout the day.
The clean-air project also required researchers in Shanghai to partner with a team at the New York campus on the other side of the world. Yodeck's CMS made data sharing easy. Information could be processed in New York and pushed to screens in Shanghai instantly.
What's more, if the project is ever expanded to another NYU campus, Yodeck is easy to scale.
Read more about how NYU displays live data with Yodeck here. 
Yodeck: Unbeatably Easy Digital Signage for University Campuses
Don't underestimate the ways that signage contributes to the way that people experience your university campus. Yodeck makes it unbeatably easy to upgrade that experience with modern university signage, making people feel more at home, helping them take advantage of everything you have to offer, and keeping them safe.
It couldn't be easier to start using digital signage on your campus. Do it in three steps:
Order Yodeck media players to plug into your screens. Your first screen is free forever, and you can scale up to as many screens as you need.
Create your content or choose from our library of templates and widgets, then use our CMS to push the content to whichever screens you choose.
Learn today what Yodeck's modern university signage can do for your campus.