While the humble chalk piece may have served you well over the years, it's time your food truck menu board gets a digital revamp. You serve up your food in style. Why not show it off in the same way? The best part? Creating a state-of-the-art menu display has never been easier or more affordable. 
An electronic menu board for your food truck means convenience, flexibility, and visual appeal—the very qualities that make food trucks themselves so sought after.
The food truck industry has hit the sweet spot when it comes to food on the go—so much so that the industry is projected to grow to a whopping $25.3 billion in 2027. Digital signage is where to look to help you grow your slice of that pie.
Sure, that sounds great, but what about the setup costs? As it turns out, scintillating signage doesn't have to cost an arm and a leg. What's more, you'll likely see a return on any investment you make. 86% of restaurant business owners saw sales increase with digital signage—and there's no reason why food outlets on wheels should be any different. 
We're going to take you through why it's a no-brainer to get a digital menu board for your food truck, as well as the steps you need to make it a reality.
Read on.
Why Use a Digital Menu Board for Your Food Truck?
It's easy. It's cheap. And it looks great. And all that leads to reducing costs and increasing profits—and doing it all in style.  
Incorporating a digital menu board to your offering means you can:
Tempt your customers with your mouth watering menu items. We know you make fabulous food. Now it's time to show it off. Digital display means your food gets to launch its modeling career. Your juicy burgers, tasty tacos, and cute cupcakes never looked so good. And the irresistible appeal of those visuals translates into converting customers. 
Boost your brand's image. Digital display comes with a built-in professional flair. And you don't have to be a highly proficient graphic designer to come up with an eye-catching digital design. Yodeck offers these professional menu board design templates that are easily customizable. (Of course, you can also start with a blank slate—up to you!)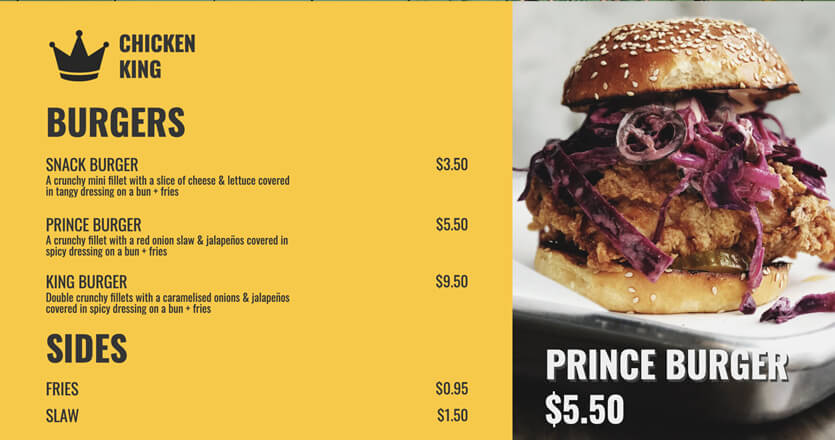 Drive sales. The stats are in—19% of people make impulse purchases after seeing a digital sign, and customers spend 30% more time browsing products after coming in contact with digital signage. When it comes to the food industry specifically, 80% of industry professionals think digital signage for food and drink promos leads to increased sales, upselling and cross-selling. It also increases the likelihood that a customer will make a purchase. 
Be in complete control of your menu display. So those jalapeno poppers have just sold out? Gone are the days when you have to get the chalk out and try your best to draw a neat line through the menu item that's no longer. A digital menu board means changing things up whenever you need it! Want to revamp your menu on the daily, run promotions, or include a quote of the day to draw your customers in? It's never been easier.
Flex your creative marketing muscles. Digital signage makes it so easy to promote a new menu item on one day and another on the next. Want to celebrate your loyal customers with a reward? Or get festive with a daily happy hour? Because digital menus are so versatile, it's easy for you to test out marketing strategies without too much of an upfront commitment.
Apps for the win. Effortlessly uplift your display by including apps that show the time and date, scrolling text, or a custom app of your own. (Head here for the full menu of apps from Yodeck.) 
Link your online presence to your physical presence. By incorporating easy-to-generate QR codes into your menu, your customers can view your menu on their own devices. And that immediately connects them to your website. You can also include social media widgets to broaden the reach of your digital marketing campaigns.
Make sure your customers don't get bored in the queue. A problem we all want to have: too many customers. When your magnificent digital displays reel them in, this may be your dilemma. 
But that means line-ups.
But don't fret. Here's where digital signage can help again! Providing your customers with entertainment—either through devising your own original content or streaming from another platform (a local news stream is a great option)—means they won't move out of that line until they've placed an order.
Team up with other businesses. Maximize your profits by partnering with other local businesses. Use your digital signage to advertise the nail salon in your area, promote an upcoming music event, or show off a local designer's wares.
Manage all of your signs remotely. While your food truck is on the road, you can manage your signage from your Yodeck CMS. That means that if you have more than one truck out there, you don't have to be in multiple places at once to ensure that your signage is running as intended. 
Actually *save* money through all of this. Mind-blowing but true. While this kind of professional signage may have been prohibitively expensive in the past, it's now within reach of even the youngest and smallest of businesses.
How Do I Make a Menu for My Food Truck?
We'll leave the food choices up to you. But when it comes to how to display them, we can help.
For digital menu boards, three simple ingredients will get you cooking:
A Yodeck account. This will give you access to our digital signage CMS, which includes our digital menu templates. This is your launch pad and management center, where all the magic happens.
A digital signage player. Of course, we're fans of our very own Yodeck player. It's reliable, affordable and incredibly simple to set up. We'll preconfigure your player and connect it to your Yodeck software. Your only job is to link it to your screen and a power source and press "push." 
A screen. There are various options on the table. Use a TV you already have or explore everything from mounting a screen onto your truck or creating a stand-alone menu board (a *digital kiosk*) that you can display outside.
Add your own spice, and you're good to go!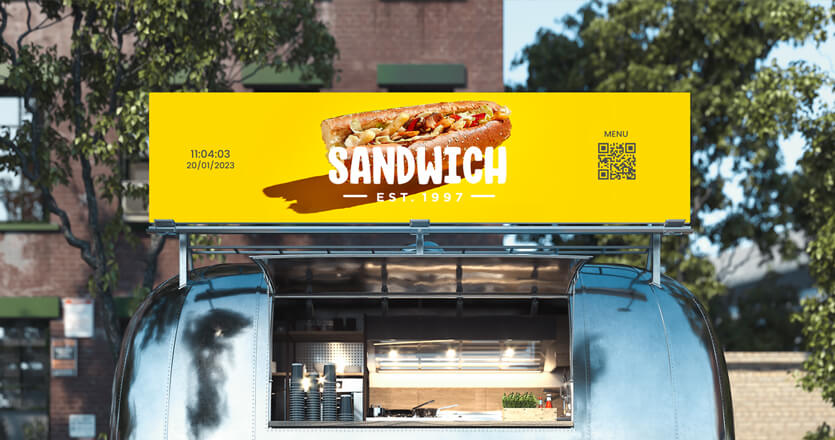 How Much Do Digital Menu Boards Cost?
To start exploring? Well, it's free. Try out any of our Yodeck plans at no cost to test our software.
Pricing starts from $7.99 per month for our Standard plan, going up to $12.99 for an Enterprise plan which includes advanced features like security encryption. 
That's software. Other costs to consider?
Hardware is next, which basically includes a player and a screen.
If you choose any annual plan, you get a Yodeck player for free! If you already have a media player, check to see if it's compatible with our software. (In all likelihood, it will be!)
When it comes to choosing a screen, there are various options on the table. You can opt for a simple solution like using a TV you already own or a more high-end commercial display that can take you into the thousands of dollars. It all just depends on what exactly you want to achieve and what your budget is.
We take you through the details of how to price out digital menu boards here.
The good news is that it's entirely possible to do this cheaply and achieve sophisticated results that drive sales and brand awareness.  
Ready to Get Started?
If you're keen to explore *our* menu, book a demo today. 
Our food industry clients include the big guns—Pizza Hut, MacDonald's and Domino's, to name a few. And we'd love to have you on the list too.
Whether you've just put your first truck on the road, or you've been serving up the goods for years, digital menus are a sales and marketing must. Let's get you up and running.