Having an attractive and effective menu board in your restaurant or café is crucial for enticing customers and boosting sales. It may be the most important part of your business since it can attract more customers and increase your profits. Additionally, it can save you time by keeping it updated, freeing you to focus on other important details. Luckily, with the rise of digital technology, traditional printed menus have given way to dynamic and eye-catching TV menu boards. When we refer to TV menu boards, we mean sleek screens that can display menu items, promotions, and other relevant information that will grab the attention of your customers. Additionally, they add a modern ambiance to your establishment, making it more aligned with the 21st century.
What are the advantages of digital menu boards?
Digital menu boards offer numerous advantages over traditional printed menus. Firstly, they provide the power of real-time updates, making it incredibly easy to modify prices, add or remove items, and promote specials or limited-time offers. Additionally, digital menu boards provide a dynamic platform to showcase high-quality images and videos, significantly enhancing the visual appeal of your menu items. Furthermore, they offer flexibility in terms of design and layout, allowing you to experiment with different styles and arrangements to find what works best for your establishment.
What makes a good digital menu?
Now, let's discuss what makes a digital menu truly shine. A good digital menu effectively communicates your offerings and entices customers to make a purchase. To achieve this, keep your design clear and simple. Avoid overwhelming your customers with excessive information and text. We suggest using the largest text size possible, easy-to-read fonts, and choosing colors that align with your brand identity. Opt for high-contrast colors that make the text easy to read from a distance. Avoid using animation, as while it may seem fun, it can be a nightmare for customers trying to read the menu and decide what to order. Organize your menu items logically and consider using high-resolution images to showcase your mouthwatering dishes. Remember to focus on the most important items. Above all, ensure your layout is intuitive and easy to navigate, so customers can quickly find what they're craving. If you find all this overwhelming, you can always use Yodeck's free digital menu board templates to simplify the process and achieve professional results.

Consider designing a menu board to encourage customers to ask questions
We don't want to confuse people just to make them approach the cashier and ask for more details. With an experienced cashier, you can work wonders. Simply put an offer without many details on what it includes and make them come and ask to learn more about it. If the cashier is experienced, they can persuade customers to buy the offer or even additional items on the side. Just be cautious not to overdo it, as it may cause confusion and frustration for customers, leading them to leave.
What size should a digital menu be?
When deciding on the right digital menu board for your bar or restaurant, it's essential to consider a few factors. First, think about how far your customers will be from the screen and ensure they can comfortably read the information. Additionally, consider the number of items you want to display. Avoid overcrowding the screen, as it can make navigation difficult for customers. Next, determine the placement of your TVs. The placement should be convenient and easily visible to customers. Ideally, the TVs should be no more than six feet from someone's eyes to ensure readability. If you have sufficient space, larger screens offer more room and are easier to read. However, if space is limited, strategically placed smaller screens can still work. When torn between sizes, it's often best to opt for the larger one. Alternatively, you can consider getting multiple smaller screens and positioning them conveniently throughout your establishment. Remember, the goal is to provide a clear and easily digestible menu experience for your valued customers.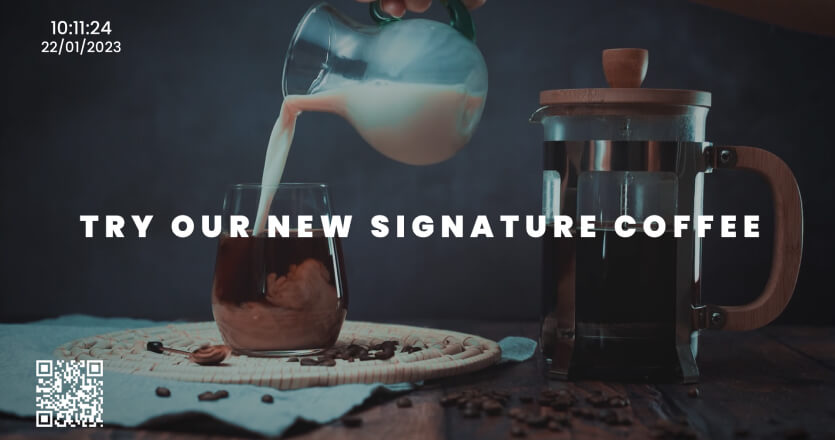 Where to place a digital menu board?
Choosing the right spot for your digital menu board is key to maximizing its impact. Consider foot traffic patterns, customer flow, and visibility from different areas of your establishment. Installing menu boards near the entrance, above the counter, or in high-traffic zones where customers tend to wait is a smart move. Remember to position the screen at eye level and ensure there are no obstructions, so everyone can easily feast their eyes on your tantalizing menu.
How do I turn my TV into a menu board?
Transforming a regular TV into a menu board is actually quite simple, thanks to innovative solutions like Yodeck. Yodeck's cloud-based digital signage software allows you to easily create and manage your digital menus. What's more, it is available at a very low cost. The best part? Yodeck offers free sign-up and even provides you with your first screen for free! To connect your TV, you'll also need a media player device.
Creating a perfect TV menu board for your restaurant or café doesn't have to be a daunting task. By following these five secrets, you'll be well on your way to captivating your customers and enhancing their dining experience. So, what are you waiting for? Unlock the potential of your restaurant or café with a perfect TV menu board and watch your sales soar. Happy menu board designing!