If you run a restaurant, bar or café, you know that hard work, determination and passion make up the key ingredients for success.
Moreover, you have to constantly innovate your menu in order to turn occasional customers into loyal patrons of your establishment. The last thing you have time for is designing eye-catching menus each time your dishes get a new culinary twist. So what is the easiest way to create a digital menu board? Using free digital menu board templates of course! That way all the design busywork gets done for you, like a pro.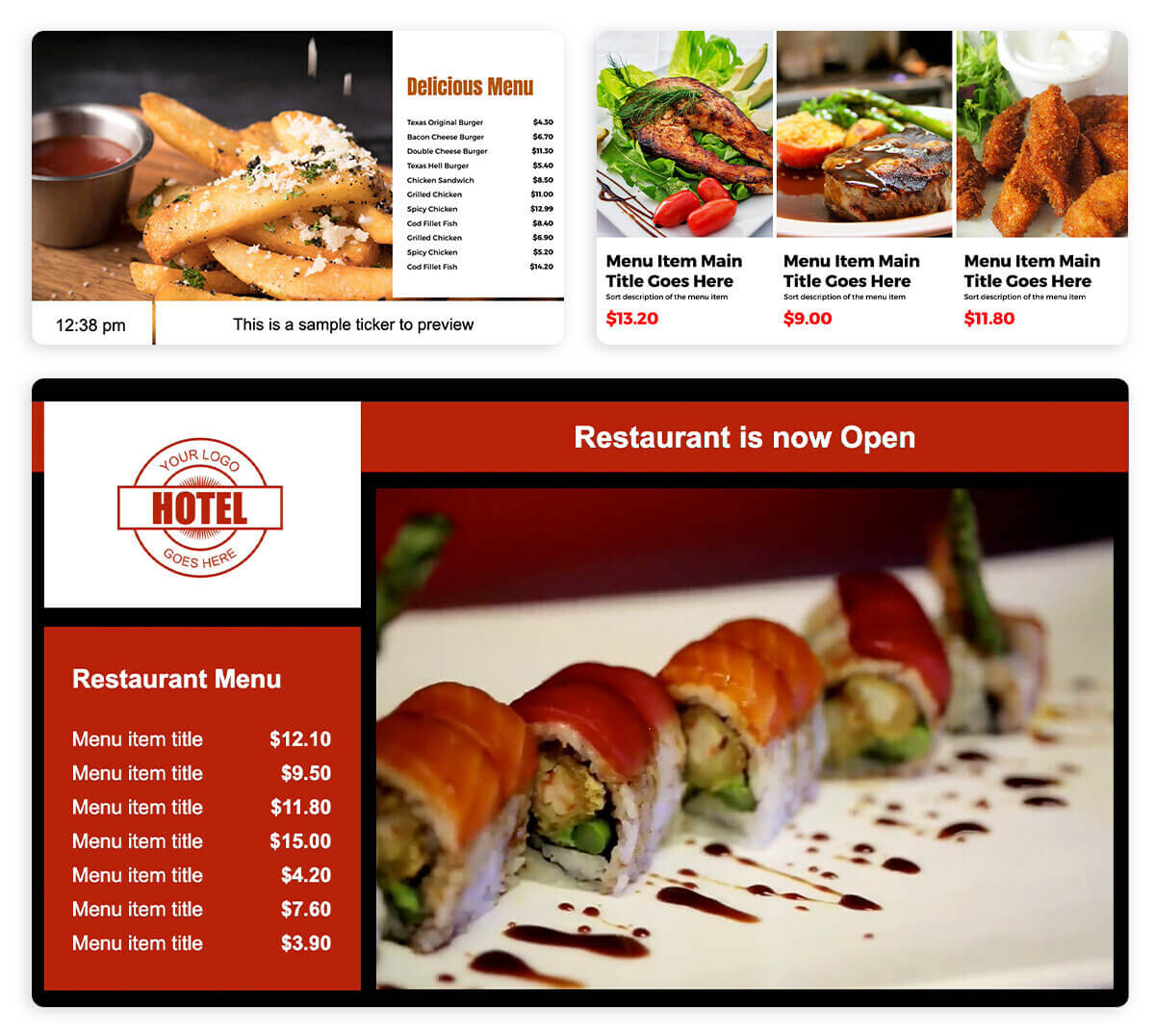 Why use digital menu board templates?
Ask anyone who runs digital signage in restaurants for tips that make content creation easier, and they will mention the benefits of using digital signage templates. Firstly, they're professionally designed. And that takes the guesswork out of creating a layout from scratch. Why waste time trying to design one yourself when a professional designer created them specifically for restaurants? Restaurant signage templates also help you save money since you don't have to hire someone to create them for you. And looks matter when it comes to digital signage. You want whatever's playing on your screens to look great, in order to get customers' attention. Once people focus on your attractive screen layout and see all your menu items, cross-selling and upselling happen automatically.
Secondly, you can customize digital menu board templates. That means you can add your own images and videos, change the text and add your branding. Most importantly, by customizing menu board templates, they reflect who you are and what your establishment brings to the market. There's nothing generic about them. In fact, they give you a strong design foundation upon which to add your personal touches.
Transition to digital from paper menus in seconds
Most importantly, digital menu board templates provide a seamless way of switching to digital signage from traditional paper menus. When you first install your digital signage screens, you want to reap the benefits as soon as possible. With restaurant signage templates, you can have your menu up on screen in seconds. All you need to do is type in the name of each menu item and the price. Your screens will then do all the promotion work for you.
Furthermore, you have the freedom and flexibility to change your menu and prices as often as you want. You'll revel in how liberating it is to not worry about printing costs. Additionally, you can update digital templates and advertise all the great local ingredients or fancy new drinks you serve, cost-free. So your customers can instantly see all the seasonal or special offerings of the day, using eye-catching videos and images or a QR code menu. Even if you don't have your own media, you can use free stock pics and videos in your digital templates. And digital menu board templates double as a useful tool to see which menu items attract the most attention and sell the most. Switch up what you display on screen, and see how it affects sales. Moreover, all this happens without paying a cent for printing or labor costs.
Who benefits the most from using digital menu board templates?
Restaurants, bars, cafés, diners, fast food franchises and cafeterias can all take advantage of free digital menu board templates. They will all experience the upselling and advertising boost that comes with using menu board templates. And all they have to do is list their menu items and prices. Additionally, schools and offices that sell food and beverages on-site will also save time and money by using them. You don't need an expensive digital signage setup to switch to digital menu boards. Any TV and a user-friendly, online content management system will do. Plus, templates make content creation something any employee can do quickly and easily.
How to set up our free digital menu board templates
We created digital signage templates that can be added and edited in seconds. Just follow our guide below.
Import the template you want to use
Sign in to the Yodeck Portal.
Select 'Layouts' from the list of options on the left-hand side of the dashboard.
Click 'Add Layout'.
Choose the 'Menu boards' tab, under 'Select template'.
Click whichever template you want to use.
Click on 'Import template'.
Type whatever you want to call your menu board template in the 'Name' field. You will find it in the 'Layout Settings' window that appears on the right.
Customize the menu board template
Customize each layout template zone (including each text, video, image, app or playlist area). Click on the area you want to change.
You will see a zone settings menu on the right. Scroll down to customize each element in that specific template zone. Pick a font, text size and color that reflects your branding. Also, you can replace that image, video or playlist with one of your own. Just scroll down. Additionally, you can add your own logo in the same way. Furthermore, you will have to change the placeholder text. Just click on the text you want to edit and type whatever you want in the template.
Click the 'Insert' button, if you want to add extra elements to the template. That happens by layering images, videos and more.
Finally, click 'Save' when you finish editing.
Digital menu board templates fit your business needs
What makes digital signage content templates so popular? The fact that they look great, can get customized in seconds, and engage customers. You don't have to fret over designing something that looks good and appeals to patrons, because professionals created these templates with your business in mind. They know how to leverage the power of visual communication in order to maximize your profits. Most importantly, the true cost of digital menu boards is quite lower than you'd think. You can actually save time and money since you don't need to pay for printing and design work. Added bonus? You help the environment and go paperless.