Whether students, staff, or one-off visitors, everyone using your school site needs to find their way around, get familiar with the rules, and feel safe and welcome. Electronic signage for schools can be the perfect tool to help them do that—and a whole lot more.
In fact, digital signage in your educational institution—whether a school, university, or college campus—offers the chance to revolutionize the way students, teaching staff, and administrators communicate.
Forget scruffy sheets of paper or outdated systems to share announcements and manage your site. Instead, with eye-catching and easily managed digital content from Yodeck, you can boost engagement and make everyone's lives easier.
In this guide, we'll show you how. Read on to discover what Yodeck's electronic signage for schools can do for you and how you can put it to use.
Why should I use electronic signage in my school?
There are so many good reasons to turn to electronic signage in your school. Here, we share some key benefits and some of the most popular use cases.
The benefits of electronic signage in schools
The reality is that teaching staff and administrators have a lot to manage every day. Electronic signage can help to reduce their workload while improving all those tasks and processes that keep your educational institution ticking over smoothly.
Here's how it can make your life easier.
Do away with paper notices, newsletters, and announcements. Paper posters and bulletins can get dog-eared and scruffy, and they need to be replaced every time you want to share new information. With electronic signage, you can streamline all your communications digitally and control them from a single screen. You'll be able to save paper, ensure all notices are quickly updated, and make it much more visually appealing.
Find a better way to manage key tasks. Many schools struggle with sharing crucial information between departments, teaching staff, and students. Room use is a classic example, and different spaces can easily be double-booked thanks to competing demands and poor visibility. Digital signage can put that information where everyone can see it to reduce disruption to teaching and improve the student experience.
Improve site security and safety. The safety of students and staff is rightly a priority for schools. Clear communication will always be key to that—and electronic signage can do a lot to help. Whether you need to share hygiene information across the site or quickly share intruder or fire warnings, digital signage helps you get the necessary information to the people in your school as soon as they need it.
Build a sense of community and shared values. Your school is more than a place where students learn. It's also a community with an identity and values. To make that more than just a catchphrase, you need to present that identity to your students and visitors. Electronic signage can help by welcoming visitors with chosen visuals and branding and enforcing those values across the site. That can be in the form of behavioral expectations or inspirational messaging.
Share key messages quickly. In a changing environment, there are always things that you need to communicate to the school body. Digital signs let you do that quickly and effortlessly.
Use cases for digital signage in education
Looking for specific ways to deploy electronic signage in your school? Here are some of the ways schools are putting it to use. With Yodeck, you can do all of this and more.
Welcoming visitors and students with branded signs. Let people know the kind of school you are and show them what behavior you expect from them.
Highlighting achievements. Did your football team win an important competition? Or has a student performed exceptionally well? Show them how proud your school is of digital signage.
Hosting lunch menus. Canteens need signage, too. With digital menu boards, you can showcase delicious meals while making sure your offerings are up to date.
Selling school merchandise. Do you have hoodies for leavers or a sports kit for sale? Advertise it on your digital noticeboard.
Helping people get around. Visitors, parents, and new students can need help finding their way around the site. Digital signage makes wayfinding easier by showing clear directions and site maps.
Sharing weather forecasts and news stories. Schools can use their electronic signage to share other useful information and content. For example, many schools share news feeds on their displays to give students a well-rounded sense of what's going on in the world.
Reminding everyone of key events and timetables. With so much going on in your school community—including every class's schedule—it can be useful to keep all the events on the same timetable. Digital signage can help share that crucial information with everyone.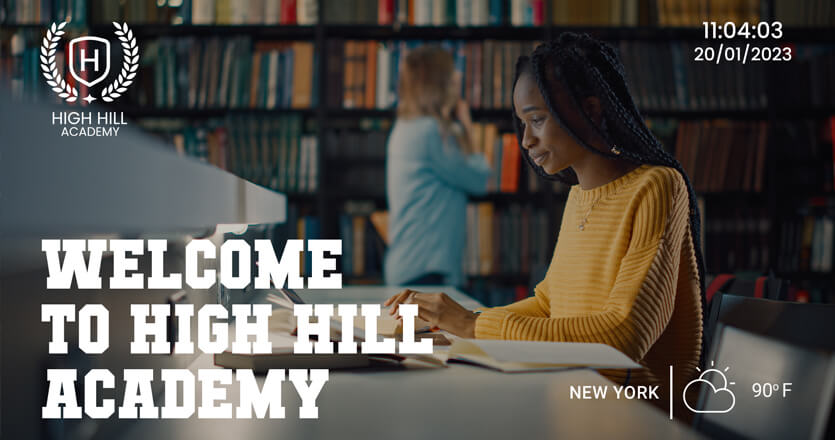 How New York University has been using electronic signage
Let's take an example of how electronic signage has been used in an educational setting.
New York University came to Yodeck for a solution that could enable them to display air quality data in real time. There was a problem. While they wanted the data to be displayed on the university's Shanghai campus, the researchers updating the screen were based in New York.
Yodeck provided an easy solution. All that was needed was a Raspberry Pi media player on the back of the screens in Shanghai. With those installed, the screens could be completely controlled from New York. The team found the whole process incredibly straightforward and the result has been a sleek, professional-looking display.
"If we expanded this project to one of NYU's other campuses, I would definitely try to continue to use Yodeck. And, similarly, I would definitely recommend it to anyone that had a similar necessity. I think it's a cost-effective and scalable solution to digital signage."
Caspar Lant (Student Project Leader)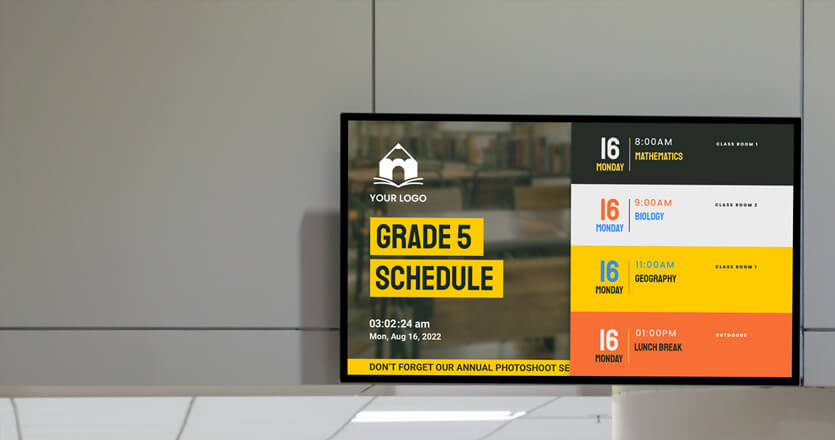 How to get started with electronic signage for schools
So, how do you make digital signage a reality for your school? At Yodeck, we make it unbeatably easy.
You can get started in just three steps.
Sign up for a Yodeck account. With a Yodeck account, you can get to know our digital platform and explore all the features of our content management system. For example, check out our templates, apps, and layouts—completely for free.
Order your Yodeck media player. Yodeck can work with any screen at all—you don't need to go out and buy lots of new hardware. All you'll need is a Raspberry Pi player to link your content up with your displays. They're included in any subscription plan with Yodeck.
Plug it in. Whether you need one screen or hundreds, all you need to do is connect your Raspberry Pi to your screen and you're ready to go.
Now, your only job is to create the content that you want to show on your screens. You can use our professional templates, build your own designs from scratch, and even get your students involved.
Get everything you need for electronic school signage with Yodeck
With Yodeck, you have everything you need to make electronic signage effortless for schools.
Manage all your content centrally. No matter how many screens you use, you don't need to worry about updating them all individually. Instead, with Yodeck, you can manage it all from a single device.
Effortlessly display any data and content you need. Stream video directly from your social media or integrate data to your screens through simple apps. Want to use Google Calendar to manage your room bookings? Or share your social media feed on-site? It's all easy.
Scale to as many screens as you need. Start with just one screen, then add as many as you like.
Get started in minutes. Don't worry about figuring out different wires and hardware. The Yodeck media player is ready to go straight out of the box.
Ready to get started? Book a demo to see how Yodeck works for you.