We can't even begin to tell you how exciting, fruitful, informative and fun this year's ISE, the world's biggest audiovisual show in the world, was for us. First and foremost, we had an amazing time meeting so many of YOU, our wonderful customers and partners. And as seasoned exhibitors (no newbie nerves this year!), we primarily focused on forging and strengthening meaningful connections with resellers, integrators and, of course, other tech companies. But we also loved the vibe – it truly energized us and provided a great forum for learning so much about the latest tech innovations across industries. Yodeck at ISE 2023? A true success story, and here's why.
Great vibes that fostered meaningful connections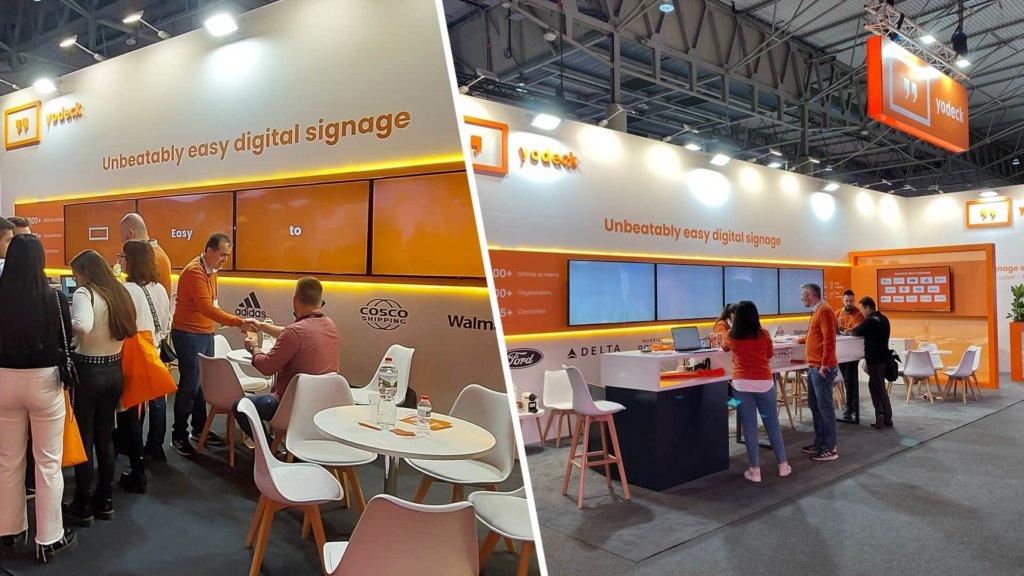 This year's ISE hit record-breaking attendance levels, with over 58,000 visitors from more than 150 countries. What does that mean? A whole lot of professionals excited about Integrated Systems and Audio Visual technologies – including digital signage. And our booth was buzzing. This especially and truly warmed our hearts, seeing as ISE constitutes one of the largest digital signage and DOOH exhibitions in the world.
Why did this reinforce our commitment to providing a superior service to all of you? Because having so many visitors interested in Yodeck validated us as an established, trusted brand that organizations, integrators and resellers from around the world recognize, respect and want to deploy. To think we started as a team of 3(!), it shows how our passion for easy, affordable and reliable tech got us from prototype to professional solution in just a few years.
Most importantly, we made a truly impressive number of meaningful connections with potential partners and discussed exciting new business opportunities in digital signage and DOOH advertising. Crucially, this meant we exceeded our business goal for Yodeck at ISE 2023, and can't wait to forge successful collaborations with new and existing partners. But we also learned so much about future innovations and trends from other exhibitors.
Yodeck at ISE 2023: What we learned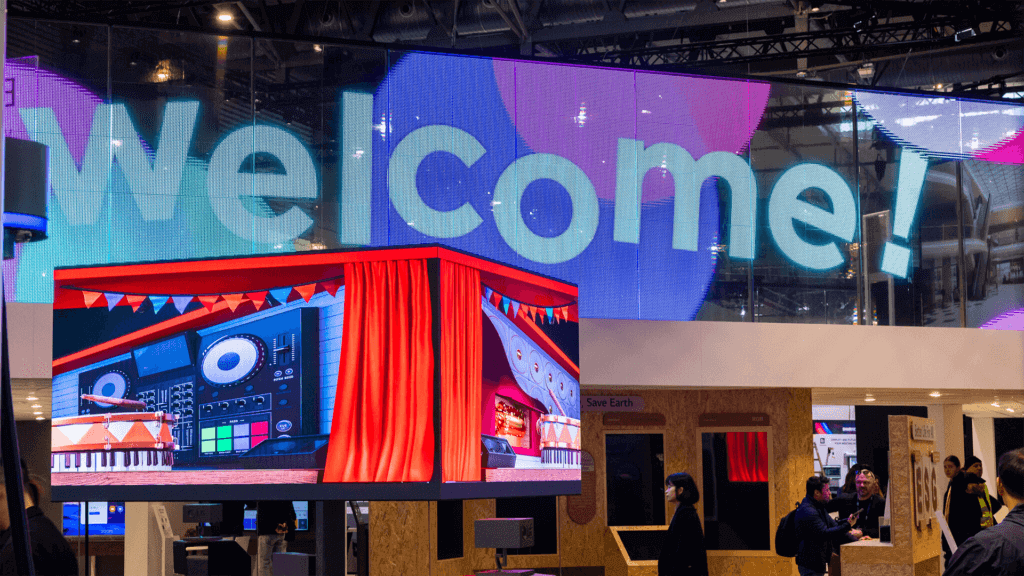 The level of genuine camaraderie between exhibitors thrilled us. From casual conversations to official meetings, we exchanged thoughts and experiences. Therefore, we also learned so much from each other. Critically, this made ISE a huge learning experience for all exhibitors. Which, most importantly, is an invaluable takeaway for all of us.
Firstly, exciting trends and topics included display technology, audio systems, lighting, control systems, network infrastructure, digital signage, and more. Also, roaming around the huge exhibition floor and chatting with people about their products opened our eyes to potential future trends. Additionally, we realized how a lot of different tech fields interconnect with each other, forming a tech ecosystem. We also got the opportunity to attend informative educational sessions and workshops. This offered us in-depth knowledge we can put into practice.
Secondly, what truly got our tech geekiness going was the opportunity to experience new products, hands-on. Simply put, nothing offers greater pleasure to us than playing around with new technologies. Give us a gadget, software or something that gives us a techie "aha" moment, and you'll have to pry us away from it.
Crucially, the same happened in our booth. A steady stream of people wanted to learn about and have fun with our solution, and experience our features. Our new Yodeck for Android and BrightSign products were especially popular. They also couldn't contain their curiosity about what the future holds for Yodeck in terms of new OS support (such as Tizen, WebOS, Windows). All in all, exhibitors and visitors gained valuable insight from each other – which offers the highest praise for any exhibition.
"Yodeck's participation in the ISE 2023, the world's leading AV and systems integration exhibition, showcases our commitment to innovation and leadership in the digital signage industry. And thanks to our amazing Yodeck show team, our partners and to the ISE, it was a great success!

Our partners' added value enables us to offer a complete signage experience to any industry, as a turn-key solution. Therefore, it was a true pleasure for us to meet and discuss business opportunities and potential partnerships with all the fine people of the Digital Signage and DooH industry.

Yodeck's continued focus on delivering top-notch easy-to-use products and services is setting the bar for what's to come, so stay tuned. We renew our appointment in Barcelona for next year!"

Nikos Xanthopoulos, Yodeck Channel Marketing Manager
Fun facts from behind the scenes
And of course we had a number of surprising ISE highlights:
A visit from King Felipe VI of Spain along with a number of other important dignitaries.
All our Yodeck-branded swag (such as pens, bags, chocolates and brochures) literally flew out of our booth.
But our Yodeck yo-yo turned out to be the true winner. High-tech pros going retro! We love it.
All the city's hotels, bars, restaurants and entertainment venues were full with visitors and exhibitors. Such a wonderful bonus, to boost the city's economy, too.
Yodeck at ISE 2023 showed us how bright the future of digital signage is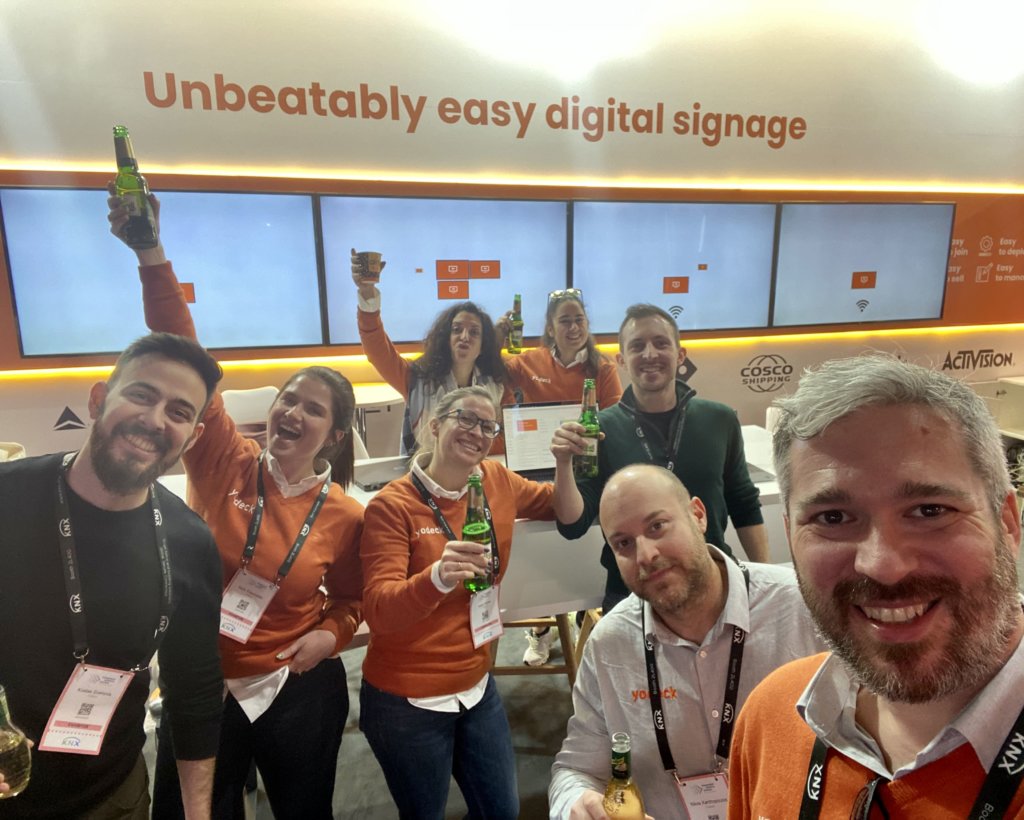 Although some people talk of an impending tech recession, the digital signage industry expects to experience the complete opposite. Firstly, experts such as AVIXA say it will be worth $44.7 billion in 2026, up from $35 billion in 2022. Why? Because all industries, from retail and restaurants, to manufacturing and education, depend on digital signs to promote offers, services, updates and even strengthen school and corporate culture. Essentially, it's an easy and inexpensive way of reaching customers, visitors, teams and students. Also, the fact that it relies on multimedia, puts it in prime position to attract people's attention – and increase revenue for businesses.
Secondly, all the tech innovations we saw at ISE – and which we will launch ourselves in the near future – means digital signage constantly evolves to become better, more flexible and definitely more interactive. As our CMO David Novick stated, its key strength lies in the fact that it's effective, affordable, easy to use, and offers a recurring revenue stream for AV and IT partners and resellers. As digital signage takes advantage of new tech capabilities, it only amplifies these benefits.
"For 2023 Digital Signs are now mainstream with an entire hall at ISE dedicated to the category. And I expect that we are just at the start of a massive growth wave."

David Novick, Yodeck CMO
Yodeck will be at ISE 2024
Of course we'll be there! We had such a productive, illuminating and fun time these past two years, that we're already planning for ISE 2024. We just can't wait, and already booked our booth (6G520), which is in an even better area of the Digital Signage & DOOH Hall 6.
In addition, we started working on how to best incorporate and showcase our new and innovative technologies, such as interactivity, as well as Yodeck for Tizen, WebOS and Windows. Crucially, we want next year's visitor experience to be even better than this year's. Finally, we hope all our visitors and all the other exhibitors had as wonderful and productive a time as we did. And we hope to see you all in 2024!