With the most wonderful time of the year upon us, it's also the perfect opportunity to make some holiday magic with your digital signage content. The festive season is in full swing, so here are the top tips for Christmas signage ideas. Most importantly, we have you covered whether you use your screens in offices, retail stores or restaurants. And crucially, we put together ideas that you can get on your screens quickly and easily. So go ahead and celebrate the spirit of the season with attention-grabbing holiday signage that will instantly warm people's hearts.
Check out these great ideas, tailored to your business sector:
Transform your screens with easy Christmas signage content
Of course, no matter what business you run, this season constitutes one of the busiest times of the year, too. Specifically, whether you're advertising seasonal promotions or trying to meet end-of-year KPIs, you have a ton of work to do. Therefore, your holiday signage content must be something fun and easy for you to get on screen. So, see how you can use free holiday templates combined with fresh ideas to get people hooked on your screens and feel the festive spirit throughout your office, store or restaurant.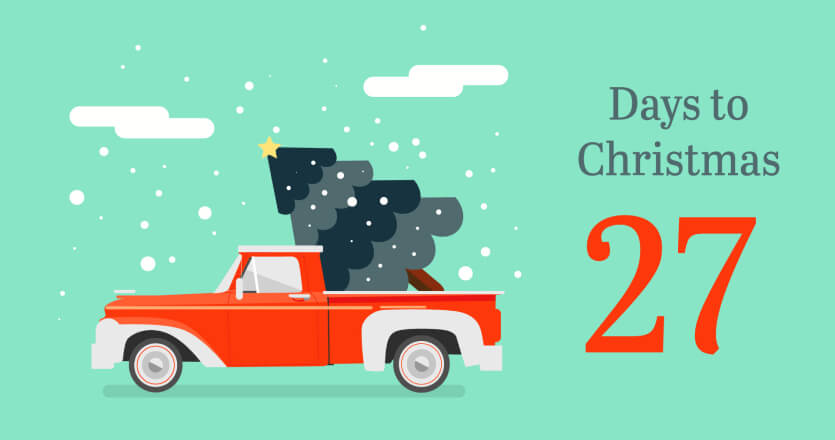 Make promoting sales easy, cheerful and inspiring
Firstly, you'll want to advertise your sales, promos and inspiring gift ideas. Combine people's frenzied shopping sprees with great Christmas signage and you'll definitely boost your sales. So why not create a playlist that includes all your promos in festive holiday season screen layout templates? It's so quick and easy, all you do is drag and drop your layouts into the playlist feature and you're good to go.
Most importantly, creating a playlist of holiday sign templates means your content hits those all-important attention-grabbing targets. For instance, a Christmas signage playlist de facto includes a theme, lots of images and videos along with your branding. Specifically, it tells an eye-catching story of all your deals, wrapped up in the perfect cheerful holiday colors and graphics. What's more inspiring than that to go ahead and make an extra purchase?
Add a human touch for the holidays – in seconds
Include festive greetings
Also, don't forget to include a few simple "Happy Holidays!" templates, just as a greeting. It helps convey that human touch which connects your customers to your business. It's so important to go beyond straightforward sales and promos signs and show you care about your customers as people, too.
Showcase charities you support
Crucially, if you've got a donation box for a charity at checkout, or donate a portion of proceeds to a non-profit, get that on screen pronto. Just add a template about it to your playlists. As well as showing your customers you care about your community, it makes people spend more. It also increases brand loyalty.
All in all, showing customers that you care about a good cause, makes them care about you too. Especially after the pandemic, conscientious shopping plays a huge role. And the holiday season is THE time when we all want to give back. So use your Christmas signage to show how much your business cares.
Create an inviting atmosphere for the holidays
Also, use a few of your screens to add to your festive decor. A photo of a tree ornament here, some digital mistletoe there – which you can switch up every few hours using a schedule – and you'll keep your store decor fresh and surprising. Most of all, it creates an inviting ambiance which shoppers will revel in. Moreover, that in turn leads to them enjoying their time in your store – and making more impulse buys. So make the most of holiday digital signage, inspire your customers and turn them into loyal return shoppers.
Make your menu boards as festive as your Christmas treats
Oh the festive cheer Christmas cookies can bring. Just one look at a tray of perfectly iced, beautifully colored sugar cookies tempts customers and puts them (and their wallet) in a moreish mood. Whether you run a diner, restaurant, café, bar or bakery, you've surely tailored your menu to match the holiday spirit. So, the trick is to get that Christmas yumminess sprinkled all over your digital menu boards. Especially considering that over 86% of restaurant owners see sales increase because of digital signage, the holiday season offers you an opportunity for extra profits on a platter.
But how do you find time while rushing to create a great menu and offer top-notch service to customers? Just use Christmas menu templates. They have all the holly and snowflakes already beautifully baked into them, so as to show off your menu items. And they inspire customers to supersize their order, too.
Also, they're fully customizable so you can add your branding, offers and prices in seconds. Then, add them to a playlist, and create a schedule so you show off the right menu at the right time. Most importantly, it only takes a few minutes and your screens will get both your customers and your bottom line in a festive spirit.
Show off your social media feeds
Hopping holiday after-work drinks, or post-shopping dessert stops make this time of year special. With everyone snapping photos of what they've ordered to post on social media, you can take advantage of customer-generated advertising.
Specifically, it only takes a few minutes to get your social media feeds onto screens. So put all those tags and mentions of your restaurant to good use. Happy faces and great-looking food – all because of what your restaurant offers. That's the kind of priceless reviews any business owner wishes for.
Additionally, maximize the power of your own social media posts. Shoot your own photos and videos to advertise your specials in social posts. Crucially, if done right (and it's not hard), you will excel at complementing your menu boards. Then, use a second screen, focusing on an attention-grabbing foodstagram approach. Don't forget to capture the holiday decor in the background, too.
If you cater or host holiday parties, shout it out early
It's peak season for parties of all kinds (and office parties can be a cash cow for you). So if you offer catering or venue hosting services, show it on screen. Just add photos and videos of past events with people having an awesome time to your playlists. It only takes a few seconds. Also, keep text brief and to the point when you upload PDF flyers to your screens that highlight info about your services. You want your photos and videos to do the selling for you, which is exactly what your Christmas signage will do. Remember, though, to start promoting early, so you get all booked up in no time.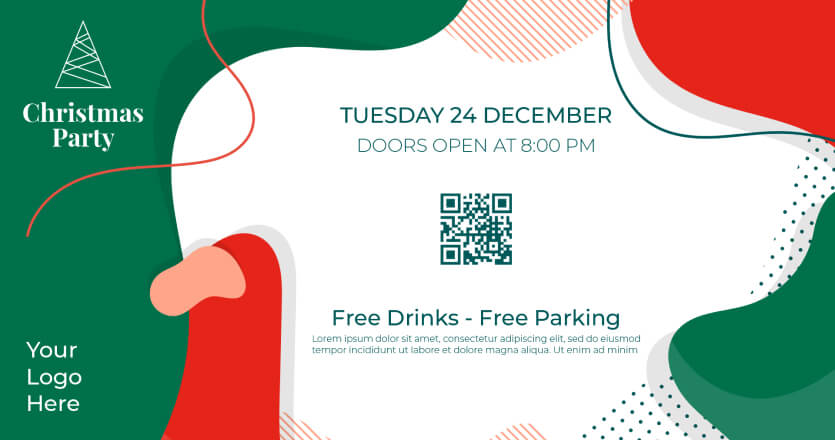 Forget about KPIs and focus on having fun
Your teams have worked hard all year to meet and exceed those all-important targets. So it's time to reward them with a ton of holiday signage that makes them feel how much your company cares about them. If they feel you care about them, they'll go above and beyond for you in the new year. So take down those data dashboards and replace them with these fun team-building content ideas for the holidays.
Promote holiday parties – with a twist
Surely you can use a great-looking layout template, customize it, and advertise office Christmas parties in minutes. But how about following that up with some funny photos from parties of Christmas past? Got a good-naturedly embarrassing video that never fails to make people chuckle? Use that, too, in a playlist and add a personal element to your holiday signage. Most importantly, new team members will look forward to all the fun and make sure to pencil that into their calendars in permanent ink. Crucially, that's essential for strengthening your corporate culture.
Make this year's Secret Santa unmissable
Getting silly gifts that adorn your workspace for the rest of the year is only half the fun. Most importantly, it's the mystery that surrounds the identity of each team member's Secret Santa that gets people excited. Why not use that to encourage more signups? By using a countdown app, along with photos of last year's most ridiculous gifts people still have at their desk, you start upping the anticipation – and the guessing game. Most importantly, it only takes a minute to snap a photo and upload it.
Also, shoot a few teaser videos with your smartphone of people enigmatically hinting at gifts they'll be giving their teammates. Then, upload those, too, with a quick drag and drop, to really up the hype. Get people talking, and you'll get people participating, too. Some fun watercooler conversation inspired by your holiday signage makes your screens an office highlight. Crucially, it makes teams even stronger.
Decorate with holiday digital signage
Fairy lights and tree ornaments make the whole office feel more festive. But so can your signage screens. Use your reception area signage TV to show a free stock video of a crackling fireplace, with snow lightly falling outside. Also, if you're anything like us, decorating the office for the holidays is a highlight of the season. So, again use your smartphone and shoot some heartwarming videos – along with any funny mishaps or bloopers. Then, alternate holiday templates of traditional greetings with these more personalized moments in playlists. You'll surely add to the fun, festive atmosphere.
Use your signage screens to amplify the holiday spirit
Christmas signage can be fun, easy and effective. Also, it helps your stores and restaurants get more sales, and it strengthens team-building in offices. Easy, fast and original ideas for holiday signage make your screens – and your business – stand out. Most importantly, it only takes a few minutes to crucially make customers and employees appreciate, enjoy and engage with your business.
Start the holidays with great-looking screens