When fans head to the stadium, there are some things they take for granted. They want to order food, find the way to their seat, and keep up-to-date with the score. But there's just one thing that can help do all of this and more. That's digital signage.
Stadium digital signage is fundamental to the fan experience during sports events. And it's not just the audience that benefits. As a stadium manager, sports team, or concession, digital displays can unlock opportunities for added revenue, deeper performance insights, and new sales.
In this article, we want to show you how. We'll cover the sorts of digital signage you need, how you can use it to engage fans, and some other uses you might not have considered too.
And along the way, we'll share how the team at RSC Anderlecht, Belgium's top football club, has been using Yodeck's digital display technology to improve the experience for fans and staff. (You can read the full case study here).
What is stadium signage?
Stadium signage refers to all of the different types of signs and displays that you'll find in and around a stadium. Sometimes these are digital, and sometimes, they're still plastic displays or notes scrawled on paper. 
Whatever sort of displays you're using, different types of signage will typically include:
Advertising screens and billboards, whether inside or outside the stadium.
Menu boards, for any food or refreshment that's available. Often these will be specific to whichever food concessions are present in the stadium.
Wayfinding and security signage, to help audiences reach their seats, find the restrooms, and stay safe.
Scoreboards, so that fans can keep up with the game—the very reason why they're here at all.
Monitors for team analysis. While these won't be seen by the public, they can be used by sports managers to improve the team. More on this below.
Right now, in most sports arenas and event venues, all of these types of signs are managed separately. Some, such as wayfinding signs, won't have been updated or even thought about for years. Meanwhile others won't be designed with the audience's experience in mind.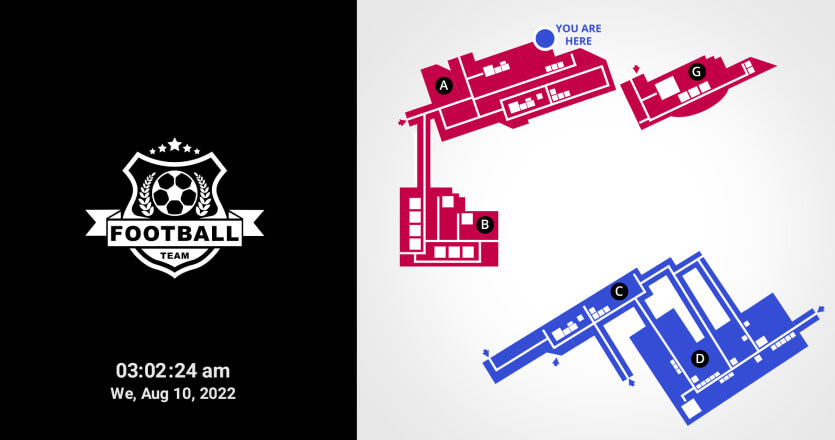 But there's a better way to run stadium signage—a way that can delight your fans, drive sales, and build wider publicity for your events. That's by making it digital. With stadium digital signage, you can create and centrally manage displays that are dynamic, visually appealing, and great for your bottom line.
At RSC Anderlecht, over 140 different screens are being used, for advertising, to share key information, and more. Here's what Didier Desmet from the club had to say about Yodeck's digital stadium signage:
"It's really easy. With a first screen, you can test out all of the technology's possibilities for free.
Now, we can display any kind of content, from videos to PDFs, all on the same system."
How can you use stadium digital signage to engage and delight fans?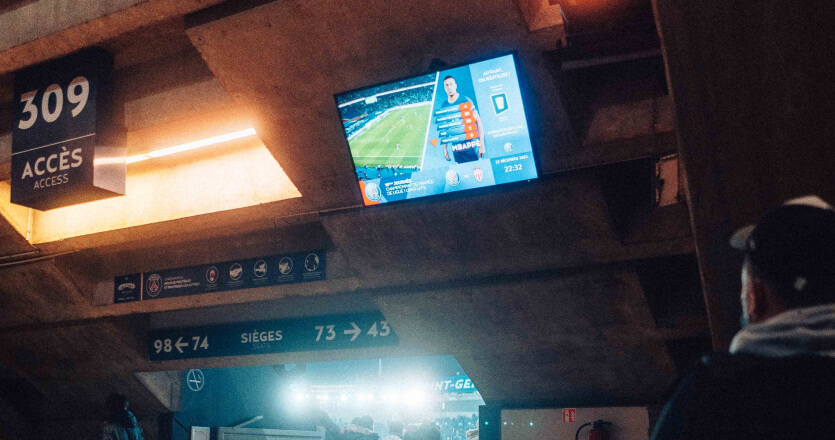 When fans go to the stadium, of course, it's not your signs they're there to see. Yet your stadium signage, in all its forms, can be the difference between an average fan experience and a great one.
In fact, one study of 15,000 sports fans by Deloitte found that satisfied stadium audiences spend more and display greater loyalty. What's more, the research found that simple things like being able to find their seat, the availability of quality food concessions, and being able to track game stats all improved their satisfaction.
With digital signage, you can do so much more, to improve the audience experience even further. Here are just some of the things they help you achieve:
Show game highlights or other media
Sports games take breaks. While that gives the athletes time to rest, it doesn't have to be a break from the entertainment.
On your digital screens, you can engage audiences with high-quality media when the teams are off the court. These can be game highlights, behind-the-scenes stories of the club, or something completely different.
At RSC Anderlecht, the stadium managers did exactly this. With Yodeck's digital signage technology, they didn't need to create new media to display it on-screen. All they had to do to delight their fans was stream videos directly from their YouTube channel.
Add value with local advertising
The experiences your fans have at the stadium will stay with them long after they've gone home. In fact, one survey from EventTrack found that 85% of event audiences are influenced to change their purchasing behaviour after satisfying events.
That's why stadium advertising is so powerful—and so lucrative for stadiums. Digital signage offers new ways to take advantage of its potential. With digital displays, you can tempt customers into food and drink purchases in concessions, or offer special deals in local outlets for when the game's over.
For example, RSC Anderlecht deployed 140 digital advertising boards that hosted ads from sponsors. With Yodeck, they could add them all to the same system, so they could be managed centrally at the same time.
Engage more deeply with fans and audiences
Digital stadium signage offers new opportunities to engage with your fans and spread the word about your events at the same time.
By showing your social media handles on your digital signs, you'll encourage online engagement, promote loyalty, and drive online conversations about your audience's experience.
You can further encourage engagement by showing your social media feed live, so the whole stadium can be in on the conversation. In fact, one in four fans wants further digital interaction with the team and club while in the stadium, according to Deloitte's The Stadium Experience survey.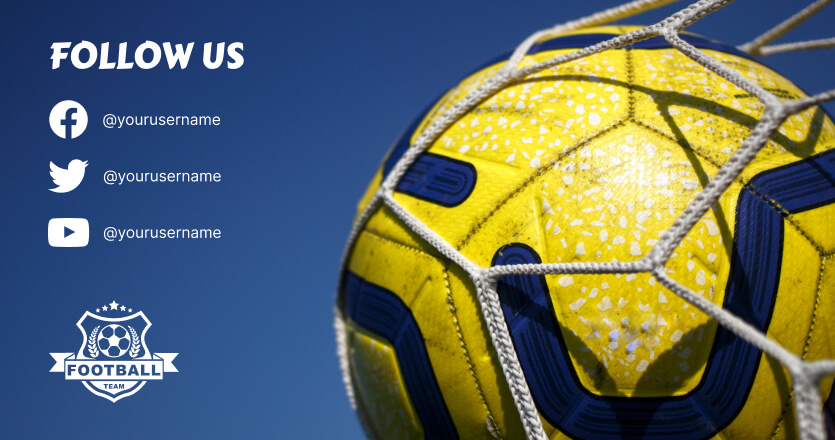 Make stadium wayfinding easier
One of the main concerns of stadium audiences is that the venue can be easily accessed and navigated. Signage is one of the key ways to make that a reality.
In-stadium displays should guide fans to their seats, to restrooms, or to catering options. But they also want to be able to leave the stadium without hassle too.
Digital signage makes that easy. For example, you can provide wayfinding displays that host live information on transit schedules or that offer directions to local amenities. It will help fans feel more comfortable, satisfied, and secure.
Reassure crowds with social distancing guidance
In the wake of the pandemic, health concerns are still at the top of many people's minds. That's particularly true in places such as stadiums where there are many different people all sharing the same space.
Reassure crowds and show that you care by displaying hygiene information across your digital screens.
It's not just fans that benefit: Some other uses of digital arena signage
Of course, it's not just the fans that benefit from your digital signage. Whoever is using the stadium—from the teams to security staff to managers—can reap the rewards too.
Here are three things digital signs can do to help:
Deliver information to teams in changing rooms
At RSC Anderlecht, digital screens were displayed in each of the team changing rooms. Thanks to Yodeck, each sign could provide key information to the athletes and coaches at intervals and before the game.
Yodeck's solution means that each of the screens can be updated either individually or together, to provide the messages teams need exactly when they need them.
Support other types of event
Stadiums aren't only used for sports games. Rather, they can host everything from live music to commercial conferences, as well as the day-to-day operations of stadium staff.
Digital signage can support all of these and more. For example, you can welcome corporate guests or deliver stimulating presentations.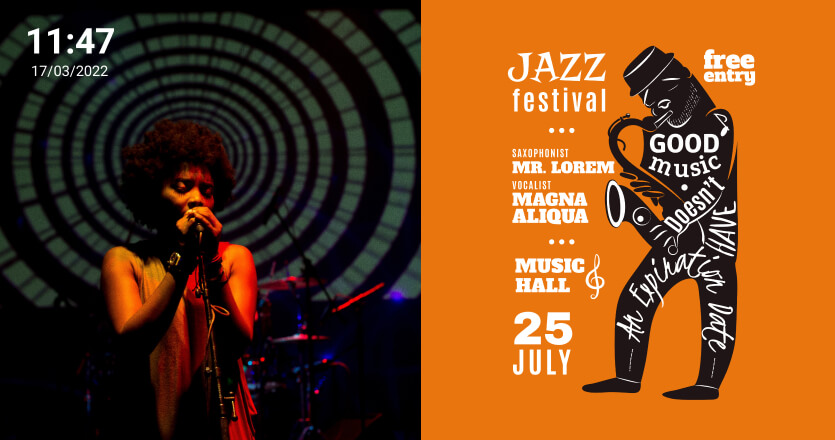 Aid security teams
It's the job of your security staff to create a safe and secure environment for everyone who uses the stadium. But they can't do it all by themselves.
Instead, use digital signage to manage crowds entering the arena, or to get messages to audiences or colleagues quickly.
Yodeck: Making stadium signage effortless and cost-effective
There's so much you can do with stadium digital signage. Improve the fan experience, drive sales, and boost loyalty through greater engagement.
Or perhaps there's something else you want to do with your signs that we haven't mentioned. With Yodeck's versatile and unbeatably easy signage, we can help you make that a reality too.
Choose from sign templates and apps, or design your signage yourself. Whether you need to add a quick tool to your display or you want your brand visuals at the front of fans' minds, Yodeck gives you full creative freedom.
Deploy as many screens as you need. The first screen is always free, so you can see if Yodeck works for you. Once you're convinced, connect as many signs to the system as you like.
Update all your screens centrally. Across a whole stadium, you don't want to update every screen individually. Instead, do it centrally through Yodeck's content management system.
"Why should someone use Yodeck? It's very complete, the software doesn't take up much space, and it allows us to do digital signage at a decent price. What's more, the easiest thing is to be able to use Yodeck anywhere in the world—I can manage all my screens remotely." (Didier Desmet, RSC Anderlecht)