In a factory, the health of your business depends on the health of your machinery. But there are still far too many manufacturers out there that don't have a way of tracking plant productivity, downtime, or any maintenance problems in real time. That's having an inevitable impact on their bottom line.
If you're a manufacturing firm serious about improving your productivity, you need live insights into the status of your production line. These days, there's just one feasible option to give you that knowledge—and that's production monitoring software.
With software that automatically tracks, analyses and reports on your manufacturing process, you'll be given the insights you need to make better decisions, reduce unplanned downtime, and improve production quality. And when your industry is so competitive, that's an opportunity you can't take for granted.
In this guide, we'll introduce you to software for production monitoring, how it works, and some of the best tools out there. But you'll discover how you can take this software to the next level with Yodeck's digital signage for manufacturing.
What is Production Monitoring Software?
Production monitoring software is a digital tool that gives manufacturers a comprehensive view of what's happening across the factory floor in real-time and all on one screen.
The software collects data from the machines and systems across the shop floor and converts it into clear, actionable insights to improve your decision-making. Thanks to this information, you can improve efficiency, equipment effectiveness, and the productivity of your manufacturing operations at large.
These days, there are a lot of choices out there for companies looking to digitize their manufacturing processes. But too many traditional solutions have long been costly, unintuitive, and complex. To be truly useful, your production monitoring software should be able to easily deliver clear and comprehensive data insights to everyone who needs them.
With a truly effective manufacturing tracking system, you'll realize the benefits—to both your efficiency and your bottom line—in no time.
Why Do You Need a Production Tracking Tool?
Production tracking software helps you improve the productivity of your manufacturing processes. With the right tools and data, you'll be able to:
Integrate all parts of your production line into one display. The key benefit of monitoring software is that you'll get an overview of your entire production line, all in one place. Receive notifications if part of the plant needs attention without having to deploy staff for machine analysis.
Automatically track key metrics, such as overall equipment effectiveness (OEE). OEE has become the fundamental metric in manufacturing best practices, but there are other metrics you might be interested in monitoring. With the right software, you can track all your KPIs with just one screen.
Make better decisions based on real-time data. You no longer have to wait until it's too late to see performance and productivity data. By setting up real-time manufacturing KPI dashboards, you can see that information live, helping you to make critical decisions when they matter most.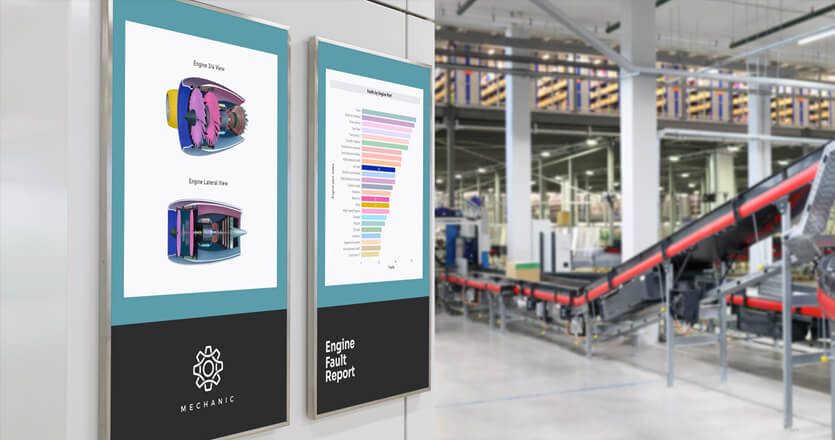 Keep your team members on the same page. It's not just production managers who need to see critical data. Particularly when linked up to digital signage solutions, production monitoring software ensures that everyone who needs to see that data can.
Support continuous improvement. In manufacturing, technologies are improving all the time. Your production line needs to keep pace. The right software can help you future-proof your processes and cut waste.
Reduce downtime and boost productivity. Ultimately, software to monitor your production line gives you the opportunity to cut unplanned downtime and boost your efficiency. Your bottom line will benefit as a result.
Sound good?
Now, let's talk specifics. Read on to discover some of the key features your production monitoring software needs.
What to Look for in Production Tracking Tools
Production monitoring tools come in all shapes and sizes, with different levels of complexity. But with so many options out there, which solution should you choose?
Here, you'll find some key features that your tool shouldn't do without.
–A range of metrics and KPIs. Firstly, you need to ensure that which KPIs are important to you can be handled on your software. Whether you're hoping to track OEE, throughput, or downtime rate, a software tool that can't handle those metrics isn't worth your time.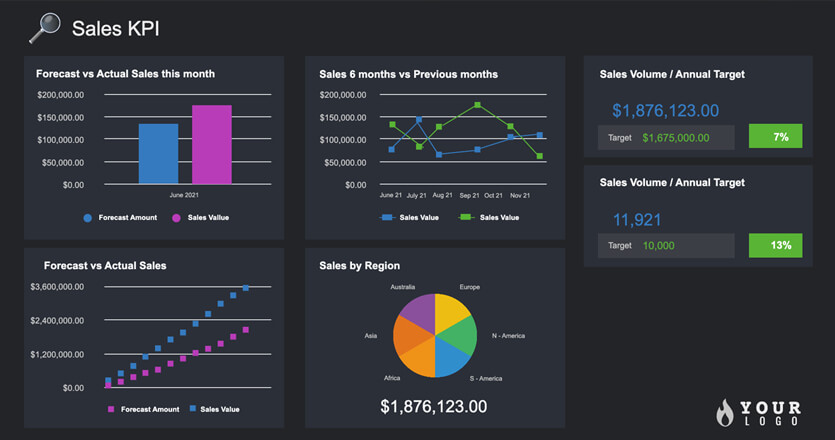 –Intuitive dashboard and display. After tracking the right metrics, your software should be able to display that data in a way that's coherent, clear, and intuitive. Before you make any investment, assess the different visualization options available and whether they suit your needs.
–Comprehensive integrations. It goes without saying that your software should be able to integrate with all the aspects of your production line. But that doesn't just mean your production machinery. The right tools can integrate with project management, supply chain tracking, and payroll and human resources tools too.
What's more, it's indispensable for your whole team if your software can integrate with digital displays such as Yodeck. This way, critical data can be displayed on digital production display boards to be viewed by teams that don't work at the desk.
–Real-time alerts. You're unlikely to be watching your software at all times. Notifications on malfunctions or production issues are crucial so that nothing gets missed.
Three production monitoring tools to consider
Which production monitoring software fits the bill? Here are three options to bear in mind.
Grafana. As an open-source data analytics software, Grafana isn't actually a dedicated production monitoring tool. But that doesn't mean it can't be used as one. Known for its flexibility and integrations, you can import any data stream you'd like into the program—including from your manufacturing equipment.
Critical Manufacturing. Named by Gartner's Magic Quadrant as one of the leaders in its field, Critical Manufacturing is a manufacturing execution system or MES. It will be able to support different functions throughout the length of your production line. However, some reviewers do mention that the interface could be more intuitive.
Oracle. One of the major software providers in manufacturing, Oracle is aimed at the biggest companies around. However, with its flexible, modular system and variety of integrations, it's increasingly used by smaller businesses too.
How Yodeck Can Improve Your Production Tracking
Production tracking tools offer you the chance to closely monitor and improve your manufacturing processes. Yet there's a way to take your systems to the next level. That's by integrating your monitoring software with Yodeck.
At Yodeck, we're the leading provider of digital signage—high-tech digital displays that businesses deploy to share critical information to their teams. Manufacturers around the world use our technology to display production monitoring data, and a whole lot more.
Keep manufacturing data front of mind. Not all manufacturing staff work at their desks, but that doesn't mean they don't have use for critical production data. Digital manufacturing information displays allow teams to see the insights they need wherever they are in the facility.
Complement production monitoring with other information. On a single digital display, you can show manufacturing data alongside HR announcements, technical training, safety information, and more. The benefit of our screens is that they are completely flexible, allowing you to share any media you need.
Integrate software you're currently using. With our large library of apps, you can simply integrate your production data with our screens. All you have to do is select the app you need in our content management system.
Engage your staff with high-quality visuals. Appealing visuals are more likely to be noticed and remembered. Ensure everyone is on the same page with digital signage.
Get more from your production monitoring software. Book a demo with Yodeck to find out how.