Yes, a guest's first impression of a lobby is crucial, as it sets the tone for their entire stay. With the proper hotel lobby signs in place, you can upgrade your hotel and enhance the guest experience!
Hotel digital signage is also necessary for other purposes: From locating the hotel amenities to navigating through the building. In addition, they can inform guests about emergency exits or future events. Remember that all the above can contribute to the hotel's overall guest experience and aesthetic.
Yodeck can offer the most exciting and efficient hotel lobby digital signage to elevate visitors' experience!
Perks of Digital Signage in hotel lobbies
Utilizing digital signage in hotel lobbies can remarkably improve the overall guest experience. Unlike static signs, digital signage can be more interactive and captivating, presenting various options for passing on information, exhibiting the hotel's branding, and providing entertainment. In fact, visuals get 94% more views than text-based information.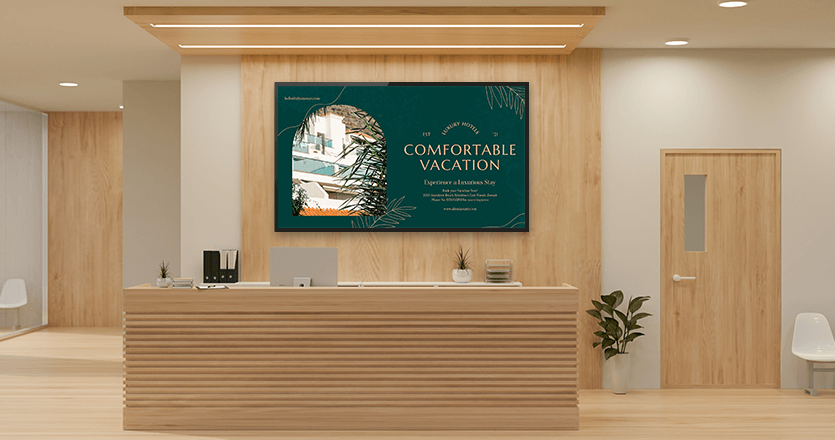 Here are some of the most significant benefits:
Attention-grabbing
Digital signage is a visually appealing tool that can effectively grab the attention of guests passing through your lobby. This makes it an ideal medium for highlighting the hotel's amenities and services, promoting special offers or deals, or just displaying a warm, welcoming message.
Time-efficient
Hotel lobby signs can be easily updated because they are accessible from any device with an internet connection. It is super convenient, especially when you need to update multiple screens at once! Furthermore, hotels can quickly change their messaging or promotions without printing or replacing physical signs. This can save time and resources and help hotels stay agile and responsive to guest needs.
Α booming example is the case of TUI: TUI was looking for a solution that could be updated remotely.
Branding
Utilizing digital signage in a hotel setting can effectively highlight the organization's branding and style, resulting in a distinctive and unforgettable ambiance for visitors. Doing so reinforces the hotel's identity and leaves a lasting impression on its guests.
Decreased costs
Although you can't avoid the initial cost digital signage has, it will be a cost-effective solution over time. It can be modified multiple times without extra charges and perform various functions (conveying information or entertaining guests).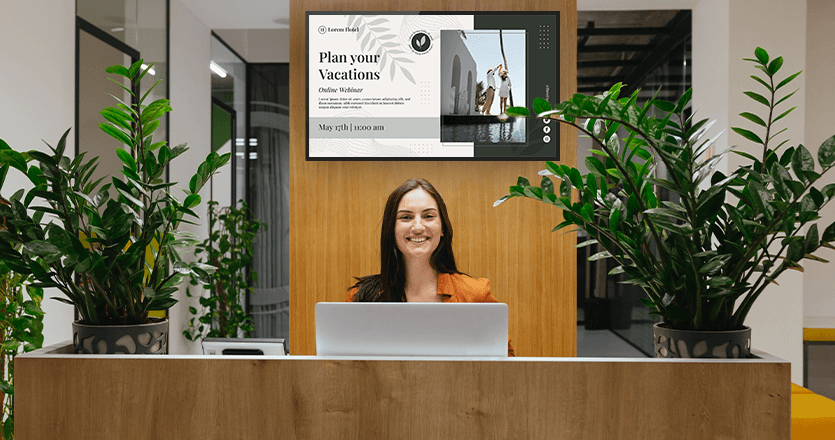 How can I improve my hotel lobby signs?
First things first, digitize the experience. Hoteliers must keep up with the current trend, which is crystal clear. Go digital! Utilizing hotel lobby digital signage can be more engaging than traditional signs and can be updated easily. Consider using dynamic content to make a memorable first impression!
Here are some tips to increase engagement with your guests quickly with Yodeck free signage templates for hotels:
Tip 1: Convey your message clearly and briefly
Make sure that the language used on lobby signs is easy to understand and straightforward. Refrain from technical jargon and complex terminology and ensure the communication is delivered straightforwardly.
Tip 2: Let your signs shine
Placing your signs in the right spot is very crucial. Choosing visible locations for guests is an essential first step. Take into consideration the sign's height, size, and the lighting conditions.
FYI: To ensure optimal visibility, signs should be placed at a height corresponding to the average viewing angle (approximately 45 degrees up or down from eye level, up to a height of five feet).
Tip 3: Remain consistent
To maintain a harmonious look and feel throughout the hotel, it is essential to ensure consistency in design elements and composition across all signs. Doing so can establish a sense of unity, enhancing the overall guest experience.
Tip 4: Brand inclusion
Again, it feels more personal and united if you incorporate the hotel's branding elements, such as logos and shades. It will help to fortify the hotel's image.
Tip 5: Choose the right digital signage platform for your digital screen
One of the most important things is to choose the appropriate digital signage platforms to serve your purposes. Take into consideration the type of content you would like to show on your hotel lobby display. Do you need to play videos, images, or only text? Revamp the guest experience effortlessly!
Think about how long you need your content to show and what changes you will be able to make. Also, you should know that you can change your content frequently if you wish to.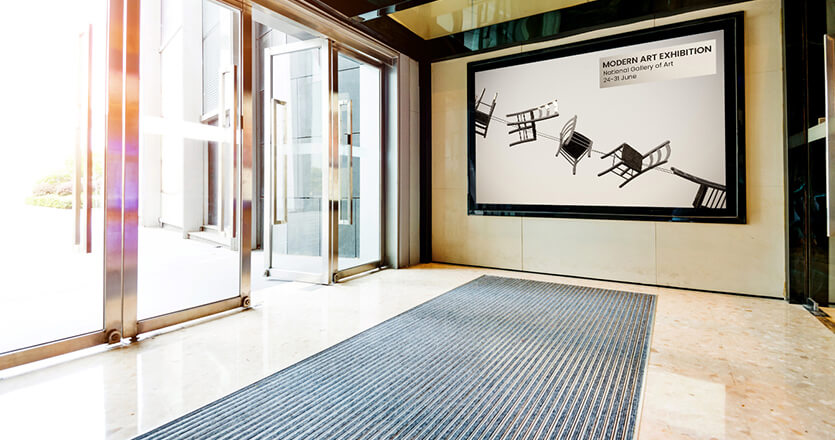 Tip 6: Tracking
Last but not least, tracking the performance of your hotel lobby signage is the key to success! Use analytics to help you evolve your campaigns to drive more ROI. By following key performance metrics, such as the number of impressions, you can pinpoint content that fits with your audience and make the proper prioritization.
Examples of digital signage in hotels
Below you may find some examples to get a sense of using digital signage in hotels:
You can use digital signage as an art video wall.
Inform your guests of real-time travel updates from nearby transportation.
Inform your guests of emergency notices. Make them aware of a hazard or an upcoming storm.
Add a playlist of videos or a travel blog review to entertain guests.

In conclusion
Digital signage in hotel lobbies can create a warmer, more welcoming, and more informative environment. It is a valuable investment for hotels wanting to fortify the visitor experience and engagement, save resources, and spread awareness about their brand. Make the difference from the competitors!