Digital signage has become an essential tool for internal communications in enterprises across multiple locations. However, meeting the unique requirements of different departments can be challenging. That's where Yodeck's latest feature – Workspace Hierarchies – comes in, completing our already robust enterprise offering as complementary to User Groups and Audit Logs or other security-related features.
Yodeck's solution for industry-specific needs
Yodeck has an in-depth comprehension of the specific needs of the manufacturing sector, particularly for internal communications. With our tailored features, we provide solutions that address manufacturing enterprises' challenges. By introducing workspace hierarchies, security inactivity policies, User Groups, and Audit Logs, we enhance the digital signage experience for these enterprises. Yodeck's portal allows for streamlined communication and efficient content management across multiple production facilities, regional offices, and corporate headquarters.
Experience the power of our solution and elevate your digital signage communication.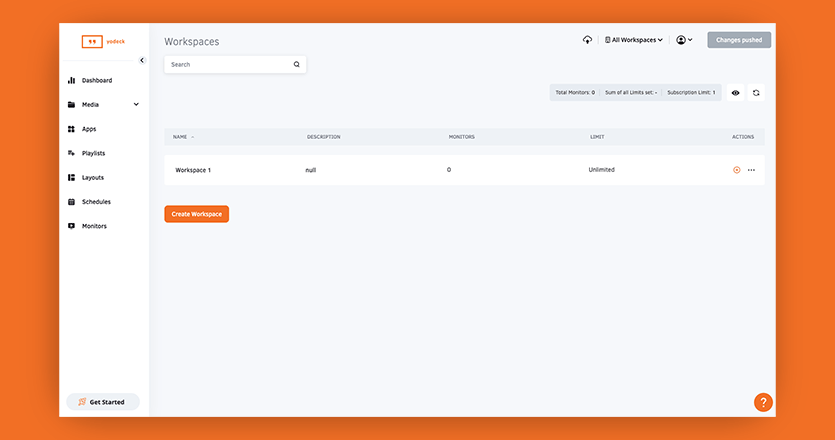 Benefits of organizing workspaces
Let's explore some key benefits of "Workspace Hierarchies":
Digital signage organizational structure
Effortlessly apply your organization's structure into your Yodeck digital signage through workspaces, allowing you to establish a transparent and user-friendly hierarchy that seamlessly reflects your company's departments, teams, or structure.
Efficient content management
Streamline content management by organizing it within the relevant workspace, enabling efficient access and updates. With this approach, you can quickly locate and update content tailored to the specific needs of each user, team, or office, promoting seamless workflow and collaboration.
Simplified user access
Facilitate access to workspaces based on user roles and responsibilities, thus ensuring the allocation of appropriate permissions. By maintaining control over user permissions, you can guarantee that individuals can access only the relevant content within their assigned workspace.
Improved collaboration
Facilitate seamless collaboration by providing dedicated workspaces for various teams to engage in content creation, sharing, and updates. This approach significantly enhances teamwork, fostering efficient communication and teamwork to achieve common objectives.
Scalable and flexible
Effortlessly adapt the workspace hierarchy to align with changes in your organizational structure. With the ability to easily add or remove workspaces, you can ensure flexibility and scalability in managing your digital content as your company evolves and grows.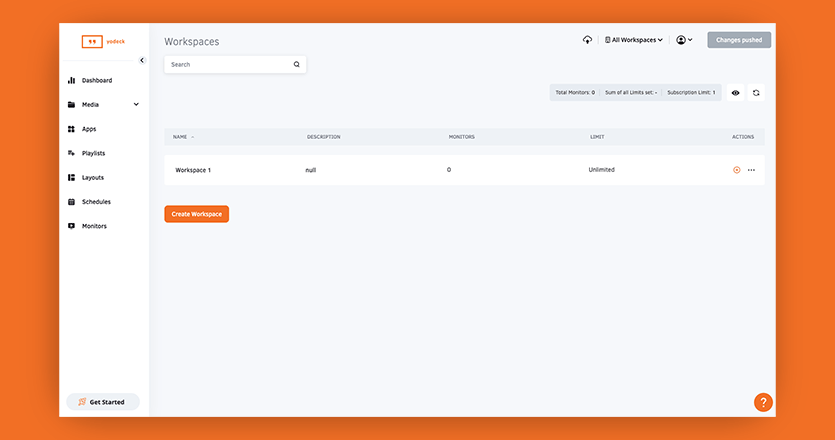 Addressing enterprise users' needs
With the introduction of workspace hierarchies, our portal enhances the existing users' digital signage experience. These features provide a seamless and user-friendly progression from the Standard package to the Enterprise package, catering to the specific needs of large corporations. Yodeck's focus on addressing user requirements ensures its customers receive the best digital signage solution for manufacturing, education, finance, and enterprises with multiple needs of many users in different locations.
To sum up
In conclusion, the Workspace Hierarchies feature offers enterprises a tailored and comprehensive digital signage solution. With benefits like streamlined content management, simplified user access, enhanced collaboration, and scalability, Yodeck addresses the specific needs of industries like manufacturing, education, restaurants, financial institutions, and retail – experience efficient communication and seamless workflow across multiple locations with Yodeck's industry-focused features.