When it comes to food, ''you eat first with your eyes,'' and digital signage for restaurants is here to bring this old saying to life! Sleek screens can elevate the overall dining experience while improving the aesthetic of your restaurant. Yodeck can provide you with everything you might need, so you can start enjoying your restaurant's new look.

Let's take a closer look at why digital signage is so essential for your business and discover how you can improve customer experience.
Why do you need digital signage?
Digital signage can improve overall customer experience and help boost your restaurant's sales by providing a more interactive environment.
Using vibrant and eye-catching content can captivate your customers' attention and encourage them to engage with the content on display, leading to a more memorable and enjoyable dining experience. You can promote high-margin items or specials and persuade customers to order more items or add-ons. In addition, this technology can also help the environment by reducing paper usage.
It's a win-win situation for both customers and businesses in the restaurant industry!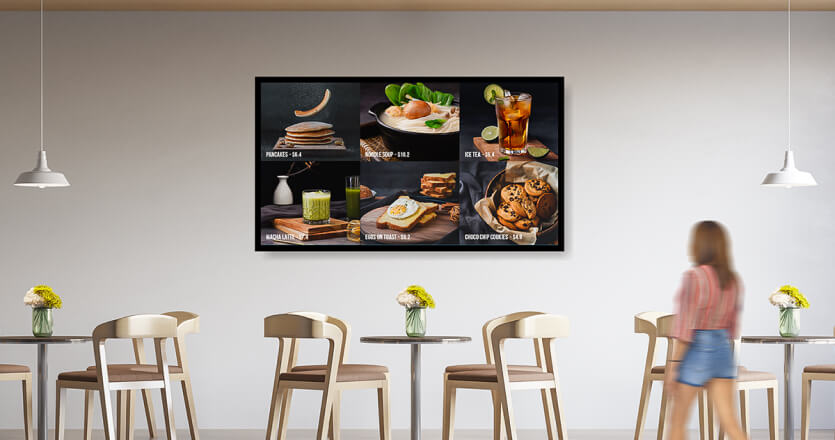 How can digital signage improve customer experience?
Getting the food you want can be an overwhelming experience for some people. With the help of digital menu boards, you can make the ordering process easier for your customers. Moreover, by creating QR code menus, you can help customers explore their options and choose the food they want. This can also speed up the process and improve customer satisfaction.
Entertainment/Improved Atmosphere
Getting food at a packed restaurant can be very frustrating for some people. With digital signage, you can speed up the process by providing helpful facts about your food and making ordering easier for your customers. Perhaps you could provide interactive content such as sports games and videos. In addition, dynamic visuals and animations can set the tone for the dining experience and create a more immersive atmosphere.
Promotions, special offers, and discounts always appeal to customers as they encourage them to order more items or try something new from the menu. Additionally, it may be beneficial when promoting events, such as themed nights or live music
Digital signage can be used to track the progress of customer orders. For example, restaurants can display the status of each order on a digital screen, such as "cooking," "ready for pickup," or "on its way." This can help decrease wait times and enhance the customer experience.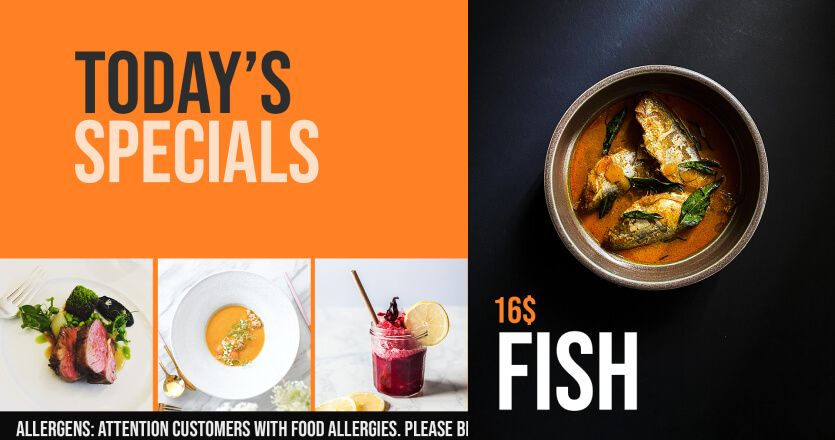 Restaurants can also use digital signs to integrate their social media presence into their operations. For instance, they can display the posts of customers who visited the restaurant and discuss their experience online with a social media wall. This can create a sense of community and encourage more customers to share their experiences online.
To make customers feel more valued and cared for, you can use digital signage in your restaurant to display menu items that are safe to consume from people with dietary restrictions or allergies.
Another great way to use digital restaurant signage is to help customers navigate themselves. You can display a map on a digital screen, showing the location of tables, restrooms, and other vital areas. Wayfinding digital signage can reduce confusion and make things easier for customers.
With digital signage, you can easily manage waitlists in your restaurant. By displaying the waitlist on digital signage, customers can see where they are in the queue and get an estimated wait time.
Perhaps, digital signage can also help promote career opportunities in your business. It can inform people who visit your restaurant that various positions are available and provide them with the necessary information.
Various forms of digital signage can be utilized by restaurants to enhance the customer experience. From promotions and digital menus to social media integration, the technology offers a wide range of benefits that can improve the restaurant's and its customers' dining experience.
Discover all the free digital signage templates and choose the right one!
Take the dining experience to the next level and enhance customer experience!