Whatever your faith or denomination, your church is the centre of your community. And however large or small it might be, it's natural to want to find new ways to engage and expand that audience.
New technologies can help you do exactly that—as many churches have discovered already. In fact, that's why we're here to showcase the benefits of church video walls. Congregations across the world are now using digital screens in their churches to make services more engaging and to recognise and grow their community.
In this article, we show you ways to put these screens to use—from highlighting events to displaying visual material during services. You'll find some ideas to inspire your own video or LED wall and how they can benefit everyone involved in your church.
What's more, we'll share why Yodeck provides the easiest solution for churches looking to start out with video walls.
Why Use Video Walls in Churches and Places of Worship?
Many churches have begun to use LED video walls in churches. Why? Because they can help you build stronger bonds, communicate more effectively, and increase participation.
Here are just some of what you can do with digital signage in churches.
Support services and ceremonies with visually engaging displays. Whether you want to share hymn lyrics with the congregation or highlight important quotations, visual displays can help you make worship more engaging.
Build audiences for services, events, and community meetings. By sharing details of future club meetings, community events, and regular services, you'll encourage your audiences to attend. What's more, you can share images and testimonials from past successful events; a great way to thank people for attending and for sharing the fun.

Thank your community by recognizing achievements and donations. People in your community will always be up to amazing things. Celebrate individuals in your flock by showcasing what they've achieved. You can show your gratitude for donations to your church on your displays too. It can help build stronger bonds—and there's evidence to suggest that it will encourage others to donate themselves.
Raise awareness by advertising local causes and businesses. In its role at the heart of the community, your church is in a great position to raise awareness for local causes, initiatives, and businesses that align with your values. You can use your visual displays to better share what they're up to.
Churches can use this as an added revenue stream too. By hosting adverts on their video walls, you can ensure financial stability into the future.
Of course, there are many other ways you can use church video walls at your place of worship. Add visuals to wedding and baptism ceremonies, or simply help your audience with practical information. Whatever you choose to do, you can improve the experience of the whole community.
3 Ways Church Video Walls Can Engage Your Community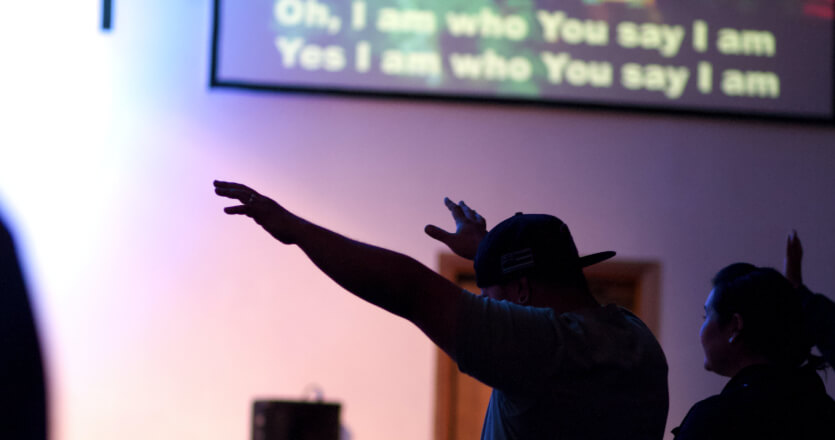 Now you've understood the potential of digital signage in churches, let's see some of these ideas in action.
With Yodeck, you'll find that creating compelling, attractive, and engaging visuals is easy. Choose from our enormous range of templates and apps, or build your own videos and displays from scratch.
Here's what your video walls can look like.
Show donors what their money has achieved
Estimates suggest that the average church-goer in the US gives the equivalent of $17 a week to their local place of worship, adding up to $884 each year.
That said, many local churches are still cash-strapped—and understandably hungry for more donations to meet ever-rising costs.
As a church, you can use visual displays to recognize your biggest donors and share how their donations are being used. You can share videos of the events they've funded or the new projects they've made a reality.
Don't forget to share ways that your community can donate. Electronic methods of donation are increasingly popular, and you can share the details on your LED screen.
Publicise events with video
Don't just rely on word of mouth to build audiences for your events and services. With Yodeck, you can build visually stimulating notices that make people pay attention and remember you.
Incorporating video into your displays can increase your impact. In fact, studies repeatedly show that video is more engaging, more memorable, and more likely to inspire action.
What's more, with Yodeck, you can use a calendar app to effortlessly highlight the schedule of the most important events happening in your space.
Highlight important ideas
Is there one important lesson that your flock should take from your service or sermon? Or is there something that you think would be worthwhile for them to reflect on in the future? Highlighting important messages on-screen can help make sure it stays in mind.
Create visual displays with your own ideas
With Yodeck, there's no limit to what you can do with your church video wall. Combine different types of media into your display with the simple drag-and-drop function. And update content across all your different screens with a single click.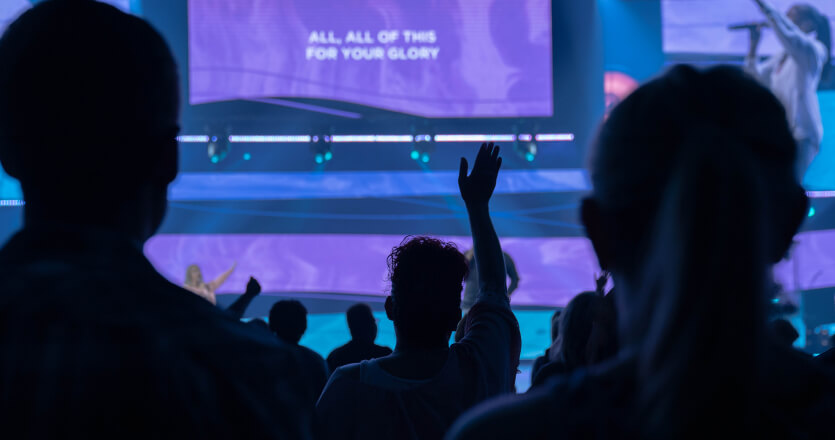 The Benefits of Using Yodeck's Digital Signage
So far, we've shared some of the incredible things you can do with church video walls. Now, take a moment to discover how we at Yodeck make it all easy.
Create unique content effortlessly. Whether you want to use our library of templates or design your own video screens from scratch, with Yodeck it's really easy. Simply stream video directly from your YouTube channel, for example, or drag and drop images into our content management system.
Manage all screens centrally. You don't have the time to update every video screen individually and manually. That's why at Yodeck you can manage all your displays from the same place. What's more, you don't have to be physically in your church to do it. Instead, update all your content remotely.
Packed with free templates and apps. If you're not inspired to create your own designs, just use ours. They're totally free and there are many to choose from.
Apps give you the flexibility to provide other types of information too. Want to link your social media to your church screen? It's easy. Need to provide transport information or a calendar of events? That's easy too.
You don't need to be a tech expert. We designed Yodeck so it can be used by local communities, cafes, churches, and just about anyone. With its intuitive dashboard and functionality, Yodeck makes engaging signage effortless.
Benefit from affordable prices. If you're using just a single screen, you don't need to pay for Yodeck at all. Give it a go and see how you like it. After that, every extra screen is affordable too—and with the extra donations and revenue streams, you can achieve a return on investment in less than a year.
Better engage your audiences with Yodeck.