Yodeckers, you definitely got our hearts beating a little faster this month with new, review-based awards from G2 and Sourceforge. And if you ask us, Valentine's feel-good vibes should last all year, so go ahead and show your signage screens some love, too! With two new Apps – Grafana and DSMenu – you'll hit the mark whether you're wooing a foodie or a die-hard data fiend!
Yodeck receives top honors with G2 & Sourceforge Awards!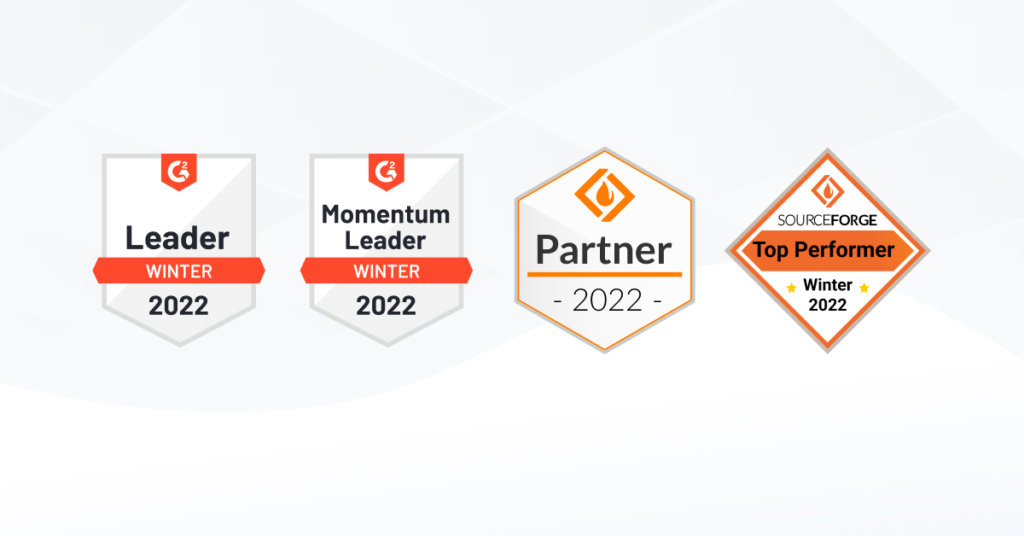 Forget about bouquets, balloons and boxes of chocolate. You showered us with the best gift possible – your love for our product! It's because of your stellar reviews that G2 honored us with the Winter 2022 Leader and Momentum Leader awards. We also received the Top Performer Winter 2022 and 2022 Partner Award from Sourceforge. So thank you for your support – it means the world to us that Yodeck puts a spring in your signage step! And for those of you who enjoy perusing our website while sipping your morning coffee, Sur.ly proclaimed us 'Brilliantly safe!' So go ahead and safely surf the waves of the latest Yodeck signage news.
Secure Grafana App
Your sensitive business data must stay under lock and key. But what happens when it has to take center stage on signage screens so your teams can strategize? Our new app puts safety first so that you can display Grafana Cloud graphs privately and securely. Specifically, you access your Grafana account by signing in from inside our platform – that way your charts don't have to become public. Also, you set how often it refreshes, so your screens display up-to-date analytics. So go ahead and put your heads together!
Easy-to-use DSMenu App (and you get 20% off!)
We're firm believers that the way to anyone's heart is through their stomach (ours is growling as we speak!). And when it comes to digital menu boards, wowing your customers with awesome-looking templates works wonders for your bottom line. With our new DSMenu App, you can get DSMenu templates on your screens by simply pasting in a link. You can also create a playlist of menu templates. You get that on Yodeck screens with a link, too. In addition, you can customize their digital menu boards with your branding and other fancy flourishes.
We also have something special to sweeten the deal – get 20% off if you sign up for their service using our affiliate link in the app's in-portal description. There's no profit for us, but the full discount comes your way, and it's already applied – no code necessary!
Release Notes
New features
Our new Grafana App makes it easy to get your Grafana charts and graphs on your Yodeck digital signage screens. What's even better is that all your data stays private when our integration connects with your Grafana account. We support Grafana Cloud accounts, so go ahead and help your teams strategize.
Users who run restaurants, cafes and bars will love our new DSMenu App. Just create your menu on their service and then paste the link in our app to get mouthwatering menu templates on screen in seconds. Also, if you sign up to DSMenu through our affiliate link, you get 20% off – no commission for us!
Improvements
Your input is invaluable to us! So we created a brand new 'Request a new app' form in the Portal's App section, so you can tell us what you need to make your signage screens thrive.
Our Birthday App now accommodates different date formats to make it easy for you to use your existing files. Just select the date format you want in the 'Birthday CSV File' field so it matches the format in your files!
We also removed the Layers icon in our Google Traffic App for unimpeded views of traffic chaos.
Also, now when an end user creates a Web Player, a notification appears in the screenshot area reminding people to download the extension. You need it to support the full suite of Yodeck's features.
Bugs fixed
When someone tried to validate their account in order to verify their email with our platform, the verification mail never got sent. It now wings its way to you pronto!
Some custom roles displayed incomplete descriptions of each role, so we got that fixed in a jiffy!
We also fixed an issue with media mass uploading. When a workspace admin was administrator in only one workspace, they couldn't upload more than one media at a time (we're still scratching our heads about that one!). However, now they can mass upload media to their heart's content.
In addition, users couldn't delete media tags as the delete button wasn't responding (let's just say it was on hiatus for a while). Go ahead and hit that delete button now – it's awaiting your orders!