It's a brand new year, which means brand new features for you. We've got lots planned for 2023, but for our first release, get a taste of our LinkedIn App, easy User Management for Admins, and our incredibly useful Secondary WiFi feature.
Engage Your Teams with our LinkedIn App
Whether your employees are all pumped up about their career New Year's resolutions, or in the depths of the dreaded winter doldrums, you've got a great new way to level up team engagement.
Our new LinkedIn App gets the latest posts from your company account up on screens in minutes. So share news, events and insights and celebrate promotions and new hires – it all strengthens corporate culture.
Crucially, don't forget that 86% of professionals say office digital signage improves productivity and motivation. Equally important? 69% say it helps retain valuable employees. So put that LinkedIn App to work.
Easier User Management for Admins
Account Admins on Enterprise Plans, get into cheerleading mode because your signaging life just got much, much easier. You can now delegate User Management responsibilities to someone at Workspace level. This means that by assigning the role of Workspace Admin to users, they can then add, edit and delete users who belong to their Workspace. In addition, you will now have an enriched User Management list view with more valuable data and filters.
In order to make our User Management easier for large accounts and give permission to Workspace Admins to add, edit and delete users (a great change for user management delegation from HQ to local branches), we introduced the following changes:

All Access Manager role (ex Workspace Admin): The new pre-defined role of "All Access Manager" has the same permissions as the former Workspace Administrator role. The existing Workspace Admins have been automatically migrated to the All Access Manager role. The Workspace Admin role has also been updated as we added a new type of permission (please read below).

Updated Workspace Admin role: Workspace Admins now have permission to "Manage Workspace Users". They can now add, edit and delete users that belong to their Workspace.

Primary Workspace: Primary Workspace is a new optional field for each user that specifies the Workspace that a user belongs to. Setting up a Primary Workspace for users means that:
Workspace Admins can manage their own Users.
(coming soon) Account Admins can set up Groups that grant access based on each User's Primary Workspace.
You can read more about the Primary Workspace in our documentation.
Stay Online, with No Downtime for RPi Players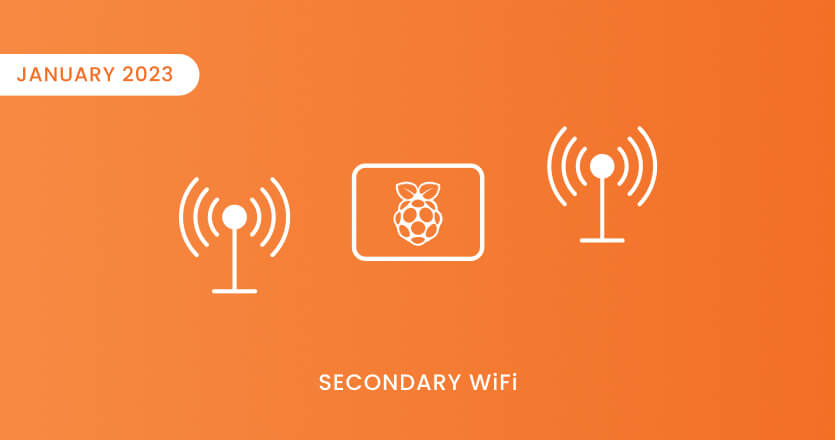 WiFi blips and bloopers are now a thing of the past. Just use our Secondary WiFi feature to switch from whatever network is down, to one that's up and running, as a fallback measure. It also means you can use it as a temporary network while you update WiFi credentials for your facilities. What's also great is that you can add your mobile hotspot credentials and bring devices online in case of network issues or for troubleshooting.
Of course, Yodeck media players will keep your screens active and showing content while your internet is down, but this way you can continue to upload, update and display content even when your primary WiFi network is acting up (well, down in this case).
Great Tips for Swoony Valentine's Day Signage that Ups Sales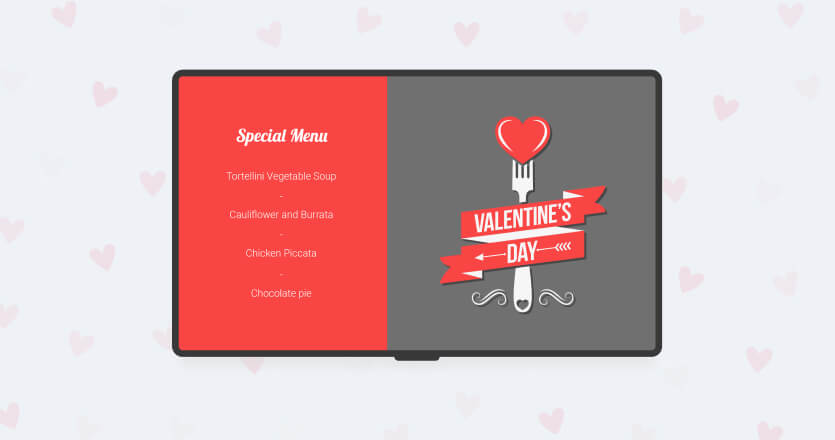 Want some great tips for your Valentine's Day content? We got you covered. Whether you run a store, restaurant, bar, bakery or hotel, Valentine's Day can be a huge profit booster for you.
Still on the fence about going to the effort of creating new signage content? Last year alone, people spent $23.9 BILLION on Valentine's Day. So even if you personally hate seeing heart-shaped objects everywhere you turn, as a business you just can't afford to miss out.
Added bonus? Our tips are very easy to do. So get your Valentine's Day signage up and running now, and take advantage of any early shoppers.
Yodeck Now en Francais
We're so happy to announce that the Yodeck Portal has now been fully translated to French, which offers a great user experience for all our French-speaking Yodeckers. Also, the language of love arrived just in time for Valentine's Day (yes, we're cheesy).
Release Notes
New features
LinkedIn App: Dynamically display the latest LinkedIn posts from your company's LinkedIn account. Share corporate news, community events, or any other content with your colleagues that offers insights and increases employee engagement with your company.
Workspace-level User Management (Enterprise Plan): Workspace Admins can now add, edit and delete users that belong to their Workspace. It's a great feature for user management delegation from HQ to local branches. Also, we created a new role, called All Access Manager where you can have access to everything (what used to be a Workspace Admin). Additionally, all Workspace Admins have been migrated to the new All Access Manager role. The new Workspace Admin role includes the option for User Management. This means that a Workspace Admin can now add, edit and delete a user that belongs to their Workspace. Most important to note, in order for a user to belong to a Workspace, you need to assign them a Primary Workspace.
Secondary WiFi: Set up a secondary WiFi for your Raspberry Pi Player. This feature can be incredibly useful for IT managers. You can use it as a bridge for updating the WiFi credentials of your facility. It can also function as a fallback WiFi in case there is more than 1 WiFi network available. Or you can add your mobile hotspot credentials to bring online an offline device before troubleshooting.
Improvements
Updated Users listing: Account Admins are now able to see more useful details about their users, including their first and last name, date added, their Primary Workspace, as well as the role that each user has in Workspaces. In addition, two new filters have been added in order to filter users based on their Primary Workspace and their Workspace access.
Revamped Media & App forms: Media & App forms have been fully revamped so that you can have a better user experience. You'll benefit from better visualization and see new information regarding each media and app item.
Yodeck Portal fully translated into French – Bienvenue! The Yodeck Portal is now fully translated into French so that French-speaking Yodeck users from across the globe can have a native experience in the platform.