Want to find out more about video wall pricing with Yodeck? You've come to the right place. In this article, we'll answer your most frequently asked questions about video wall costs and make a quick comparison so you can see how we stack up against other providers.
Whether you're setting up a simple 2×2 panel video wall, or a many-screen asymmetrical installation, you'll want to know exactly how much it's going to cost your business.
Installing a video wall brings significant benefits, including adding a visually striking and professional aesthetic, showcasing your product, and promoting your brand.
A quick internet search will reveal various video wall examples at a wide range of prices. This is because there are many different options when it comes to video wall displays, including:
the number of screens needed
whether you'll be using LCD or LED panels
pixel density
the processor you choose and
any associated software costs.
The good news is that creating a video wall can be extremely affordable with Yodeck, thanks to our cost-effective pricing plans and all-in-one digital signage video wall software.
In the following sections, we'll explain exactly how much it costs to use digital signage from Yodeck so that you can create your own beautiful video wall.
Let's get started.
How Does Yodeck Work?
How do I get started with Yodeck?
Create an account with Yodeck for free—no card details are required. Your free account comes bundled with apps, templates, and customer support, and it can be used for one screen.
You can purchase a Yodeck player by clicking on 'monitors' on the online dashboard. Or, if you have a Raspberry Pi already, you can transform it into your very own Yodeck player. Check out our guide on how to do this here.
Can I use Yodeck on any other devices?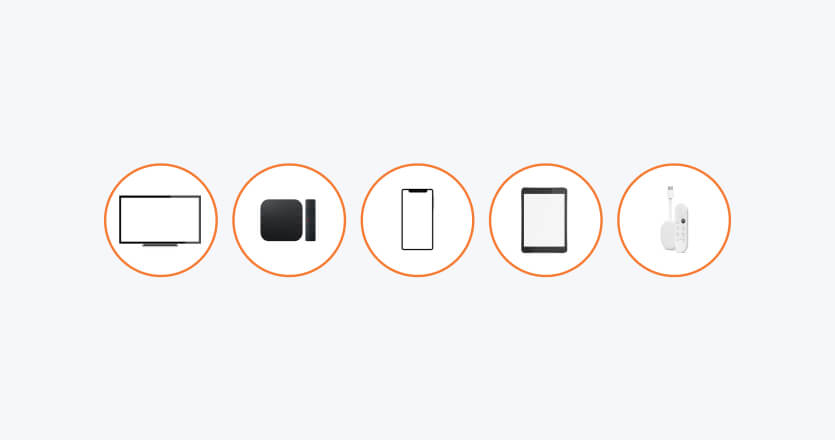 In addition to Yodeck's commercial-grade media players, you can pair our software with a range of other popular hardware. This means more versatility that meets the needs of your deployment and flexibility. From Brightsign to Tizen, Windows, and Android, Yodeck's software is compatible with so many options and offers a seamless signage experience. Check all the available media player options here.
I don't want to buy players. Can I still use Yodeck?
Absolutely. We've got a Yodeck web player you can use on any device that runs the Chrome web browser. Otherwise, you choose one of our annual plans and get all the Yodeck players you need, for free!
How many monitors can I use for my video wall display?
You can use as many monitors as you'd like. For each Yodeck account, we use scalable technologies that can support tens of thousands of monitors, with tag-based searching for easier mass management.
That means Yodeck is an excellent solution for managing many displays simultaneously, regardless of your video wall size. If you need more than 60 screens, get in touch for a quote—we have unique pricing plans for bulk orders.
Do Yodeck plans offer customer support?
All of our accounts (including our free account) come with access to our online support service. We use a highly efficient online ticket system, so you can submit your requests and see their status and solutions in real time. 
And we've created loads of resources to help you create a spectacular video wall—including user guides and FAQs, as well as a thriving online community of Yodeck users for you to join.
Paying for Yodeck
Which price plan is best for me?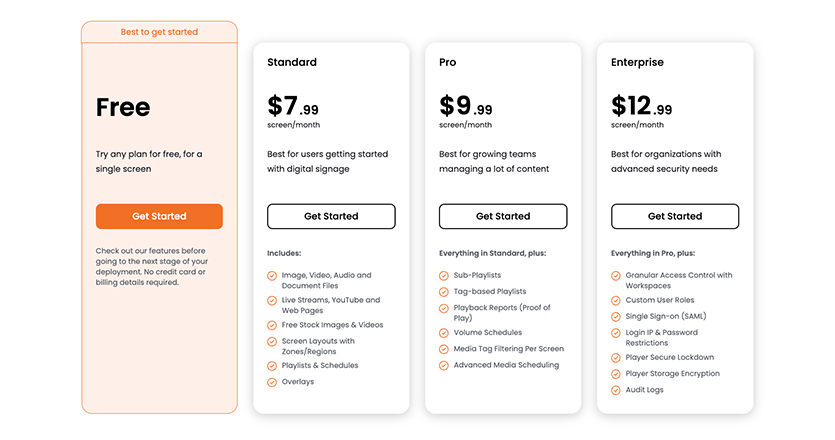 For a single screen, you can use any of our plans, Standard, Pro or Enterprise, for free. Additional screens are priced based on the plan you choose.
So that's:
On the standard plan: $7.99 per screen per month.
On the pro plan: $9.99 per screen per month.
On the enterprise plan: $12.99 per screen per month.
You can find a detailed breakdown of the different features offered by our different plans here.
And remember, all of our plans include our awesome selection of free apps and free templates.
How do I pay for my Yodeck plan?
When you choose your Yodeck plan, you can set up secure payment by credit card there and then. Payment will then be automatically taken each billing cycle—easy!
If you're on one of our annual plans, then we accept payment by wire transfer to our US bank account too (just get in touch if you'd like to set this up). Unfortunately, we do not support payments by PayPal.
You can easily check your current payment settings under 'Account Settings' on the online dashboard. Here you'll see details on your current billing cycle, subscription limit, next billing date, and account balance. We'll also show you which payment method we currently have on file.
Are my payments secure?
Of course!
Firstly, the Yodeck service is accessed over SSL. This means sensitive information is always encrypted and secured. And, in the interest of security, we don't store credit card information. We use the Stripe payment gateway service. To find out more about how we safeguard your payment details, check out here.
Can I cancel my subscription?
Yes (although we'd hate to see you go). Here at Yodeck, we pride ourselves in providing an affordable, flexible solution for digital signage—and that means we have a strictly "no-fuss" cancellation policy.
So, if you do decide to go ahead and cancel your subscription, you can do so via our online dashboard. Just set the number of monitors to "one," which will delete all paid-for monitors from your account. Just to make you aware, you'll need to cancel your subscription before it renews to avoid paying the next periodic subscription charge on your account.
Want us to completely remove your account and media? No problem, just get in touch.
How Does Yodeck Compare To The Competition?
Wondering how we stack up against the competition?
Crozdesk, one of the leading independent business software review sites, ranks Yodeck as one of the top digital signage options on the market.
Considering another digital signage provider? Take a look at all of our comparisons here and get the lowdown on exactly how we stack up.
Why not get started with Yodeck today? See all our features in action and get a quote for your specific use case with our free demo.