Supermarkets are big, busy spaces where the selection of products changes every week. So how do you help your customers find what they need, while introducing them to your newest and most profitable products? By adding supermarket digital signage throughout your store.
Yodeck's retail digital signage solution can help customers navigate supermarkets more smoothly. But it also increases your revenue by improving customer experience, encouraging customer loyalty, and guiding people towards the products with the highest profit margin.
Here, we'll show you how you can use Yodeck's centrally-managed, adaptable signs to increase sales by:
Attracting new customers
Highlighting special offers or promotions with effective sales signage
Upselling premium products
Drawing attention to parts of the store your customers may not have visited before
And encouraging customers to sign up for your loyalty program
Let's start with an overview of this versatile signage solution.
What is Digital Signage for Supermarkets?
Supermarkets are usually full of static signs, each one with a different function.
There might be a welcome sign above the door, informational hanging signs to show what's in each aisle, and additional navigational or wayfinding digital signage to help people locate the toilets, cash desk, escalators, or changing rooms. Meanwhile, promotional signs inside and outside the store show off products, and legally mandated health and safety signs mark emergency exits and evacuation routes. 
Digital signage can do all of this, too. It can replace conventional static signs, which are difficult, expensive, and time-consuming to update. Instead, digital signage can provide bright, eye-catching displays that you can adapt whenever you need to.
In a busy environment like the produce aisle of a supermarket, traditional signs can get lost in the noise. What's more, when someone shops with you every week, they can become laser-focused on their route around the store and may no longer even notice your signage, let alone your full selection of products.
However, show information on screens, using functions like Yodeck's video and playlist features, and you'll grab their attention. You'll encourage busy shoppers to take another look and consider all their options before they add something to their cart.
In fact, across the retail sector, research shows that 80% of brands experienced up to 33% additional sales through the use of digital signage.
How to Use Digital Signage in Grocery Stores and Supermarkets
The best part about using digital signage in supermarkets is that you can use it at every stage of the customer's journey to help increase your sales. Here are some ideas for how.
Use your headline offers to attract attention with shop window signage
Shop window signage is often a customer's first impression of a store. It encourages the people who are passing outside to come inside. And when more people choose to shop with you rather than a competitor, you'll probably see a jump in your revenue.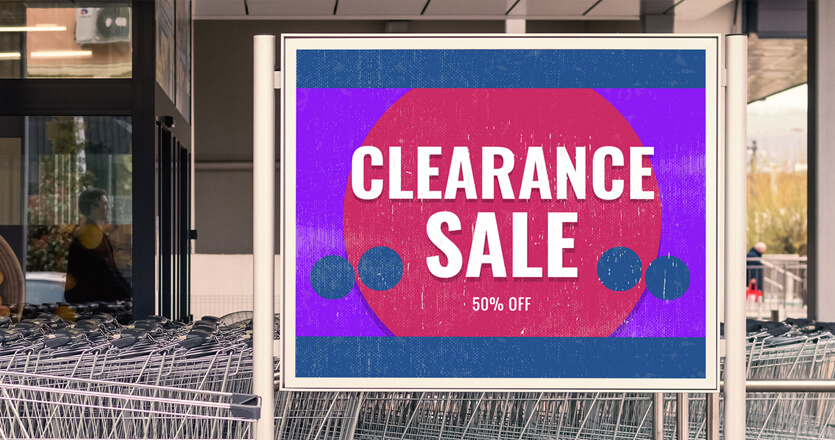 Digital shop window signage is the place to show off your most enticing promotions. And since it's quick and easy to update digital signs from your computer, it's much more practical to show time-limited promotions here than on traditional posters or billboards.
You can use digital signs in your supermarket windows to advertise a buy-one-get-one-free deal on a great new product, a seasonal sale like 20% off homeware, or a price freeze on daily essential products like milk, bread, and butter. If you run other advertising campaigns (for example, with flyers in local newspapers), you can also set your digital shop window signage to tie into these campaigns.
In essence, your supermarket shop window signage should make people excited about ticking their shopping trip off their to-do list. Whether they want to save some money on their weekly food bills or they're looking forward to picking up a few treats, shop window signage can mean that they hit the aisles with anticipation.
Give more information about the products in your end aisle displays
As well as your headline special offers people might have come inside to find, supermarket aisles are full of other discounts and displays designed to encourage spontaneous purchases throughout a shopping trip.
End aisle displays (sometimes called endcaps) are a good place to use digital signage in supermarkets. Supermarkets use these areas to draw attention to products that most people need most of the time. Research has also shown that putting products on end aisle displays encourages people to buy more, even if the products aren't discounted.
Since people often linger at the end of an aisle, looking at the overhead signs and checking their list to figure out if they need to go down the aisle or not, you have more time to convince them of the value of the endcap products. Digital signs are the perfect way to do this.
A slideshow on a digital sign can show the farm where the ingredients came from, awards that a product has won, nutrition information, and pictures from an advertising campaign. It's as easy as dragging and dropping the content into a playlist on Yodeck, and pushing it to the right digital screen.
Upsell premium products
Most supermarket shelves are stocked with ranges at different price points—from the everyday value options to the premium lines. Digital signage is a great place to draw attention to the more luxurious options by encouraging shoppers to splash out and treat themselves, which ultimately increases your sales.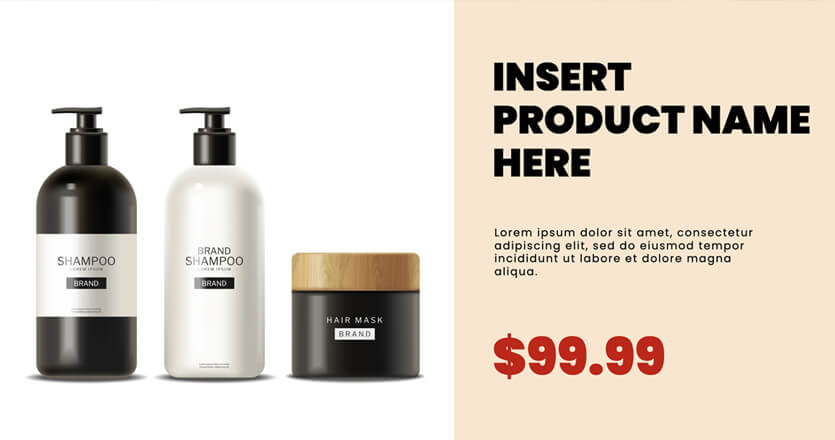 For example, let's think of the snack aisle. When a customer is thinking about what they want to eat while they're watching TV, they might be in the habit of reaching for a middle-shelf, mid-priced bar of chocolate. But if you can place a digital sign before they get to their usual choice, you might be able to draw their attention to something new, at a slightly higher price point.
Here, the key is persuasion—something the multi-slide format of a Yodeck playlist is perfect for. You want to show them how the benefit of the premium product justifies the higher price. People are also more likely to choose a more expensive product if it's part of an upsell bundle, so consider using digital signs to advertise premium products that people can buy as part of a meal deal or multi-buy offer.
And if your store offers free samples to let people try premium products before they buy, an eye-catching digital sign with more information is a great resource for the member of staff who's handing them out.
Encourage people to visit every part of your storev
These days, a supermarket is more than a grocery store. It might have a bakery, a butcher, a fishmonger, a cheese counter, toys, homeware, a garden center, and even a separate cafe, pharmacist, or dry-cleaner, not to mention a petrol station or car wash.
Digital signs raise awareness of these different departments, increasing the chance customers will visit and spend more of their cash under your roof.
You could try displaying a map of your store to give customers an overview, or advertising one department to customers who are in another. For example, you could put a sign near the cakes in the bakery to point people toward gifts or party supplies.
It's all about ensuring your customers know about everything you have to offer. They might add extra, non-food items as impulse buys. Or they might remember that you stock bigger-ticket items like electrical appliances so that they return in the future instead of ordering online.
Digital signs can also encourage people to spend more in-store by making it easier for them to buy from a counter where they talk to a member of staff rather than serving themselves. In these parts of the supermarket, stock changes every day and a customer can't pick the product up to read the label. You make these counters less intimidating for new customers by displaying real-time information about what's available, what it costs, and what allergens it contains. And of course, if you have a cafe within your supermarket, digital signs are a great way to showcase the food and drinks on offer. You can even use your screens as a digital menu board to tempt people to come and recharge when they've finished shopping.
Build customer loyalty and drive repeat business
Digital signs are also a great place to break down the benefits of your supermarket loyalty scheme and tell people how to sign up. With Yodeck, you can even add a QR code to your digital displays that can take people straight to the signup page.
Deploy this where the customer is likely to have to wait or queue for a few minutes—like near the cash registers, or by the changing rooms in the clothing department. It's a good opportunity to remind people who are already in your loyalty program to open the app or get out their loyalty card and use it.
And remember, customer loyalty (and the increased sales that come with it) is about more than just your club card. You can also use your digital signs to build your brand and highlight other, less tangible advantages that your store has over your competitors:
Do you collect for local charities and food banks? Tell people. It'll drive donations and show that you contribute positively to your town or city
Do you know exactly where your fresh produce came from this week? Create a digital sign with pictures of the farm and the farmers. Reducing food miles and supporting local business matters to many shoppers
Do you offer a click-and-collect or delivery service? Show people where they can go and what they need to do so they can use this service next time
All these things contribute to turning a supermarket shop from a chore into a more enjoyable experience. Since happy customers are more likely to be return customers, highlighting all the things you can offer can give your bottom line a boost.
Unbeatably Easy Digital Signage for Supermarkets with Yodeck
With Yodeck, it couldn't be easier to set up digital signage throughout your supermarket, increasing customer satisfaction and your revenue.
Sign up for a free Yodeck account and learn our content management system. Customize or design your screens to match your brand, create playlists, or connect to your social media feeds.
Order your Yodeck media player and plug it into your screen.
Push your content to screens across your store, and even to different branches in a supermarket chain. And when you're ready to scale up, you can add as many media players and screens as you need.
Sign up for free today and to learn more about how digital signage can increase sales in your supermarket.