In the world of digital signage where seamless performance is paramount, Raspberry Pi 400 stands out as a versatile and powerful solution.
Raspberry Pi 400 combines the processing power and features of the Raspberry Pi 4 single-board computer in a compact form factor with an integrated keyboard to create a powerhouse in a player for digital signage applications.
Its compact design and advanced connectivity options allow for a streamlined setup process in new digital signage deployments as well as seamless integration in existing ones.
By leveraging Raspberry Pi 400's capabilities and the benefits of flexible digital signage software, you can produce stunning visual experiences to captivate audiences in an affordable and scalable way.
Whether you're looking to reap the benefits of digital signage in schools, revamp your office communications or tap into the power of digital signage for retail, the Raspberry Pi 400 will be a valuable tool in your digital signage arsenal.
What is the Raspberry Pi 400?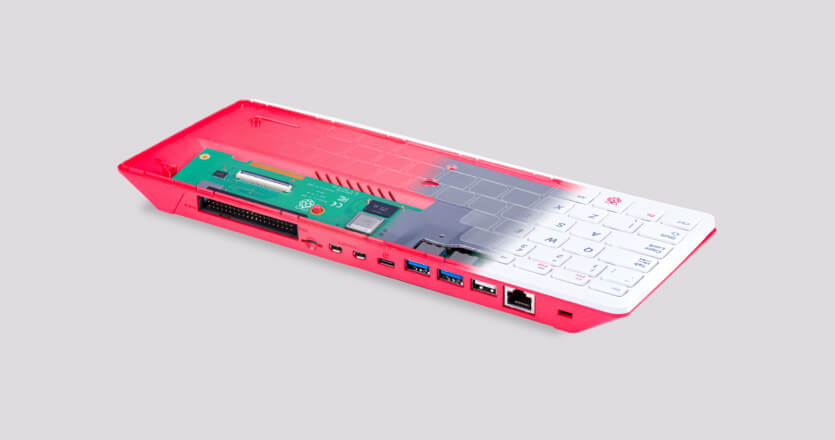 Raspberry Pi 400 is a new-age Commodore 64; a powerful personal computer kit packed into a compact, portable keyboard that integrates the core components of a Raspberry Pi 4 single-board computer, including the processor, memory, and input/output ports.
Featuring a quad-core 64-bit processor and wireless networking, Raspberry Pi 400 is capable of a number of uses including surfing the web, multimedia playback, word processing, programming and running apps through the Raspberry Pi OS environment. RPi 400 comes with 4GB of RAM (although an anonymous user has remarkably managed to tinker their way around that to create the first-ever 8GB Raspberry Pi 400).
This unconventional computer-in-a-keyboard supports dual-display output and 4K video playback and can be connected to any display through two micro HDMI connections. It also features a built-in microSD card slot for storage as well as 3 USB ports and a 40-pin GPIO header that allow users to expand hardware and connect peripherals. Lastly, it's offered in a variety of different keyboard layouts for 12 languages.
Overall, the Raspberry Pi 400 is an affordable and user-friendly computer-in-a-keyboard, ideal for those interested in learning about programming or setting up a portable workstation for a wide range of applications.
The Raspberry Pi 400 Computer Kit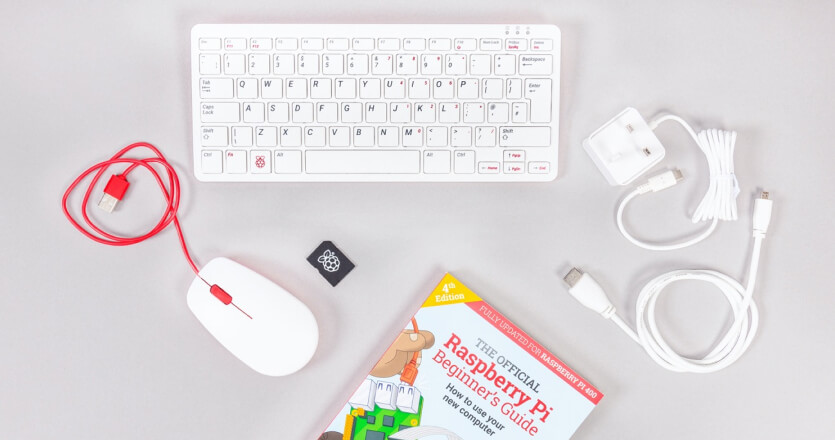 You can choose between purchasing the RPi 400 as a single unit or as a complete computer kit. The Raspberry Pi 400 computer kit comes with a mouse, a micro HDMI to HDMI cable, an SD card with the Raspberry Pi OS, and power supply as well as the official Raspberry Pi Beginner's Guide book. However, note that the Computer Kit does not include any kind of display or screen.
Technical Specifications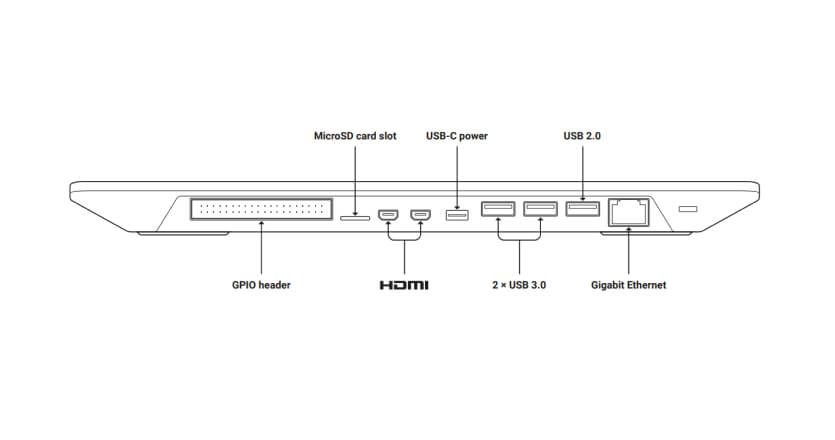 Processor: Broadcom BCM2711 quad-core Cortex-A72 (ARM v8) 64-bit SoC @ 1.8GHz
Memory: 4GB LPDDR4-3200
Connectivity

Dual-band (2.4GHz and 5.0GHz) IEEE 802.11b/g/n/ac wireless LAN
Bluetooth 5.0, BLE
Gigabit Ethernet
2 USB 3.0 ports and 1 USB 2.0 port

GPIO: Horizontal 40-pin GPIO header
Video & sound: 2 micro HDMI ports (supports up to 4Kp60)
Multimedia: H.265 (4Kp60 decode); H.264 (1080p60 decode, 1080p30 encode);
OpenGL ES 3.0 graphics
SD card support: MicroSD card slot for the operating system and data storage
Keyboard: 78-, 79- or 83-key compact keyboard (depending on regional variant)
Power: 5V DC via USB connector
Operating temperature: 0°C to +50°C
Dimensions: 286 mm x 122 mm x 23 mm (maximum)
Price
The price of the Raspberry Pi 400 as a single unit is typically about $70, while the computer kit usually costs approximately $100.
Differences between Raspberry Pi 400 and Raspberry Pi 4
Let's start with the obvious: Raspberry Pi 4 comes as a standalone board while Raspberry Pi 400 is basically a Raspberry Pi 4 integrated into a keyboard. But apart from the form factor, there are a few more minor differences between the two.
Raspberry Pi 4 features an additional USB 2.0 port
Raspberry Pi 400 only comes with 4GB of RAM. On the contrary, with Raspberry Pi 4 Model B you can choose between 1, 2, 4 or 8 GB of RAM
Raspberry Pi 4 can support Power over Ethernet (PoE) with a separate PoE HAT
Raspberry Pi 4 features the standard GPIO header that's backward compatible with previous boards whereas Raspberry Pi 400 features a horizontal GPIO header at the rear end of the keyboard
Raspberry Pi 400 lacks the 3.5mm audio port of the Raspberry Pi 4
Raspberry Pi 400 features a built-in heat sink that helps with heat dissipation
Raspberry Pi 400 Uses
The technical specs, affordability and compact design of Raspberry Pi 400 make it a prevalent choice for a wide variety of uses. To begin with, it can be used as a portable desktop computer for online browsing and daily tasks, a complete entertainment system or a gaming console. In addition, its advanced connectivity options make it ideal for any kind of DIY project, home automation and IoT device management. It is also widely used as a creative STEM educational tool. Usually paired with a Raspberry Pi screen, the RPi 400 is used as a portable computer in a keyboard that allows students to try their hand at programming, experiment with robotics and set up their own projects.
Finally, the Raspberry Pi 400 is an affordable, easy-to-use and undeniably cool machine for digital signage.
Raspberry Pi 400 for Digital Signage
Raspberry Pi 400 is an exceptionally efficient solution for deploying a digital signage system for numerous reasons. First off, it supports 4K video and dual-display output functionality which means you can easily connect it directly to any two screens or displays over HDMI.
Furthermore, its self-contained SBC form simplifies the setup process or the integration with existing digital signage displays while minimizing hardware footprint. In addition, the 40-pin GPIO header can be used for interfacing peripherals, sensors, screens and hardware to enhance the functionality of your digital signage system.
Finally, despite the impressive processing power and all its features, the Raspberry Pi 400 is a very cost-effective solution compared to other dedicated digital signage media players.
The only thing you'll need to get started is a user-friendly digital signage content management software. Luckily for you, you can easily turn your Raspberry Pi 400 into a Yodeck player. Yodeck's CMS will allow you to create, edit, schedule and manage content remotely through a central platform.