Are you on the hunt for free digital signage software for schools? Then look no further.
In this post, we'll outline why Yodeck scores top marks when it comes to free digital signage for schools and delve a little deeper into why our users in education love our product so much.
Finally, we'll take you through exactly why we score top marks for education compared to some of the most commonly used alternatives.
Why is Yodeck the Best Free Digital Signage Software for Schools?
Why choose Yodeck for your school's digital signage? As well as being free to run on one screen, Yodeck is totally customizable and robust, with an intuitive online dashboard for effortless content management.
Here's exactly what you'll get with Yodeck:
Free account (forever). Yodeck digital signage software is completely free for a single screen, with access to features including all templates, apps, and remote support.
Free templates. From education to events, our polished, fully customizable templates have been designed to cover all the bases—no matter your industry.
Free apps. One of the best things about digital signage is the fact it's dynamic. So we've created a whole library of ready-to-use apps, including news tickers, weather forecasts, and live social media to really engage your students.
And Yodeck is…
Easy to use. No need for rocket scientists here. We've designed our free signage software to be super easy to use. With our intuitive online dashboard and free stock image gallery, you'll be generating top-notch digital signs in your sleep (not that we'd recommend napping on the job!).
Compatible with any type of content. We've made it easy to upload any image, sound, or video format (including Word, PowerPoint and PDF files) for seamless playback.
Extremely secure. As an educator, you want to keep everyone in your school community safe and secure. That's why we offer enterprise-grade security, including SSL, firewall, and password policies, as well as player lockdown and encryption.
Easy to set up. Our pre-configured hardware is all set and ready to go, so once you've got your chosen content ready, you can just plug and play.
Free support. Our experts are always on hand to help you with any issue you may have.
Need to run more than one screen? No problem. We've got a whole range of super affordable price plans available. Plus, if you choose one of our annual plans, we'll chuck in all the Yodeck players you need, for free!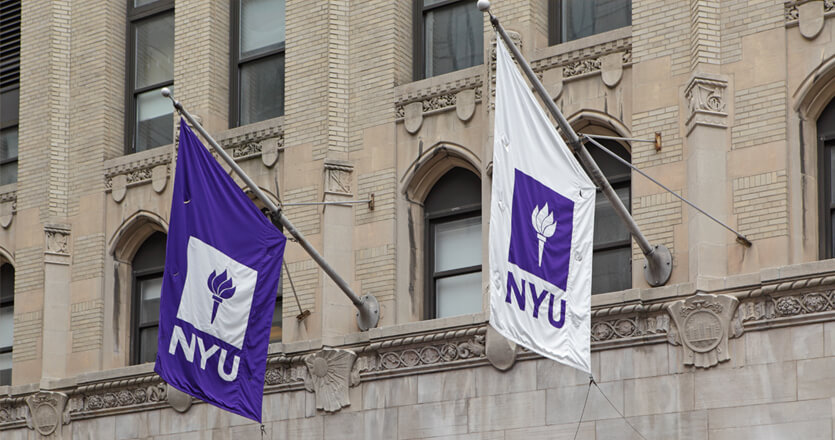 Yodeck Digital Signage for Education in Action
Take a look at this example from New York University (NYU).
Caspar, project leader for the Environmental sensing group NYU, needed two digital signs to display the team's live data on air quality.
But whilst the digital displays were to be installed in Shanghai, Caspar was located half a world away, at NYU's New York campus.
So Caspar needed a robust, flexible, digital content management platform that was up to the job. And, since he was based at an educational institution, Caspar's team needed a solution that was also affordable and flexible.
Yodeck had just the digital signage solution Caspar was looking for.
Plug-and-play technology. Our credit-card-sized Raspberry Pi computers are plugged in using a USB port so they can easily be installed into the back of your screens.
Ease of use. Like anyone in education, Caspar had lots on his to-do list. So Caspar appreciated Yodeck's hassle-free platform, which meant he had time to focus on completing other crucial parts of the project.
Centralized management of content. Caspar found he could securely and easily make edits to screens, schedule content and share live data from anywhere in the world thanks to Yodeck's online dashboard.
"If we expanded this project to one of NYU's other campuses, I would definitely try to continue to use Yodeck. And, similarly, I would definitely recommend it to anyone that had a similar necessity. I think it's a cost-effective and scalable solution to digital signage."
CASPAR LANT
Student Project Leader
Yodeck: The Free Digital Signage Solution that Always Scores Top Marks
We know. Life as an educator is go, go, go.
That's why we created a free digital signage solution that's no-hassle, totally reliable, and customizable. And, with our host of eye-catching templates and apps, you'll be engaging your student community better than ever before.
Ready to give Yodeck a try? Book a demo with one of our team of experts today!