Fall has already arrived, and this can only mean one thing: Halloween is just around the corner, and it's time to get spooky! For business owners, creating the right atmosphere can be a tricky task. You not only need to promote your business and boost sales but also entertain your viewers and grab their attention simultaneously. Just putting up some pumpkins and spiderwebs may not cut it anymore. In today's digital age, where everything is on screen and our attention is constantly pulled in different directions, perhaps it's time to consider digital signage for this year's Halloween.
Yodeck is one step ahead of you and has created free Halloween templates to help your business capture that spooky atmosphere. These templates are designed to enhance engagement, promote your offers, and advertise your brand effectively.
Benefits of digital signage in Halloween
Within the sphere of holiday promotions, digital signage stands as the unassailable monarch, holding unparalleled authority to reshape how businesses engage with their audience throughout Halloween and other festive occasions. Its strategic implementation does much more than illuminate spaces; it cleverly guides customer interactions, enhances the ambiance, and, most importantly, significantly influences financial outcomes.
Boost sales
Digital signs are like magic tools that help businesses sell more during holidays like Halloween! By displaying Halloween products and special deals, businesses can encourage customers to buy things on the spot. Plus, these signs can change quickly and easily, so they always show the newest deals, making sure businesses earn more money!
Grab attention
In a world flooded with visual content, grabbing attention is a battle half won. Digital signage possesses a magnetic allure with its lively colors, animations, and compelling visuals, effortlessly drawing in passersby and potential customers. High-quality graphics and thoughtfully crafted content are the keys to capturing attention and enticing people to delve deeper into the offerings.
Engage viewers
The interactive capabilities of digital signage elevate customer engagement to exceptional levels. Halloween-themed touchscreens, quizzes, and games not only entertain but also actively involve viewers. By encouraging participation, businesses create memorable experiences that resonate with the audience long after they've left the places. Engaged customers are more likely to remember the brand positively and share their experiences, leading to increased brand loyalty and potential recommendations.
Enhance atmosphere
Beyond its promotional aspects, digital signage plays an essential role in shaping the ambiance of a physical space. During Halloween, it transforms mundane surroundings into enchanting, spooky areas. Dynamic displays of flickering candles, scary shadows, and animated characters create an atmosphere that resonates with the holiday spirit. The ambiance becomes an integral part of the customer experience, leaving a lasting impression and fostering a sense of connection with the brand.
Use Cases
Retail
In retail, digital signage can transform product promotions and offers into captivating visual stories. Place screens strategically near entrances and checkout counters to maximize visibility. Engage shoppers with interactive displays, showcasing Halloween products and special discounts, driving sales and foot traffic.
Restaurants & Bars
Restaurants and bars can create a bewitching ambiance using digital signage. Display Halloween-themed menus and promotions to enthrall customers. Screens near dining areas and bars immerse customers in a spooky culinary experience. Use interactive touchscreens to allow customers to place orders or customize their meals, enhancing engagement.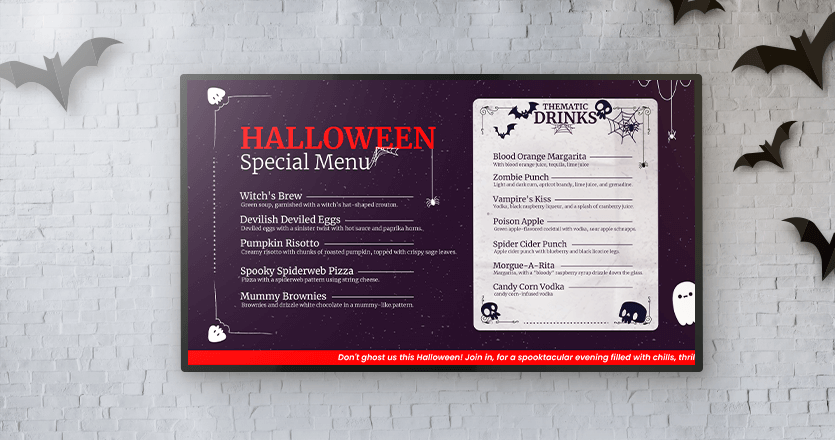 Cinemas
Cinemas can turn movie nights into spine-chilling adventures with digital signage. Promote Halloween movie marathons and exclusive ticket deals, enticing film enthusiasts. Screens in the lobby and concession areas create a festive atmosphere, elevating the cinema-going experience.
Hospitality
Hotels and resorts can use digital signage to greet guests with personalized messages, enhancing their stay. Display event schedules, local attractions, and amenities on screens strategically placed in lobbies and common areas. Provide guests with an immersive experience that goes beyond the ordinary, making their stay truly magical.
Events
Halloween parties and events come to life with digital signage. Display event schedules, costume contest details, and spooky animations to create an immersive atmosphere. Screens placed strategically around the venue keep attendees informed and entertained, ensuring they have a hauntingly good time.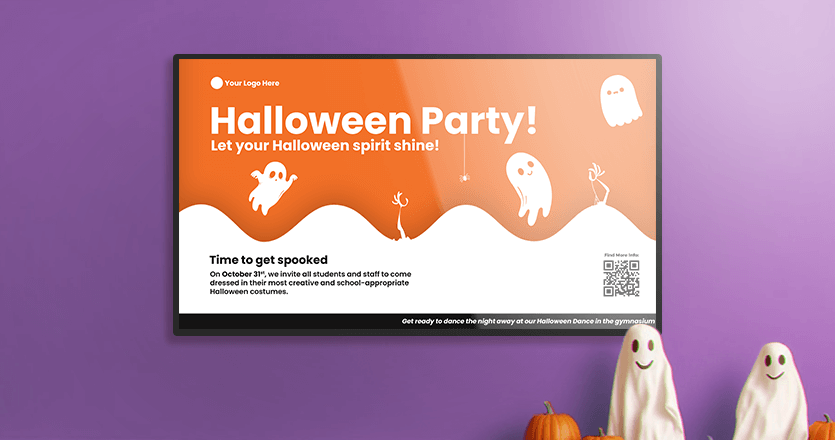 Schools & Universities
Schools and educational institutions can engage students with Halloween-themed announcements, event details, and creative contests. Digital signage in common areas and classrooms fosters a spirited learning environment. Display student artwork, showcase achievements, and broadcast important announcements, creating a sense of community during the Halloween season.
Offices
Even offices can embrace the Halloween spirit with digital signage. Recognize employee achievements, display Halloween-themed trivia, and promote safety reminders. Screens in break rooms and reception areas boost employee morale, fostering a fun and engaging workplace atmosphere.
How to use the free Halloween digital signage templates
You will find all these free templates in the Yodeck Portal's Template Gallery.
Import your template
Sign in to the Yodeck Portal.
Click on the 'Layouts' tab on the left side of the dashboard.
Select 'Add Layout'.
Click on the down arrow on the 'More' button and select 'Halloween' from the drop-down options.
Pick whichever template you want to use.
Hit the 'Import template' button.
Type a name for your layout template in the 'Name' field in the 'Layout Settings' window that comes up on the right.
Customize the template
You can customize each template zone (i.e. the text, image, video, app or playlist zone). Simply click on the zone you want to change.
You will see a zone settings menu on the right. Scroll down to customize each element in that particular layout template zone. Change the font, text size and color. Also, replace that image, video or playlist with one of your own by scrolling down. Additionally, you do the same to add your own logo. If you want to change the placeholder text, all you need to do is click on the text you want to change and type in your new text in the template.
Click on the 'Insert' button to add extra elements to the screen layout template by layering images, videos and more.
Lastly, click on 'Save' after you edit and customize the template.
Canva
Creating visually stunning Halloween content has never been simpler, thanks to Canva. This user-friendly platform offers a vast collection of Halloween templates, catering to diverse needs and styles. Businesses can customize these templates with their brand colors, logos, and messaging, ensuring a cohesive and professional look. Whether it's bewitching graphics, spooky animations, or playful designs, Canva provides the tools to bring creative visions to life.
This Halloween, let your creativity soar and transform your spaces into enchanting spaces of spookiness. Digital signage, coupled with Halloween templates, offers endless possibilities. By understanding the unique benefits digital signage brings to each industry and harnessing the creative potential of platforms like Canva, businesses can craft captivating Halloween-themed content. From retail to education, every sector can embrace the magic of digital signage and offer customers, guests, and employees a truly unforgettable Halloween experience. So, don't just celebrate Halloween; enchant the world with it, one digital display at a time. Happy haunting!