Effectively communicating health and safety protocols has proven life-saving during this pandemic, which is why we created free Coronavirus digital signage templates for you.
Absolutely nothing is more important than keeping people safe. And in this case, keeping safe means staying informed. Whether you're a hospital on the front lines of the pandemic or an essential service like a supermarket, getting the message across quickly and easily is vital.
Why rely on digital signage during the pandemic?
Digital signage adds a key benefit to your Coronavirus safety strategy. With the push of a button, COVID-19 content gets uploaded remotely to however many screens you deployed. Even if you've got hundreds of screens scattered across the globe. That means you don't endanger administrative personnel by making them put up posters or distribute flyers in person at each location. Without digital signage, you'd have no choice but to rely on traditional paper communication which makes social distancing impossible.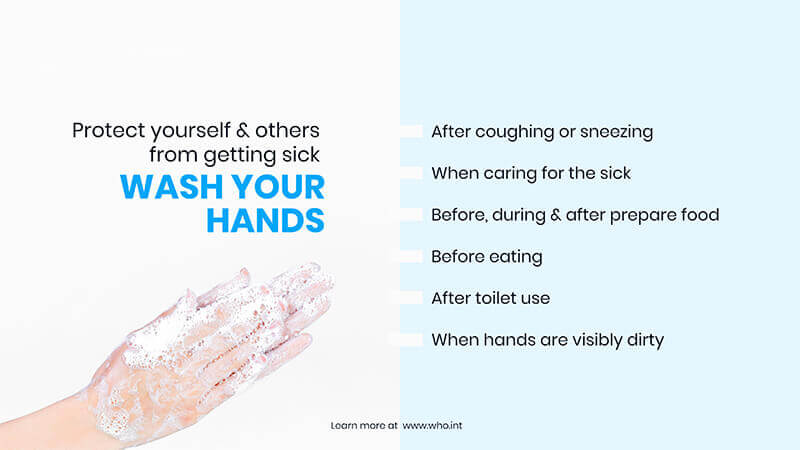 Also, you can update or edit Coronavirus health and safety tips remotely and have those changes appear instantly on all your screens. It might prove especially useful when health authorities issue new guidelines explaining how to stay safe when the lockdown is over. All you'll have to do is modify the free Coronavirus digital signage templates we created for you.
Most importantly of all, digital signage relies on a visual message. That means all these life-saving health tips grab the attention of employees, customers and visitors right away. All these colorful images and flashy videos? They guarantee people will give that safety content a few seconds of their time. They'll stay educated and informed about how to stay safe. Ultimately, getting the same safety guidelines drilled into us a thousand times a day is what saves lives.
Where should you display these templates?
The answer is simple. Anywhere people might see them. Anywhere employees, customers and visitors have a few seconds of idle time to focus on your screens. Honestly, at this point, it might be a good idea to have Coronavirus safety tips appear on all your screens, even if it's for a few minutes every hour. Just add to your playlists the free Coronavirus digital signage templates.
Reception areas and waiting rooms in hospitals, clinics and other medical facilities are great places to show Coronavirus safety content. Display free Coronavirus digital signage templates in staff break areas and changing rooms. Use screens located in elevators, bathrooms and near checkout counters. All these locations are places where people have the free time to pay attention to your screens.
What kind of free Coronavirus digital signage templates will you find in the Yodeck Portal?
Firstly, all the information we included in the free Coronavirus digital signage templates is sourced from the CDC and the WHO. We believe that any information you display on your screens must be provided by the experts. You'll find templates that cover an array of topics. From tips on how to wash your hands to prevention guidelines, they all rely on images. That way viewers absorb the information quickly.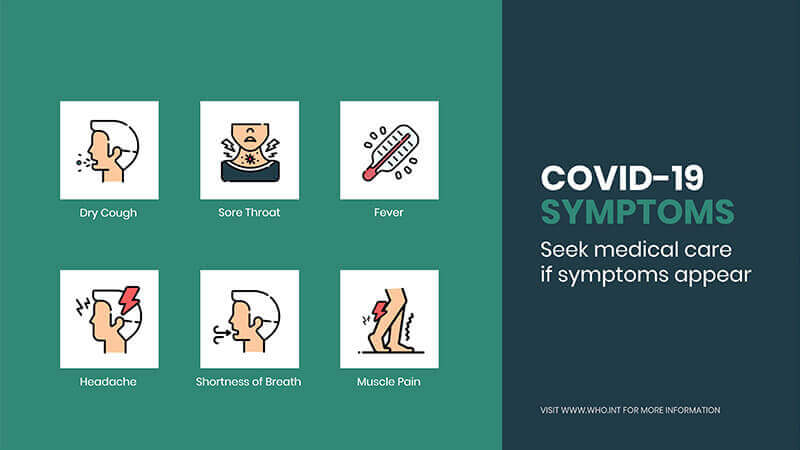 And of course, safety and prevention guidelines vary locally. So we urge you to incorporate tips provided by your local health authorities in the free templates. It's quick and easy to do. First, go to the Layout Editor in the Yodeck Portal. Add the Coronavirus safety template you want to use from the Template Gallery. You can either leave the content as is, or you can edit the content from within the Layout Editor. You can also customize images, fonts and colors so it reflects your own branding.
Why use our free Coronavirus digital signage templates?
Hospitals, government services and essential businesses still up and running are stressed and overwhelmed. We wanted to offer them a quick and easy way to get that life-saving content up there in seconds. Without wasting time on design or content creation. Also, when the lockdown is lifted, these templates could be used for office repopulation. After all, these health and safety guidelines will still be in effect. These free Coronavirus digital signage templates will make it a little bit easier to prepare for a safe return to normal life.