We've got a belated Halloween treat for all our devoted Yodeckers. And we can't wait for you guys to try it out.
Here by popular demand, we're proud to present Layout (Show) Templates! No need for design-savvy, totally customizable and easy to use. And we started shipping out Raspberry Pi 4 Players!
Shows are now called Layouts (plus other news)!
We know, you've grown kinda attached to the term Shows to describe the fancy screen layouts you guys love to design. But the feedback we got from new users was that it was a tad confusing, at first glance. So we decided to simplify it. So as of now, Shows are called Layouts. We changed nothing else in terms of functionality, so it'll be easy for our long-time users to get used to.
Also, we spruced up our Show Editor (now called the Layout Editor!). It's got a new look, but we also did away with multiple layout (formerly show) ratios. Why? Because it seemed like you didn't really use them. And here, at Yodeck, we're always tweaking our Portal to make it the most user-friendly and useful to you, our customers.
And the biggest change?
Well, it's a show-stopper (pun intended), so drum-roll, please ……
Layout Templates (Show Templates) are here!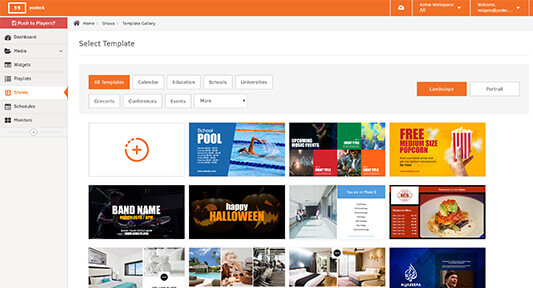 Create layouts like a pro with our brand-new Layout templates! Because it can be hard to design layouts that look professional and grab your customers' attention, we've taken the guess- and grunt-work out of the equation for you!
That's right! Under the Layout Editor in the Layouts feature, you can now find a range of professionally designed, stunningly beautiful, ready-to-use layout templates. What's even better is that they're categorized by industry, with relevant images specifically chosen to attract more customers; and help get your message across in the most effective way possible.
And we know you all like to add a personal touch when it comes to your digital signage. So, all our templates are fully customizable. What does that mean? You can change the template image with one of your own, add your own text, select text styles. And it's all done right in the Layout Editor without disrupting the template design. Of course, you can choose between portrait and landscape orientation as well, so that your layouts look amazing no matter what kind of screen setup you've got.
All you do is save any Layout template you choose, like you would any other layout you create, and watch the Yodeck magic happen on your screen!
Raspberry Pi 4 Players are on their way!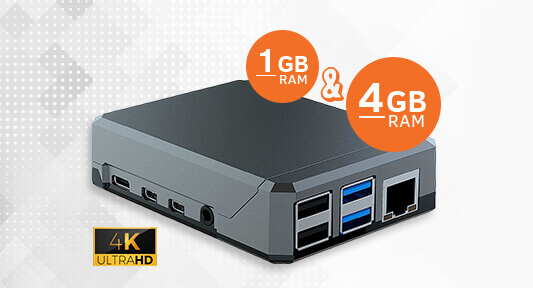 You read that right! We started shipping Raspberry Pi 4 Players, and we're extremely excited. Not only does it mean we can offer you lots of great new features, like 4K support, better graphics and more memory, but RPi 4 Players are future-proof. So you know this new hardware will provide the kind of robust, reliable tech you need for all the great things Yodeck has in store for your digital signage future.
The first thing you'll notice is a change in our Purchasing process in the Yodeck Portal. You get to choose the memory size you need, either a 1GB Raspberry Pi 4 Player or a 4GB RPi4. A 1GB Player will still only cost you $79. And of course it's still totally free with any annual plan you purchase. We suggest you buy the 1GB Player if your content contains full-screen playlists with videos, images and documents; or if you run simple Layouts with a couple Apps and a ticker.
We recommend the 4GB Player if you run complex Layouts with multiple Apps, overlays and multiple Playlists, or if you display Playlists of Web Pages; all of which are usually heavy data dashboards. The 4GB version comes with a $20 surcharge, meaning it's priced at $99 if you purchase a standalone Player, or it'll only set you back $20, if you opt for an annual subscription.
Another change you'll see when you unbox your brand-new Player is that it comes in an awesome aluminum case. And for good reason, too. Not only does the new case look sleek and professional; it also works great to dissipate heat without any fans. After all, a powerhouse of a computer like the RPi4 needs a little more tech TLC.
Continued support
For those of you still using other Raspberry Pi models, we will, of course, continue to support all Raspberry Pi generations. Including RPi3, RPi2, even RPi1.
Release Notes
New features
Shows are now called Layouts! It keeps things clear and simple for new users, and we know our old users will catch on quickly.
Yodeck's brand new Layout Templates are here! You can find a whole range of professionally designed layouts (previously called shows) with relevant images that are categorized by industry and you can import them to you Yodeck account. You can customize text, and you can even change the template image with one of your own, while still preserving the layout template design. And you can also choose between portrait and landscape orientation when you select a layout template, so that your layout looks great on screen. You'll find the new templates right in the Layout Editor (what we used to call Show Editor).
We started to ship out Raspberry Pi 4 Players. Our purchasing process now has an extra step so you can select the 1 GB Raspberry Pi 4 (still free on an annual plan) or the 4 GB model which only costs an extra $20 when you order a Player from us.
Improvements
The Layout Editor has a new look to streamline layout creation with the new layout templates. The biggest change is the elimination of the multiple ratios feature as it was superfluous to most users. If users require multiple ratios for the same layout, they will have to create a separate layout for each ratio.
The Raspberry Pi 4 image is out of beta and is available to download right in your Dashboard!
You can now add custom TLS/SSL certificates to Players. This is especially useful for self-signed certificates or for networks with transparent web-filtering proxies. You can do this through the Advanced Security page of the Monitors section.
Users who create a new custom app can now add their own thumbnail, screenshots and description for that app so it looks great in the App Gallery.
Network Administrators now see the host name of the Player when they go to the Monitor Status section.
We added lots of new fonts you can choose when you create a Twitter App!
You can now see where each Monitor Tag is used, so you know which Player has that Tag.
When you're in full screen mode in the Layout Preview (previously called the Show Preview), image thumbnails now appear in full resolution.
Bugs fixed
When you'd try to save a tag-based playlist in the Enterprise version, an error message would appear, asking you to select a Workspace, even though a Workspace was already selected. We fixed it so an error message only appears in the event that no Workspace was selected.
The editing of Apps no longer gets blocked when users type double quotation marks (") along with the @ symbol in the name.
We fixed an error message that asked you to choose a Workspace, even though you might only have one Workspace to choose from. Now the Default Workspace option is the only Workspace listed, and "Add All 1 Workspaces" was deleted.
Raspberry Pi 4 Players had an issue with the ticker app displaying a different color from what was selected. Now they show the correct color.
Enterprise WiFi is now working on the Raspberry Pi 4.