Nowadays, staying connected is not just a convenience; it's a necessity. Restaurant WiFi elevates and enriches the overall dining experience when customers enjoy a meal at their favorite restaurant, café, or bar. That's where WiFi signage comes into play, and Yodeck offers some of the most appealing and user-friendly templates to elevate the dining experience.
Why is WiFi in restaurants important?
In today's society, people expect to be connected at all times. WiFi has become an essential part of our lives, whether for business, socializing, or simply staying entertained. Customers who walk into a restaurant seek delicious food, a welcoming ambiance, and a reliable internet connection. Here are a few reasons why WiFi in restaurants matters:
Customer satisfaction: Offering WiFi enhances the overall dining experience, making it more convenient and enjoyable for customers. They can browse the web, check emails, or share their experience on social media without worrying about a weak signal.
Extended stays: WiFi encourages customers to linger, which can lead to increased orders and more time spent in the establishment. This is particularly valuable during slow periods or when you want to create a cozy environment.
Digital marketing opportunities: WiFi allows you to connect with customers beyond their time in the restaurant. You can collect email addresses, promote special offers, and build a loyal customer base.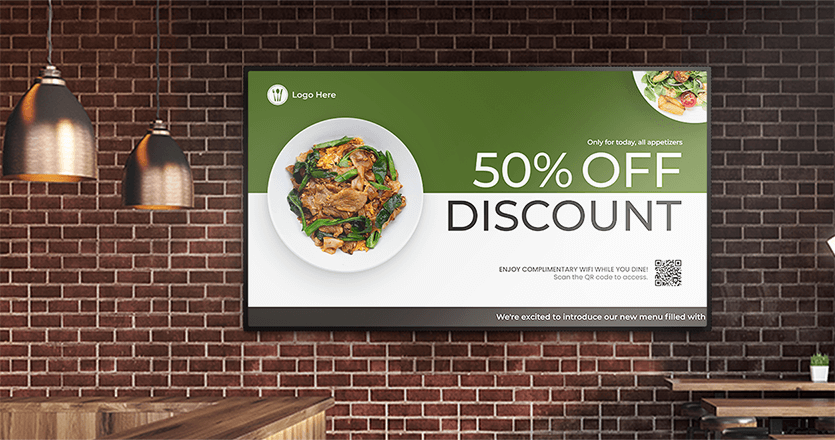 Making WiFi not just a connection but a memorable part of the dining ambiance. It's the perfect way for restaurants to showcase their brand, share promotions, and foster customer loyalty. With Yodeck's cool templates, WiFi becomes essential in creating unforgettable moments for guests.
Let's explore some cool template ideas to serve customers your WIFI:
Mouthwatering menu
Design your WiFi password display in the style of a menu board. Use high-quality images of your delicious dishes as the backdrop, overlay the WiFi details with an elegant font, and voila! You've turned a routine task into an enticing visual treat. This idea is perfect for restaurants, allowing guests to drool over your offerings while connecting to the WiFi.
Trivia teaser
Add a fun twist to sharing the WiFi password by turning it into a mini-trivia game. Create a template that displays a trivia question and reveals the WiFi password as the answer. This engages your guests and encourages them to spend extra time at your establishment, pondering the question.
QR code quest
Create a template with a QR code leading to a particular landing page with a hidden WiFi password. Guests can scan the code using their smartphones to unveil the password. It's an interactive way to share information while adding a tech-savvy touch.
Social media
Leverage the power of social media by displaying your Instagram feed alongside the WiFi password. Encourage customers to follow your account and tag your establishment in their posts. This shares the WiFi details and promotes your social media presence.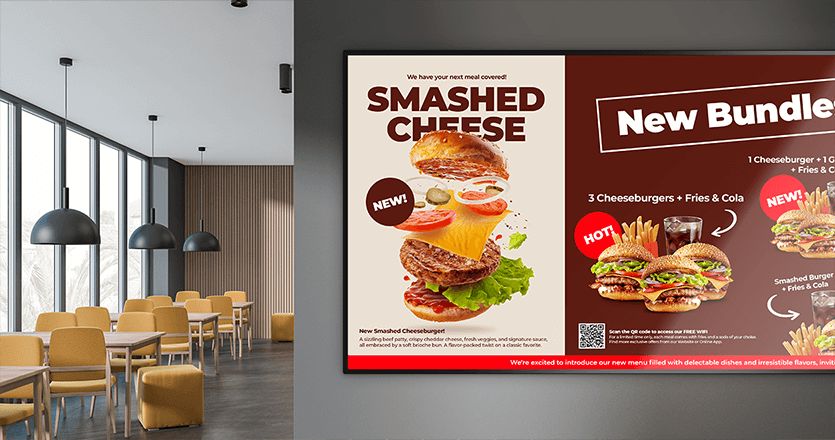 Themed treasures
Switch up the WiFi password display based on themes or special occasions. If it's a holiday, create a festive template. If you're running a seasonal promotion, incorporate it into the display. The idea is to keep things fresh and aligned with what's happening at your establishment.
Seamless ease of use with Yodeck
One of the most significant advantages of Yodeck's WiFi signage templates is their ease of use. You don't need to be a tech expert to create stunning displays. The intuitive interface allows you to drag and drop elements, customize colors, and schedule content with a few clicks. This is particularly helpful for busy restaurant owners who want to focus on serving delicious meals rather than grappling with complicated software.
With Yodeck, you can manage all your digital signage from a single dashboard, making updates and changes in real-time. It's like having a digital marketing team at your fingertips, enhancing your restaurant's brand and customer experience effortlessly.
To sum up
In conclusion, WiFi in restaurants is not just about offering connectivity; it's about enriching the dining experience and creating a lasting impression. Yodeck's easy-to-use WiFi signage templates empower restaurant owners to harness the power of digital displays without the hassle.