Yodeckers, we reached a momentous milestone. The one feature everyone wanted, needed and kept asking about finally sashayed its way onto the Yodeck platform in style. The Playback Preview feature means you can create Playlists and Layouts, and instantly know what they will look like – right from inside the Portal. Most importantly, you don't need a Raspberry Pi Player to get this handy little Preview. So go forth and experiment – without running to your TVs to make sure there aren't any signage bloopers!
Playback Preview Magic!

Your digital signage content creation got a whole lot easier with our Playback Preview feature. How? Because all you have to do is click on a button in the platform, and you'll see exactly what's cooking with your Playlists and Layouts. Most importantly, you don't have to hook up a Raspberry Pi Player to your TV before getting this snazzy little Preview. Moreover, just press the 'Preview' button in Playlists or Layouts, and a new Playback Preview window opens up. Then check it out, and if you're happy, get it on your signage screens!
Stylish transition effects for images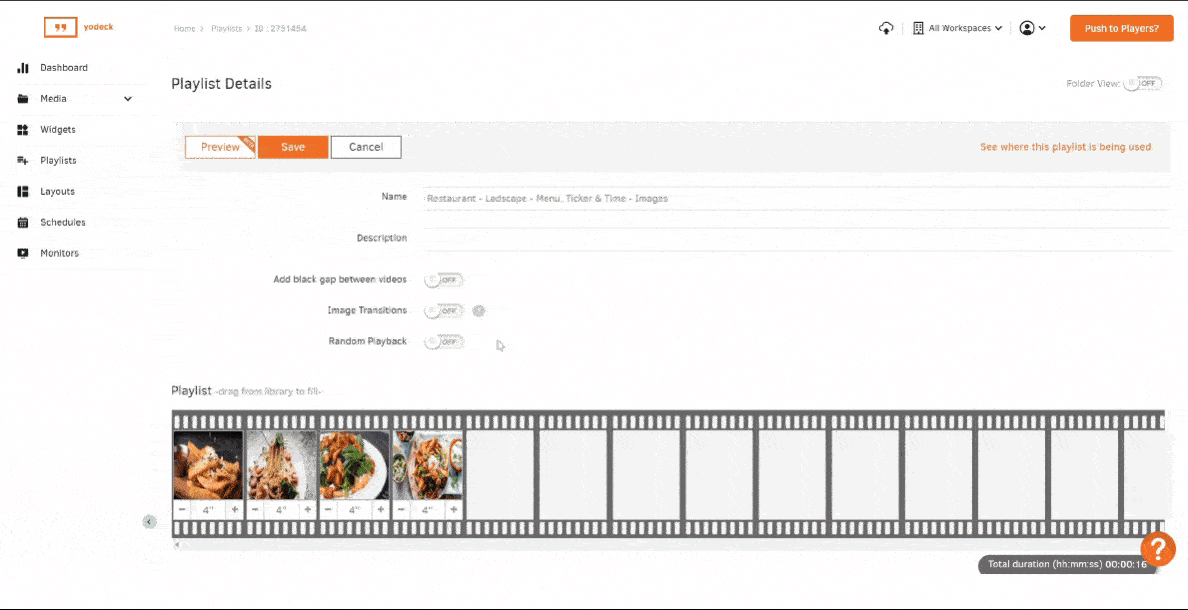 We heard your pleas and made it happen! Jazz up your Playlists with cool-looking image transition effects. Firstly, you can now choose from over 25 effects to give your Playlists that extra something special. Also, you can see exactly what each effect looks like on screen by hovering your mouse over each thumbnail. Additionally, you get to set the speed of each transition. Just toggle the button to enable transitions from inside the Playlist window. Then choose your transition type!
Qube App for Easy Queue Management
Ever thought of using your digital signage screens to streamline your queues? Well, our new collaboration with Qube integrates a great queue management system with Yodeck. And there are lots of benefits. Firstly, if you organize your queues, customers wait in line for a lot less time. Secondly, they can use wait times to do something else within the same venue. Thirdly, that translates into a better customer experience – which means return business for you. Furthermore, it's super easy to use with Yodeck. Just paste the Qube link into Yodeck.
Release Notes
New features
Yodeck's much-requested Playback Preview finally launched! Specifically, users can see how content will look on screen without using a Raspberry Pi. This feature can be found in Playlists and Layouts, and the 'Preview' button appears in the top left of the Playlist window while for Layouts it's at the top right. Moreover, when you click the button, a new window opens where you can preview the Playlist or Layout. We're still working on special capabilities, such as selecting what media file you see. Similarly, we're polishing the rough edges, so things like Webpages, old document files and Apps such as Social, Calendar and RSS News Apps, might not work in Playback Preview.
Additionally, you can now enable transitions between images in Playlists! Just toggle the button in the Playlist window, choose the type of transition you want to use and then set the speed.
Our new Qube app helps clients display a queue management system on digital signage screens. You just copy the link generated by Qube and paste it into our app. It's quick and easy. Also, it's a great way of streamlining queues and cutting wait times. Please reach out to us if you're interested in using Qube, so we can put you in touch with the right department there.
Improvements
Now users can immediately see if a media file has expired from inside the Layout editor. Specifically, you'll see a discreet icon so you only schedule and advertise active sales and promotions.
Also, you can authorize the same Facebook or Instagram account to appear in different Yodeck accounts.
Clients will now see a warning message on TV if a user connects a mini-HDMI cable to the Player's right HDMI port. Setup just got easier!
Also, we improved the Player's screenshotting system. When both a Player and a user are online, Yodeck sends screenshots every 30 seconds so you can see what that Player is displaying. However, when a Player displayed content in 4K resolution and took a screenshot, the HDMI signal got interrupted and users saw a black screen. Now, the Player uses fewer resources to produce and upload a screenshot to your account so you don't get blackouts and you see 4K resolution screenshots, too.
Bugs fixed
The Media selector that displayed thumbnails of all Media files was not working on slow networks and it got stuck while loading. We now fixed the issue and media loads properly.
Furthermore, when someone set a media file to start displaying on a future date and put it in a tag-based playlist, in some cases playback froze. It now works great!
We also fixed a bug in the Facebook page feed that wasn't authorizing properly and couldn't display posts. So now it works!
We also rectified an issue with YouTube's live stream feature that occurred after a YouTube update. The Players couldn't display streaming content. Now it displays properly!