Die-hard Yodeckers, gather 'round because we've got extra special new features for you!
Always wanted social media in your digital signage content? Your wish is our command so we created the Instagram App! And we're also letting loose Playback Report capabilities because y'all have been asking for them. Two new features that we're sure will help your business soar.
The Instagram App Is Here!
Shutterbugs and social media mavens, this feature's right up your alley. Everyone's hooked on Instagram, and now you've got our brand new Instagram app to use in your digital signage.
And it's got it all: Awesome visual content? Check. Social media power? Check. Easy to use? Of course! There's no better way to get people watching your digital signage screen than using eye-catching images.
Playback Reports for Pro & Enterprise Plans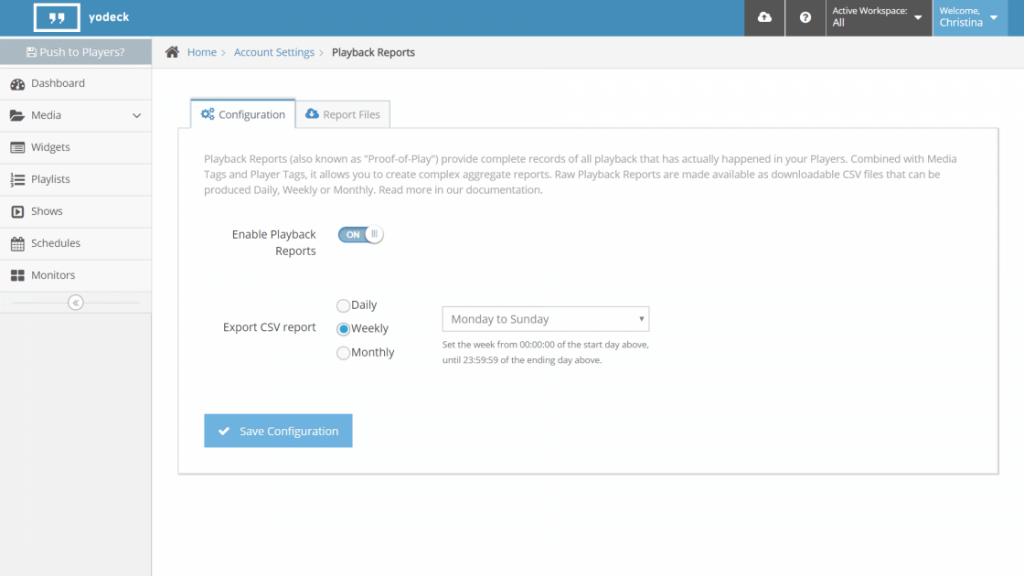 Playback reports are a must-have when you're hosting third-party campaigns. Gotta provide your client with proof of play to get that extra revenue, right? And we've made it easy as pie. Just download an Excel-ready CSV report, and there you go. You'll know exactly what media played and when, on which player, and with what tags.
We know how important your digital signage strategy is to your bottom line, so we're unveiling this bumper feature as a beta. Why? So we can make playback reports absolutely stellar.
Check out our Changelog, chock-full of improvements.
Release Notes
Playback reports are here for Pro and Enterprise plans! Get a CSV report that opens in Excel and details what media played where, on which player, with which media tags. It's an especially useful feature if the user hosts third-party campaigns on their digital signage screen as they can now know how often ads played and provide proof of play to their client.
Yodeck now offers users an Instagram app! Harness the power of social media right there on your digital signage screen. Display Instagram profiles, location and hashtag feeds.
We also now support subtitles for videos. The video must be in MKV file format with subtitles embedded as a track. You can then upload it to your Yodeck Portal right from your PC. If you have separate video and subtitle files, you can use free tools available online to merge the two files into one MKV file and upload that.
You can see where each playlist, media, app, layout and schedule is currently being used in your account.
Users with lots of screens have a handy new option where they can copy monitor configurations, including parameters such as network settings, which makes it easier to add or edit screens with just a few clicks.
There's a new option so web page login info isn't lost when the Player reboots. It's useful for playlists with web pages as repeated logins don't occur.
Users now have extra audio output flexibility as Yodeck offers an option that completely mutes a Player.
We created a Scheduled Reboot option so users can set the date and time of a reboot. It's useful for troubleshooting when the Player freezes after prolonged use, so users can now pre-set reboots.
Scheduled download and scheduled push is here! Users can restrict download hours and set when content is pushed to players, all from the Monitors Advanced Features tab.
We now offer an updated image for 4G dongle mobile internet.
Enterprise plan: Users now see interfaces and forms tailored and simplified according to their permissions. If a user has read-only access to media, the save option will be suppressed while users will only be able to see audit logs they have access to.
Users can now disable the "Signed in from different location" email alert.
We've optimized overscan settings! The image no longer gets cropped, which means Yodeck offers 100% LED Billboard support for screens of all shapes and sizes.
Partners can now hide the reset password option so passwords can't be changed by clients.
It is now possible for Partners to hide unavailable features and restrict what their users can view.