Yodeckers, we have some great new features hitting Workspaces with our enhanced Workspace settings!
You can set Administrators for Workspaces and Player quotas, which will prove especially useful for clients with larger deployments. But fear not, we also have something new up our sleeve that makes setup a breeze for everyone!
Greater flexibility with enhanced Workspace settings
When you've got digital signage screens across many locations, branches or offices, you need flexible roles and permissions. Some organizations want more control, others require more decentralization for their digital signage content management. Workspace roles and permissions get the job done. And that's precisely why we spruced them up quite a bit with enhanced Workspace settings!
Firstly, Enterprise account owners can now appoint Workspace Admins. That means a user can become an administrator in one or more Workspaces, with across-the-board privileges for each Workspace. Additionally, those same Workspace Admins can have other – different – roles in other Workspaces. And, of course, each Workspace can have more than one administrator.
Furthermore, account administrators now have total control over how many Players get assigned to each Workspace. Specifically, you set a Player limit per Workspace so you can manage the allocation of Players.
Even easier digital signage deployment!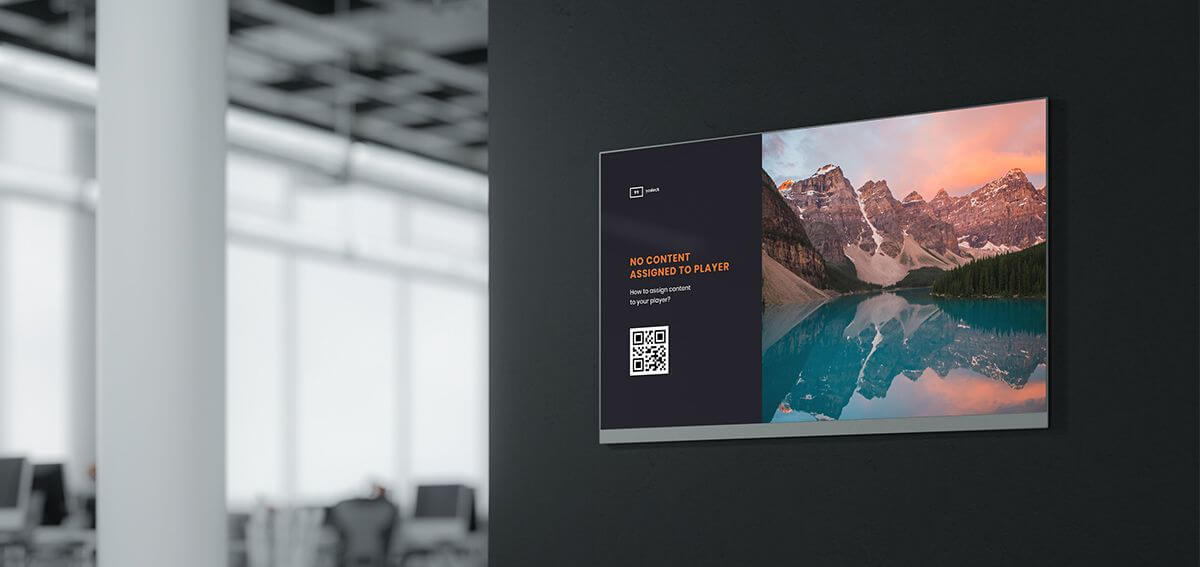 Whether you're a digital signage newbie or part of a firm's IT department, setting up digital signage can be frustrating. Tech teams want to minimize time wasted on simple deployments that can be independently carried out by departments. Similarly, new users want to avoid setup snafus.
That's why we created a great new functionality in the event that screens don't have assigned content. Instead of getting a rather confusing blank screen, TVs will now display a helpful 'No content assigned' message. Additionally, users will see a QR code that will take them to step by step instructions for how to easily assign content to screens. Cool? We think so too, so say goodbye to blank TVs!
Release Notes
New features
You can now define Workspace Admins using our enhanced Workspace settings! Enterprise plan users can now set a user as the administrator of a workspace. They can, of course, still have other roles in other workspaces.
There's a new Player Limit per Workspace setting. Your account administrator can now limit the number of Players assigned to each Workspace. You're essentially setting a device quota per Workspace.
Improvements
We are happy to present a cool new functionality that we hope will make it easier for new users to deploy digital signage screens. When a screen doesn't have any content assigned, customers will see on their TV screen a 'No content assigned' message. It will be accompanied by a QR code that takes you to step by step instructions for assigning content to that TV. As of now, Yodeck users won't see a blank screen and be left wondering what went wrong. They'll know exactly what's happening with their screens and how to fix the issue.
Players now display static layout regions as one unit, and use fewer resources such as RAM in the process. This means users can add many more static regions without any loading issues.
Also, when users place their orders for Yodeck Players, they can select their plug type based on their region before finalizing the order. We offer US, UK, EU and AUS plug types.
Now the rotation of Clipart in the Layout editor gives you lots more flexibility, as you can input the precise degree of rotation. Just type in the degree number!
User roles have changed, but without losing any flexibility. The Permissions columns are now 3 ('View', 'Change' and 'Delete') and we also eliminated the "Is Admin" permission.
Users can now book a demo from inside the Yodeck Portal and not just through the website. Our Account Executives will be happy to answer your questions and give you a tour of Yodeck's features.
When users add a video through the 'Import as URL' option, they can now choose to skip encoding.
Bugs fixed
We fixed the sound output selection on our latest Player image. Up until now, when a user selected 'Analog output' in the 'Sound/Display' settings, they couldn't hear anything.
Also, we fixed an issue where thumbnails appeared stretched when choosing media files. The aspect ratio is now kept.
In Screen Layout Templates, you didn't get correct filtering in the dropdown menus. Now filtering works!
We improved the Player so that when you select the 'Random playback in playlists' option, content doesn't repeat too often. Items in the last 1/3 of a playlist iteration are never placed in the first 1/3 of the next iteration.
Additionally, we fixed alignment issues in the Playlist editor on mobile phones.
Partner news