What a pleasant and thrilling experience this year's Infocomm was! Infocomm is the premier trade show for the audiovisual and integrated experience industry in North America, showcasing groundbreaking technologies that are shaping the future of digital communications. The Yodeck team was there, among leading companies that participated in the 2023 edition of the event in Orlando, Florida, between the 14th and 16th of June.
Following our successful participation in the ISE event – the European counterpart of Infocomm – earlier this year, our presence in the landmark US annual event was a highly informative and exciting experience. It marked another milestone in our journey towards transforming how businesses engage with their audiences through the power of digital signage. High on our agenda was our effort to showcase our latest developments and product updates, which make our software one of the easiest, most accessible and affordable solutions for digital signage. We also planned to cultivate new connections with prospective partners and customers and hear their feedback first hand in some very fruitful conversations that livened up our booth.
Fostering great discussions and connections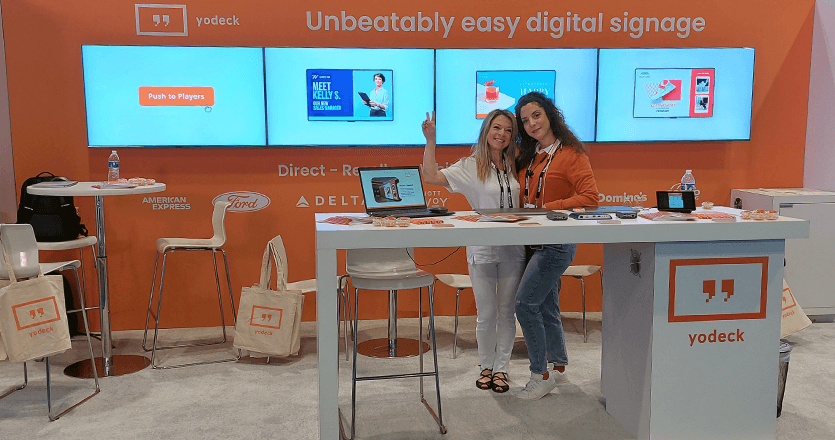 Almost 30,000 attendees from 115 countries gathered at Orlando, Florida over the course of the 3-day event, with 700 exhibitors vying for a chance to present their products and services. Our primary focus revolved around establishing and reinforcing valuable relationships with resellers, integrators, and, undoubtedly, other technology companies.
The number of our booth visitors that were interested in learning more about Yodeck and our product validated us as an established, trusted brand that organizations, integrators and resellers from around the world recognize and respect. Moreover, meeting and talking with partners and potential customers was a highly fruitful experience. It provided us with plenty of opportunities to present our newest product updates, but more importantly, it helped us better understand the pains and needs of the end users. Above all, we established a significant number of valuable connections with potential partners and engaged in discussions regarding thrilling new business prospects and opportunities within the realm of digital signage and DOOH.
What we learned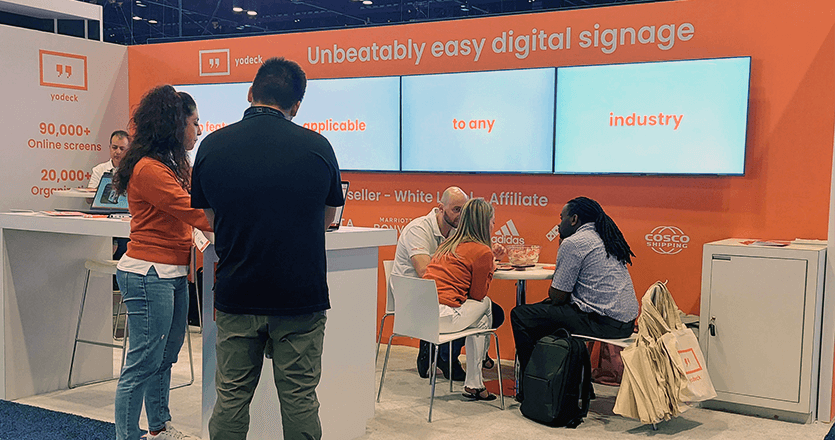 We experienced valuable knowledge exchange while interacting with both visitors and other exhibitors. Exciting new trends and interconnectivity among tech fields were explored, offering important insights for future developments, while educational sessions provided in-depth knowledge applicable in practice.
It was great to see how the AV tech ecosystem is evolving with exciting new technologies, products and services. Taking some time to roam around the exhibition floor and experience first hand the innovative tech presented in the trade show, offered its own benefits in understanding current and future trends. It also helped us observe the bigger picture where Yodeck is positioning itself as a leader in visual communication technology and identify new opportunities for growth. 
We were happy to welcome a steady stream of visitors in our booth and present how the Yodeck solution works. We also presented the newest developments in our ever growing set of features, as well as the new media players supported by our software and future product releases. Visitors wanted to experience first hand the unmatched ease of our cloud based CMS, while also seeing up close the various features it offers. Most importantly, they offered invaluable feedback for us to take into consideration in improving our product with new features suggestions and requests.
The Infocomm little things
The booths at Infocomm this year were buzzing with positive vibes, quirky giveaways of promotional gadgets and gifts, as well as the occasional treats of coffee and snacks. We were also happy to see that QR codes replaced much of the hardcopy promotional material. We made sure that our booth offered our visitors a similarly cozy and friendly vibe with some branded gifts. These included tote bags and pens, but the most successful little present in our promotional package was our Yodeck yoyo. It became an absolute hit for our visitors!
The Growth wave
Despite the dismal projections about the performance of the tech industry in general, digital signage is expected to keep growing at an increasing rate. Research indicates that the global value of the digital signage market is set to reach USD 31.7 billion by 2025, showing how digital displays will transform traditional signage everywhere from universities and offices, to religious venues and storefronts.
Infocomm constitutes a great incubator of ideas, trends and tech that sets the stage for this growth wave of the audiovisual and integrated experience industry. That's why Yodeck will be returning to Infocomm 2024 to further foster our commitment to revolutionize digital signage and provide businesses with powerful tools to engage, inform, and inspire their audiences. We cannot wait to see you all next year in Las Vegas!