Now, who wouldn't like to have a beautiful video wall like this for their business?
There's nothing quite like a video wall for creating impactful and engaging digital signage.
The kind of stunning spectacle which leaves consumers open-mouthed with digital love. Yes, you know the kind.
And now you can create amazing video walls using Yodeck players in your shop, office or virtually any venue. Our latest software update is here and Yodeck now fully supports building video walls of all shapes and sizes.
But that's not all. Yes, there's more good news. As with all things Yodeck, it's really easy and we can also help you to configure your video wall design.
What you need
Firstly, you need to get a few things in order for it to work and avoid messing up your network. Here is the list of required hardware:
A Yodeck player for each screen
Another Yodeck player (as "Master") that will play back the actual content
An HDMI-to-IP video streamer – we recommend Lenkeng LKV373A (sender only, costs about $36)
A Network router – no special specs, just having a LAN and a WAN port will do
One Network switch to connect all of the above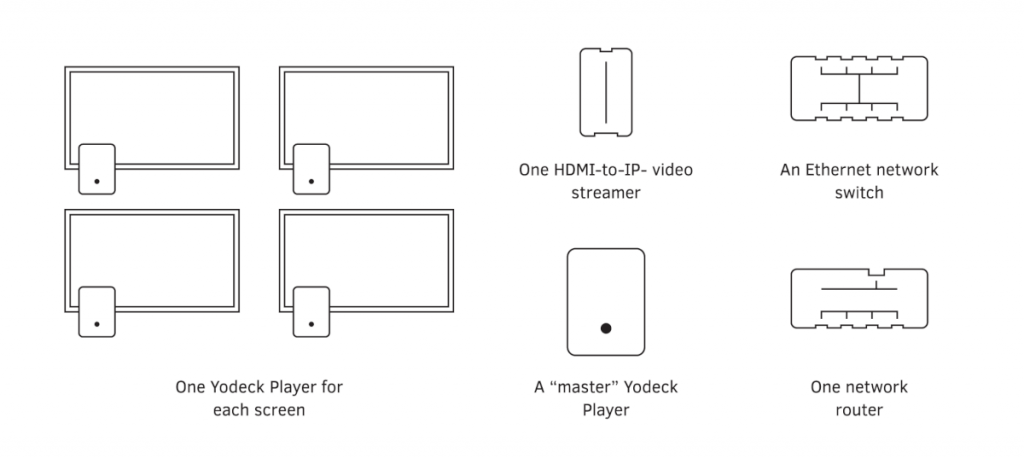 With the above hardware, you can build virtually any type of video wall imaginable. From a simple 2×2 screen setup to the most complex asymmetric layout with 10 or more screens (or even more – there's no limit there actually).
Now, build that video wall
We already have several video wall setups in production using the above setup and it works amazingly well. Try it for yourself today! Because if video killed the radio star then it's fair to say that the video wall is capable of decapitating analog signage. And we mean that in the nicest possible way.
Read the detailed Video-Wall guide and reach out to our support team if you need any help.