There's no doubt about it, no vertical market is making better use of digital signage than retail.
It is a market that has taken on board fully the concept that "You never get a second chance to make a great first impression."
If you are in retail and not yet using digital signage then, shame on you! Well, maybe I won't be so harsh. I'm sure you're already thinking about it. And that's one of the reasons for this post. To look at the state of play, but more importantly, to explore new, innovative ways to use retail digital signage to boost traffic at physical stores.
Retail digital signage goes from strength to strength
According to a recent global report from researchers ReportsnReports, the digital signage market is expected to grow by a compound annual growth rate of 10.7 percent from 2017 to 2023. It will also reach $26.21 billion by 2023. Across all verticals.
This growth is being driven by advertising demands, as well as new ad tech and infrastructure advancements. Some of the main factors include:
Increasing use of VR (virtual reality) and AR (augmented reality) experiences
Growing demand for IoT (Internet of Things)
Increasing availability of cloud-based platforms
Increasing usage of LED and OLED displays
Overall, the report states that North America holds the largest market share, but the Asia-Pacific region is expected to see the highest growth rate from 2017 to 2023. Are you ready to harness the power of digital signage for retail?
A complete customer experience
As we all know, the holy grail for retailers is to make sure they can offer a complete customer experience at brick-and-mortar stores. The definition of what that means may vary from industry to industry, but there is a bottom line. And it is that you need to offer an engaging, immersive and high-quality experience at every step of the in-store shopping journey.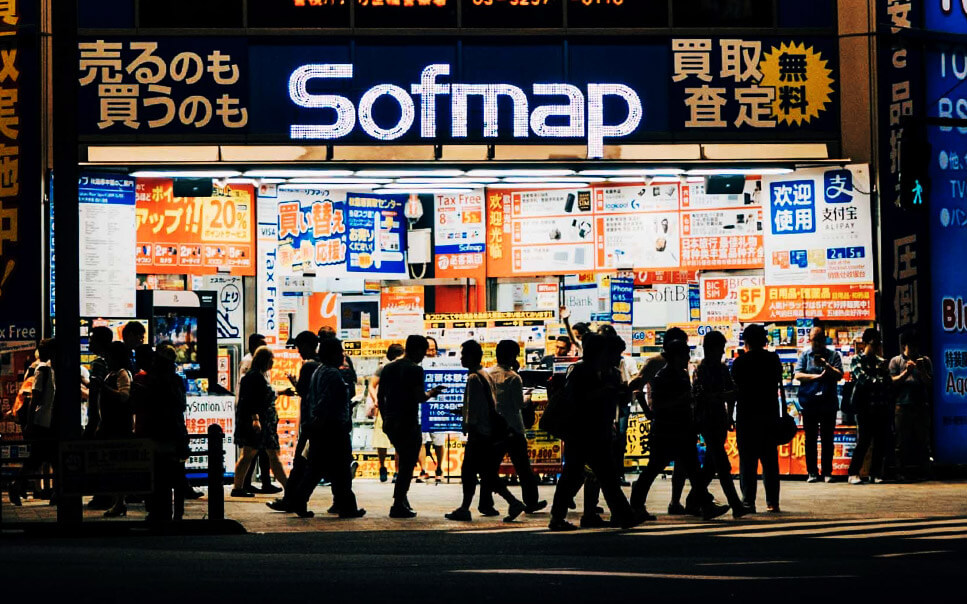 How can you do this? Digital signage of course! Albeit using the latest technology and high-quality content as a prerequisite. Here are a few ways to harness the power of retail digital signage and increase store traffic:
Start the customer experience outside the store
Attract customers' attention before they even set foot in the store (even from the parking lot!). Use window-facing screens with high brightness levels and sunlight adjustment technologies. This way you ensure that consumers can see your content clearly, even in direct sunlight.
Look for integrated Beacon and Bluetooth Low Energy (BLE) support. This expands marketing, branding and loyalty options for retailers that have a mobile app for their customers. This enables retailers to send customized content to consumers' smartphones, such as greetings, coupons or special offers.
Leave customers awestruck with incredible 4K Video Walls
Large displays are good. But when you combine sleek, almost bezel-less screens with 4K screen capability, and put them together in a video wall (a function supported by Yodeck), then the results of spectacular. With 4K's 8.29 million pixels (versus Full HD 1080p's 2.07 million) you can show incredible detail, amplifying the quality of your content.
Video, images and brand logos and messaging can stand out so much more, taking storytelling in retail environments to new "cinematic" levels. This will help bring in customers and keep them in your store longer.
Think small
Stunning large 4k screens are great for attracting attention but don't underestimate also the power of smaller screens in retail digital signage. Even 10-inch displays can drive make big sales, especially if they are touch screens with built-in Wi-Fi, Beacon and BLE support.
Use these kinds of screens in a wide range of POP (point-of-purchase) scenarios, like price tags on shelves, cash desk promotions or as interactive notification boards in business spaces.
Up-sell and cross-sell by providing promotional gift coupons for example both in and outside stores.
Digital mannequins
Let's face it, physical mannequins are quite limited, but with vertical stretch displays, you can create digital mannequins which change outfits in the blink of an eye to grab customers' attention.
Placing such displays in the pillars of buildings inside the shop layout allows you to create multiple combinations of clothing, and you can easily change/alter the content for promotional periods and seasons.
The future is digital signage
These are just a few ways in which you can increase retail traffic in brick-and-mortar stores by taking advantage of new and emerging hardware and software. It's these kinds of innovations that are taking the technology further. To such an extent that, combined with the right platform, can not just attract, but also excite and amaze customers. Who are, in the end, the most important part of the retail digital signage equation.
As Jim Roddy, president at Innovative Retail Technologies says:
"I can't tell you the exact future of retail, but I can point you to the person who has that answer: your customer."