It has been a long wait. Raspberry Pi 4 was announced in June 2019, but it is time for a new almighty Raspberry Pi. In December 2022, Eben Upton shared in an interview that 2023 will be a recovery year and that we should not expect a new generation of Raspberry Pi until 2024. Well, things likely improved for them, and the Raspberry Pi 5 was just announced.
We have the privilege of having access to an actual Raspberry Pi 5, so we just had to write a detailed review of what's in the box and how things have changed since four years ago when the Raspberry Pi 4 was announced. Enough with the talking; let's go for it.
Comparison table with hardware changes
We will go through all the features, but we love comparison tables that instantly show what's different and how. So, here is a comparison table between Raspberry Pi 4 and Raspberry Pi 5.
Raspberry Pi 4
Raspberry Pi 5
Comments
SoC
Broadcom BCM2711
Broadcom BCM2712
CPU
1.8GHz quad-core, 64-bt Arm Cortex-A72
1 MB shared L2 cache
2.4GHz quad-core, 64-bit Arm Cortex-A76
512KB L2 caches and a 2MB shared L3 cache
The new SoC and CPU on the RPi5 delivers 2x-3x the performance of the RPi4.
GPU / Media
VideoCore VI
H.265 (4kp60 decode)
H.264 (1080p60 decode, 1080p30 encode)
OpenGL ES 3.1
Vulkan 1.0
VideoCore VII
H.265 (4kp60 decode)
OpenGL ES 3.1
Vulkan 1.3
2-2.5x faster (1GHz on RPi 5 vs 600MHz on RPi 4)
H.264 hardware decoding and encoding was removed.
H.264 1080p@60FPS software decoding takes 50-60% of CPU
RAM
1GB, 2GB, 4GB, 8GB
LPDDR4-3200 SDRAM
4GB, 8GB (at launch)
LPDDR4X-4267 SDRAM
At launch, only 4GB and 8GBG versions of the RPi5 will be available.
There is indication that a 2GB and a 1GB version will follow later.
WiFi & BT
2.4 GHz / 5.0 GHz 802.11ac
2.4 GHz / 5.0 GHz 802.11ac
Bluetooth
Bluetooth 5.0, BLE
Bluetooth 5.0, BLE
Storage
MicroSD card slot
MicroSD card slot
USB
2x USB 3.0, 2x USB 2.0
2x USB 3.0, 2x USB 2.0
When a 5A PSU is used, the USB ports will deliver up to 1600mA, else they are limited to 650mA.
Supports more than 2x the bandwidth compared to RPi4
Ethernet
Gigabit Ethernet port, with PoE HAT support
Gigabit Ethernet port, with PoE HAT support
A new PoE+ HAT will be announced to accommodate the new PCB layout and new power requirements of the RPi 5.
PCIe
–
PCIe 2.0 x1 onboard FPC connector
Audio out & Composite Video
4-pole (mini-jack) stereo audio and composite video port
GPIO header only
Real Time Clock
–
Onboard RTC, with external rechargeable battery connector
An RTC lithium battery provided by Raspberry Pi was also announced.
Power Input
USB-C 5V/3A
USB-C 5V/5A (PD enabled)
A new USB-C PSU was announced that supports PD (5V@5A, 9V@3A, 12V@2.25A, 15V@1.8A)
Power Button
–
Onboard power button
Active Cooling
–
Onboard variable-speed fan connector
An active cooler was also announced, which includes a large heatsink and a fan.
The new RPi5 official enclosure also includes a fan.
GPIO
RPi Standard 40-pin header
RPi Standard 40-pin header
HDMI
2 × micro-HDMI ports (up to 1x 4K@60Hz, or 2x 4K@30Hz displays)
2 × micro-HDMI ports (up to 2x 4K@60Hz displays)
MIPI displays and cameras
2-lane MIPI DSI display port
2-lane MIPI CSI camera port
2 × 4-lane MIPI camera/display transceivers
UART
GPIO-only
GPIO and dedicated UART with on board connector
Looking at the board
As you can see, the form factor has remained the same. Or, almost the same. Dimensions of the board itself are the same, but the port layout has changed, so RPi 4 enclosures will not do for RPi 5.
The USB and Ethernet ports are now flipped, resembling the Raspberry Pi generation before RPi 4. You will find 2x USB 3.0 and 2x USB 2.0 ports on the right side, while the Ethernet port is on the left. It is the first time a connector was removed; the mini-jack (4-pole) connector that provided the analog audio out and composite video is now gone. The older layout of the RPi 1 included a separate composite video and was removed later on, but the composite video was still available through the 4-pole connector. To access the composite video and analog audio output, you must use the GPIO connector, much like the RPi Zero. The dual HDMI, GPIO 40-pin header, and USB-C remain.
At a second glance, though, you might notice a few additions. There are a bunch of new onboard connectors that were not there before. And, voila, a button! Yeap, that's a power button that will help you power up and shut down your RPi 5 much like a PC. But let's dive in a little.
Raspberry Pi 5 key features
With its impressive new features and capabilities, Raspberry Pi 5 is ready to take you one step forward.
Tip: Additionally, Yodeck is here to elevate your presence with powerful tools and captivating displays, ensuring you stand out!
Here's a glimpse of the key features:
Improved Performance
The Raspberry Pi 5 boasts a 2.4GHz quad-core, 64-bit Arm Cortex-A76 CPU, equipped with 512KB L2 cache and a 2MB shared L3 cache. This substantial upgrade results in a 2-3x increase in CPU performance, ensuring faster and more responsive computing.
Enhanced Graphics
The VideoCore VII GPU integrated into the Raspberry Pi 5 delivers a significant uplift in GPU performance, making it ideal for graphics-intensive applications, gaming, and multimedia tasks.
Memory Options
Users can choose from 4GB and 8GB of LPDDR4X-4267 SDRAM, ensuring memory for multitasking and resource-hungry applications.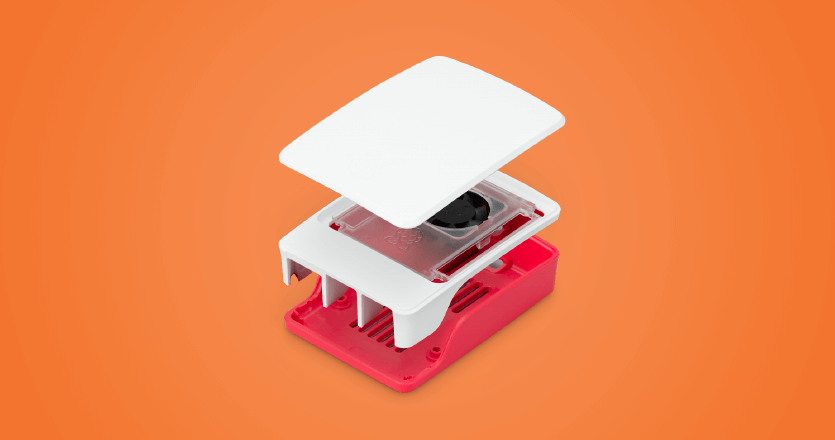 High-Speed Connectivity
The device supports 2.4 GHz and 5.0 GHz 802.11ac Wi-Fi, Bluetooth 5.0, and Bluetooth Low Energy (BLE), providing seamless wireless connectivity options.
Input/Output Options
Raspberry Pi 5 features a range of I/O options, including two USB 3.0 ports for high-speed data transfer, two USB 2.0 ports, Gigabit Ethernet with PoE+ support (requires PoE+ HAT), and 2×4 lane MIPI camera/display transceivers.
PCIe 2.0 Interface
Including a PCIe 2.0 x1 interface enables users to connect fast peripherals, expanding the device's functionality.
Traceability
Raspberry Pi 5 incorporates features for tracking sales, including memory density markings and unique serial numbers on each board, offering enhanced traceability for customers.
Wide Availability
Raspberry Pi 5 will be available in several key markets, including the EU, UK, Israel, US, Canada, India, Australia, New Zealand, Hong Kong, and Singapore, with more countries to follow.
Accessories galore
Alongside the Raspberry Pi 5, a range of accessories are also launched to complement the device, providing users with everything they need to utilize its full potential.
27W USB-C PD Power Supply
A new power supply delivers 27W of power and a maximum of 5.1V, 5A, enabling the Raspberry Pi 5 to power a wider range of peripherals. It dynamically adjusts power delivery to connected devices, optimizing performance.
Raspberry Pi 5 Case
The redesigned case features improved thermal properties to handle the device's higher power consumption. It includes a variable-speed fan to ensure efficient cooling. The case will be available in a red/white color scheme at launch, with black/grey to follow.
Active Cooler
This cooling solution combines a large metal heatsink with a variable-speed blower, ideal for users who plan to put the Raspberry Pi 5 under sustained heavy load without a case.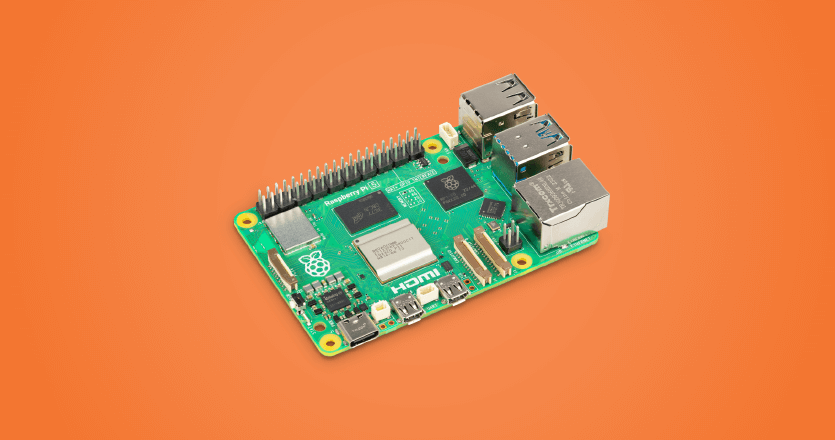 RTC Battery
A button cell battery can power the integrated real-time clock (RTC), ensuring accurate timekeeping even when the main power is disconnected.
Camera and Display Adapter Cables
Raspberry Pi 5 provides two four-lane MIPI connectors for cameras or displays. Adapter cables in various lengths make it easy to connect these peripherals.
Raspberry Pi Beginner's Guide
The fifth edition of the official beginner's guide is fully updated for Raspberry Pi 5 and Raspberry Pi OS Bookworm, making it an essential resource for newcomers and enthusiasts.
Raspberry Pi 5 Desktop Kit
This comprehensive kit includes the Raspberry Pi 5 case, 27W USB-C PD Power Supply, keyboard, mouse, 32GB SD card with Raspberry OS Bookworm, two micro-HDMI cables, and the Raspberry Pi Beginner's Guide. Please note that the Raspberry Pi 5 board itself is not included.
PoE+ HAT*
This is an updated PoE+ HAT designed to support the physical layout and power requirements of the Raspberry Pi 5. Due to its L-shaped layout and low-profile design, it can be used in the new Raspberry Pi 5 case with the fan and top cover in place.
M.2 HAT*
The M.2 HAT supports the connection of M.2-format PCIe and NVMe devices to the PCIe FPC connector on Raspberry Pi 5.
*These accessories are expected to be available later in the year.
Take a look at the new Raspberry Pi 5