No one wants to have to deal with life-threatening situations, but our brand-new emergency alert system could prove vital when incorporating digital signage in your emergency response strategy.
It's easy to use and customizable too. So you don't worry about technical stuff when you're trying to get your people to safety.
And on a more cheerful note, all of us here at Yodeck wish you and your loved ones Happy Holidays and a wonderful New Year!
Quick & easy emergency alert system for digital signage
We designed our emergency alert system with specific criteria in mind. So you can go on auto-pilot mode in life-threatening situations when you use your screens in your emergency response strategy. Firstly and most importantly, it's easy to use. Also, we provided you with standard templates for a variety of emergency situations that you can customize in a few clicks. You'll find templates for situations ranging from earthquakes and fires to active shooters and weather conditions. Our new emergency alert system feature works great for schools, companies and other organizations such as labs, hotels, hospitals and factories.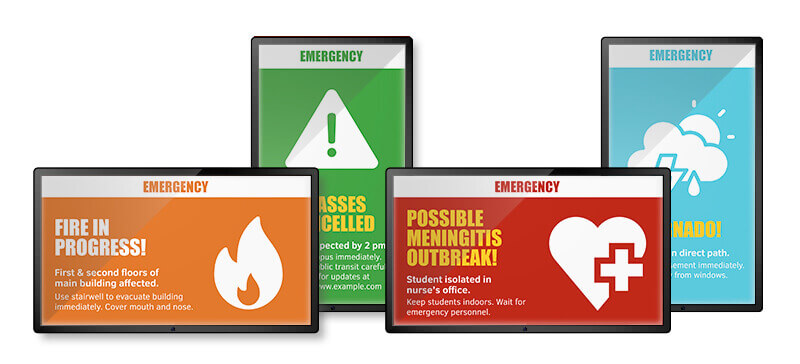 To set up your emergency alerts, just go to the Monitors section and click the Emergency Alerts tab. You'll be able to do all your customization there. Got multiple screens? We suggest you tag them so you can quickly decide which screen you need emergency alerts sent to. And when you activate the emergency alert feature, it overrides all other functions. So you know your emergency alerts appear on your screens in 5-10 seconds max.
Next in line: CAP Support for Receiving Alerts
A lot of our customers situated on a large campus may already use mass notification systems to alert students and employees in emergency situations. CAP is the standard API that allows alerts to be transferred from one system to another. Since it's so widely used, we are building CAP support into Yodeck. And of course we're making sure that it works great with some of the most popular mass notification platforms out there, so it's easy to implement.
Release Notes
New features
Yodeck's brand new Emergency Alert feature is finally here. Your digital signage screens can now instantly be used in life-threatening situations to warn and instruct customers, students and visitors of appropriate action that needs to be taken and to quickly steer them to safety.
We provide a standard template for displaying warnings, but you can customize it if needed and assign different content for each display. Additionally, the emergency alerts override all other functions and appear on screen in 5-10 seconds.
Improvements
We redesigned the App Gallery so it's easier to navigate.
The encoding system was updated, so now the system encodes uploaded files and videos faster.
Additionally, you can now use the Pixie image editor straight from inside the live layout editor instead of going back to each image file to make the changes.
Enterprise subscribers now see all Player actions in the audit log, since they get recorded.
Bugs fixed
Spinners didn't work properly on Firefox and Internet Explorer. They work fine now!
We fixed an issue that made images and videos not display properly when they were added in the layout's full-screen mode.
The disable script toggle button in web pages wasn't handled correctly by the Player and continued to get applied. We fixed the issue!
Partner news
Partners now have the option to use the Yodeck Layout Templates in the request form.