NFT art. The term hit the headlines in 2021 with hype about digital art that got auctioned off for astronomical amounts which could undoubtedly set an artist up for life. However, is it just another blockchain buzzword that is destined to fizzle out? Or can the majority of artists – who require a reliable stream of income – approach it as a business opportunity? We surveyed professionals across the US who make decisions about what art and décor to purchase for their organizations, in order to find out. The results could therefore help artists determine what NFT art value and business opportunities exist in the corporate market.
NFT art value and opportunities for creators survey demographics
Firstly, our priority consisted of getting a statistically accurate representation of market potential for artists in general. Therefore, we targeted 400 business owners, consultants and employees responsible for purchasing art and decor for the companies they work for. Of those, 27% belong to the luxury goods industry while 26.5% are part of the healthcare sector. Also, 8% of companies surveyed belong to the arts and entertainment industry, and 7% are in retail. Furthermore, the remaining respondents belong to the finance, tech, education, hospitality and restaurant sectors.
In addition, we garnered interesting insights relating to the geographic breakdown of participants. Approximately 38% of people surveyed lived in the South, whereas 23% lived in the West. Similarly, 22% were from the Northeast while about 18% lived in the Midwest.
Furthermore, we asked respondents to specify the size of their organization, in order to help artists know which companies to target in their marketing and outreach efforts. Specifically, 27% of survey participants stated that their company employed 500-999 people. About 25% bought art for organizations with 100-499 employees, whereas 22% of respondents stated that they worked for companies that employed over 1,000 people. It seems that mostly mid- to large-sized companies could offer NFT art value and business opportunities for creators.
Almost 30% of professionals are still confused by NFT art
Firstly, we wanted to know if professionals who purchase art for their organizations know what NFT art is. This data chiefly reveals potential for growth and possible revenue streams for NFT art creators. Undeniably, headline-making NFT art news helped with awareness as 70% knew the definition of NFT art. This, though, doesn't mean NFT artists can assume professionals who buy art know the benefits NFT art offers or even where to purchase it. Therefore, general awareness of the topic doesn't mean they know enough to see it as a viable, practical alternative to traditional, physical art. Similarly, if they haven't seen NFT art on display in exhibits or at other organizations, they might not be aware that there is quality NFT art available for purchase.
On the other hand, 12% had no idea what NFT art is. Perhaps this correlates with the type of industry these professionals work in. For example, corporations with strong tech and IT departments would have more access or exposure to new tech trends. However, organizations with less of an emphasis on digitization might not keep up with such topics. Similarly, almost 17% of participants had heard the term NFT but don't know how it relates to art. Therefore, NFT artists have tremendous room for growth when it comes to informing buyers in the corporate sector.
69% of companies surveyed are open to purchasing NFT art
Without a doubt, survey results revealed that most professionals would definitely consider buying NFT art to display in their organizations. Specifically, almost 27% of participants said they would invest in NFT art if they could purchase high quality or limited edition pieces. Similarly, almost 23% would purchase NFT art if they knew it was a good investment. Also, almost 21% said that NFT art constitutes an appealing option but they would require a central platform where businesses could buy it without hassles.
Therefore, perhaps if NFT artists cultivated a more business-friendly marketing approach that promotes the fact that there are quality, limited edition pieces on offer, they might gain steady revenue streams from the corporate sector. This is especially true considering only 14% of participants currently purchase and display NFT art as part of their company's interior design. Evidently, NFT artists could find tremendous growth opportunities if they approach corporate buyers.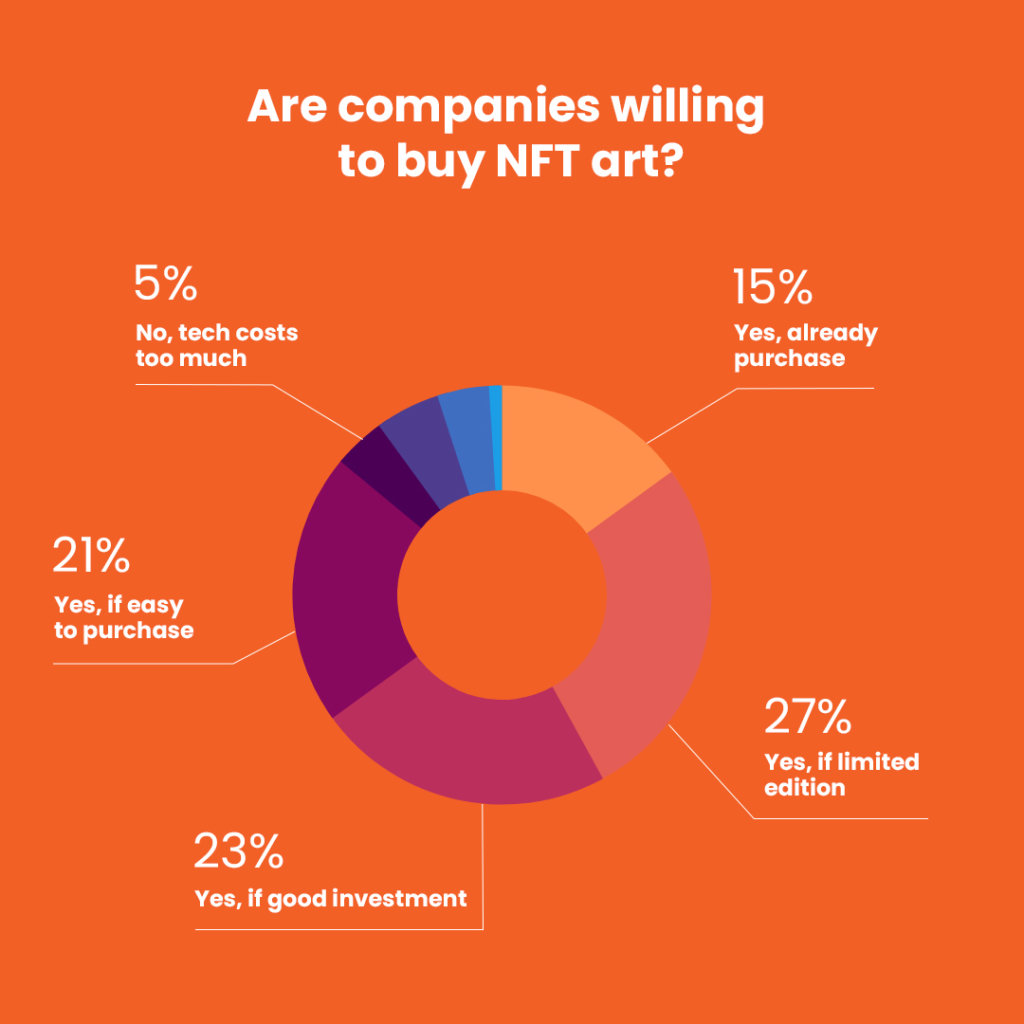 Only 14% of corporate buyers would not consider investing in NFT art for their organizations
On the positive side, only around 4% of participants stated they wouldn't purchase NFT art because they didn't think digital art was as real or as valuable as physical art. Of course, with the rise in popularity of ebooks and digital music, people now value digital forms of art.
However, this means other impediments exist to investing in NFT art. Over 5% said the technology used to display it is too expensive for their budget. Similarly, over 4% stated that their corporations don't have the technology to display NFT art. Here, too, lies an opportunity to raise awareness. Artists could inform professionals that budget-friendly solutions, such as smart TVs and digital signage platforms, display NFT art. Indeed, only a little over 1% said that upper management wouldn't approve the budget for NFT art purchases. All this reveals that a good outreach campaign could pave the way for extra revenue streams for artists.
Most professionals would pay up to $4,999 for NFT art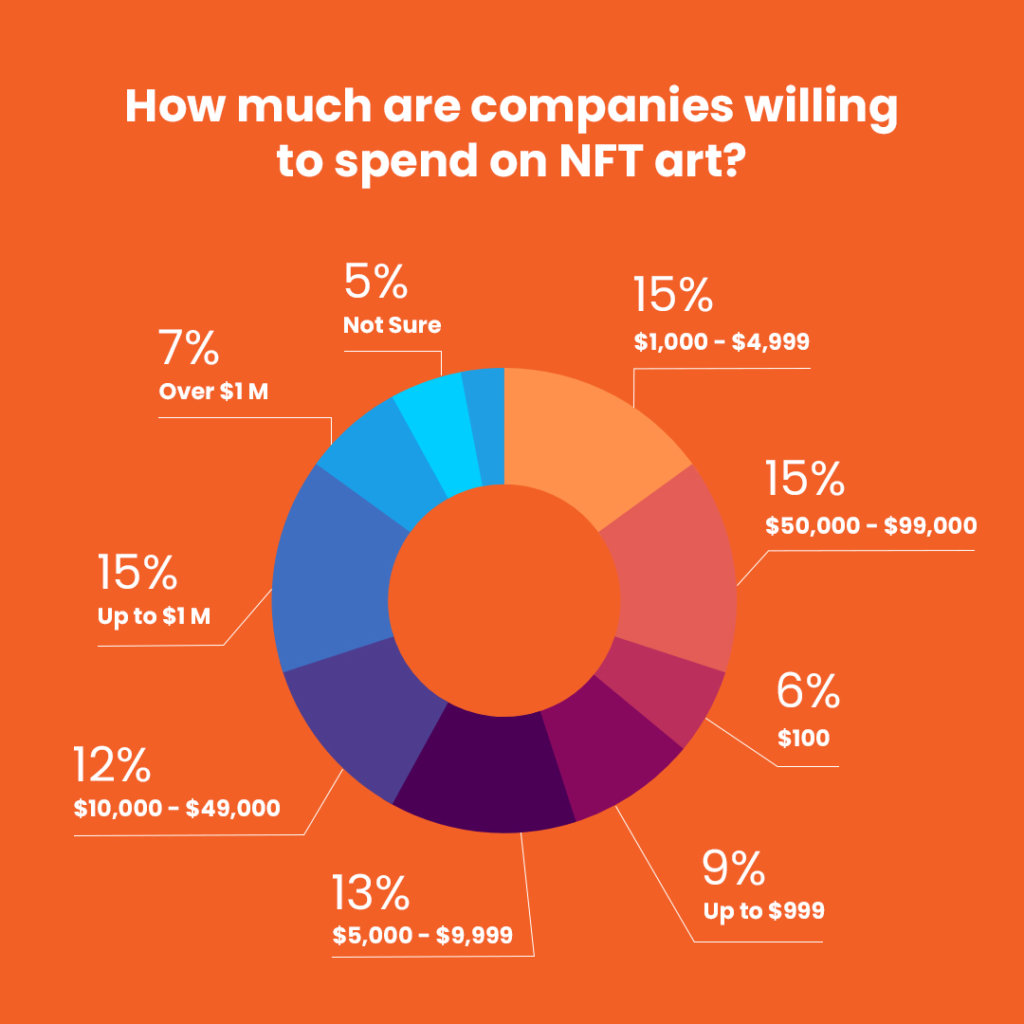 Assessing the market potential in actual dollars also helps NFT artists estimate how much revenue to expect from the corporate sector. If nothing else, it provides some sort of guidance about how to price their NFT art creations. For example, 15% of participants said they would pay $1,000-$4,999 for a quality piece of NFT art. However, the same percentage would willingly invest $50,000-$99,000. Just 6% said they would be willing to spend only up to $100 – an encouraging sign. Also, 9% would pay up to $999. Another 13% replied saying they would invest $5,000-$9,999 in a single piece of quality NFT art. About 12% would pay $10,000-$49,000 while almost 15% said they'd invest up to $1M.
All in all, there seems to be a market for all NFT artists, at all stages of their career. With price ranges starting from budget pieces to true investments, artists definitely have room to grow and experiment with their art. Also, those who are just now starting to create NFT art, have the potential to create a name for themselves – and have a steady stream of revenue – as they attract more and more corporate buyers.
In addition, NFT industry experts DappRadar confirm our findings, as their own research suggests this burgeoning field offers opportunities for artists – financially and in terms of gaining popularity.
"NFTs have undoubtedly captured the popular imagination over the past year, as reflected in headlines, in celebrity and corporate purchases, in the $25B sales volume in 2021, vs a now minute $97M in 2020. They will continue to gain steam as we enter the age of the metaverse and gamification, and as web3 gradually displaces the centralized version of the Internet we now use. But this doesn't necessarily translate into an understanding of NFTs and the vast opportunities the underlying technology presents.
There are so many ways in which blockchain technology can be utilized and adapted to different purposes, and the creation, display and use of commercial and corporate art is one them. For companies, it offers a way to build, own and display brand identities across the real, digital and virtual worlds, to generate engagement, and even make a return on their investment should they choose to sell. For artists, NFTs provide a way to gain greater exposure — again, across worlds and to a much wider public, and retain ownership of — and therefore continually earn off — even commissioned pieces.
We have yet to see how different branches and industries adapt this new technology to their needs, but one thing is certain — there is so much opportunity in NFTs that we've not even begun to see it all."
MODESTA MASOIT
Head of Finance and Research
32% said they would display NFT art on smart TVs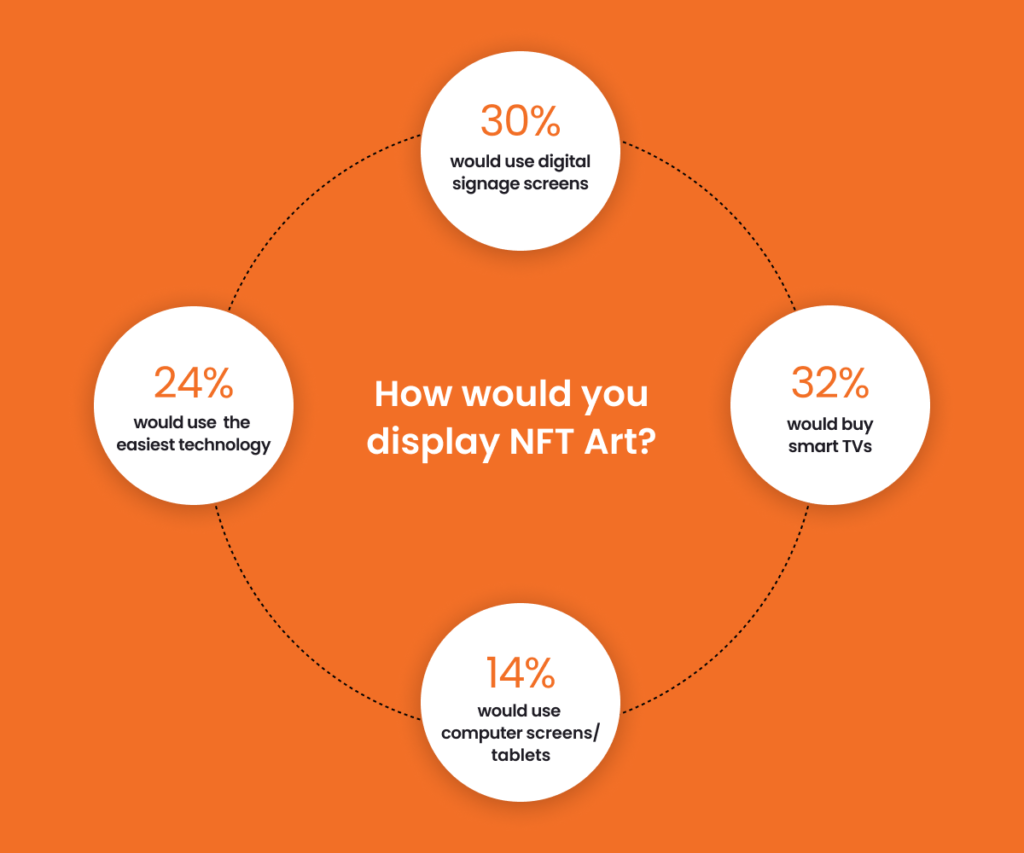 We also asked survey participants how they would display NFT art if they decided to purchase it. About 32% would buy smart TVs, while almost 30% would use their digital signage screens. Therefore, most respondents do know that mainstream technology does display NFT art file formats. However, almost 24% said they would choose whichever tech is easiest to deploy and cheapest to install. This means that, as with all investments in the corporate world, the financial bottom line plays a major role in decision-making. Also, only 14% would use computer screens or tablets. This small percentage might also benefit NFT art creators as bigger screens grab the attention of more employees and clients. The more people see the works of art, the more fans artists can expect.
62% of survey participants want to display NFT art outdoors
One of the key advantages NFT art has over traditional, physical art lies in the fact that it doesn't require a high level of maintenance. Therefore, corporations can display NFT creations anywhere they want – even in less than ideal environments. When asked how this fact might affect professionals' purchasing decisions, 62% replied that it means they can display NFT art outdoors. Another 45% said it also appeals to them because it lowers maintenance costs. This insight could inspire artists to create art that complements or stands out in outdoor settings. Also, corporations could opt for robust, waterproof commercial digital displays. A one-time investment costs less than year-round art maintenance, which further enhances the appeal of NFT art. This is especially important, since over 45% of survey participants said they want to display art in less than ideal conditions.
On the other hand, only 15% said that NFT art's zero maintenance costs would not make them more likely to invest in it. Another 22% also said that they already purchase easy-to-display art, such as prints, and therefore don't need NFT art. In addition, about 17% said another deterrent lies in the fact that they don't want to buy the technology needed.
35% say NFT art offers companies an easy way of freshening up interior design
We also asked participants if they would consider investing in NFT art because it offers an easy way of changing their interior design by digitally rotating artwork throughout their locations. About 35% said they would invest in it because it offers an extra, attractive benefit of NFT art. Another 31% replied that it would help them keep maintenance costs down while updating their interior design. It's most important to note that 22% said that they would use it to freshen up their premises if clients and employees responded well to seeing NFT art. This, too, suggests that the more NFT art exhibits take place, the more people will start appreciating the art form. Ultimately, people might even start purchasing NFT art for their own homes, too.
However, only about 5% say it wouldn't convince them to purchase NFT art as they rarely change décor. Also, a little over 2% said that they already change their decor seasonally, so it doesn't increase NFT art's appeal. In addition, another 5% said this benefit wouldn't factor into their purchasing decision when it comes to NFT art.
80% of organizations surveyed purchased paintings for corporate settings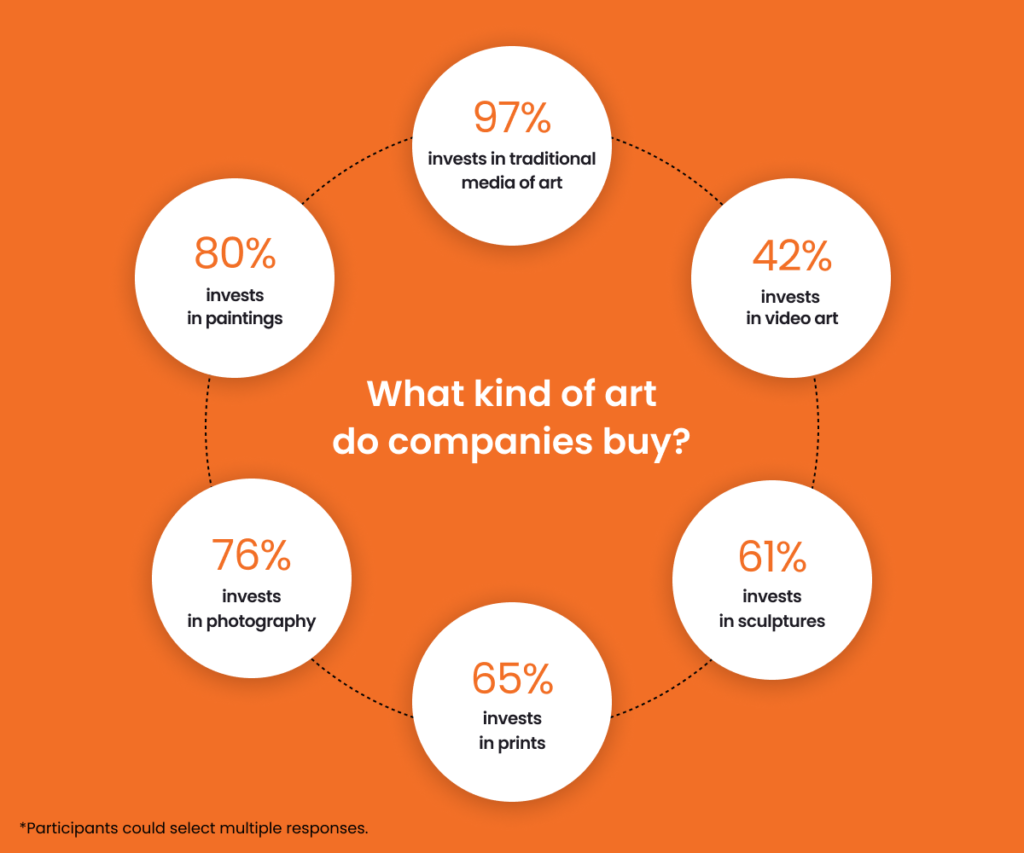 We also set out to determine what kind of art corporations already invest in, and where they choose to display it. The overwhelming majority of organizations that purchase art and decor – a whopping 97% – currently display traditional media of art. Types of art such as photographs, paintings and prints prove popular choices for corporations.
Specifically, about 80% of professionals who buy art for their organizations chose to display paintings. This particular statistic bodes well for the future of NFT artists, since paintings offer the same kind of visual appeal as digital art. About 76% of survey participants decided to also purchase and display photography. Survey answers showed that those tasked with purchasing art also prefer investing in prints and sculptures (65% and 61% respectively).
It is equally important to note that about 42% of respondents display video art. This is especially interesting in the context of NFT video art, which could provide significant opportunities for both creators and investors.
Where does art get displayed in organizations?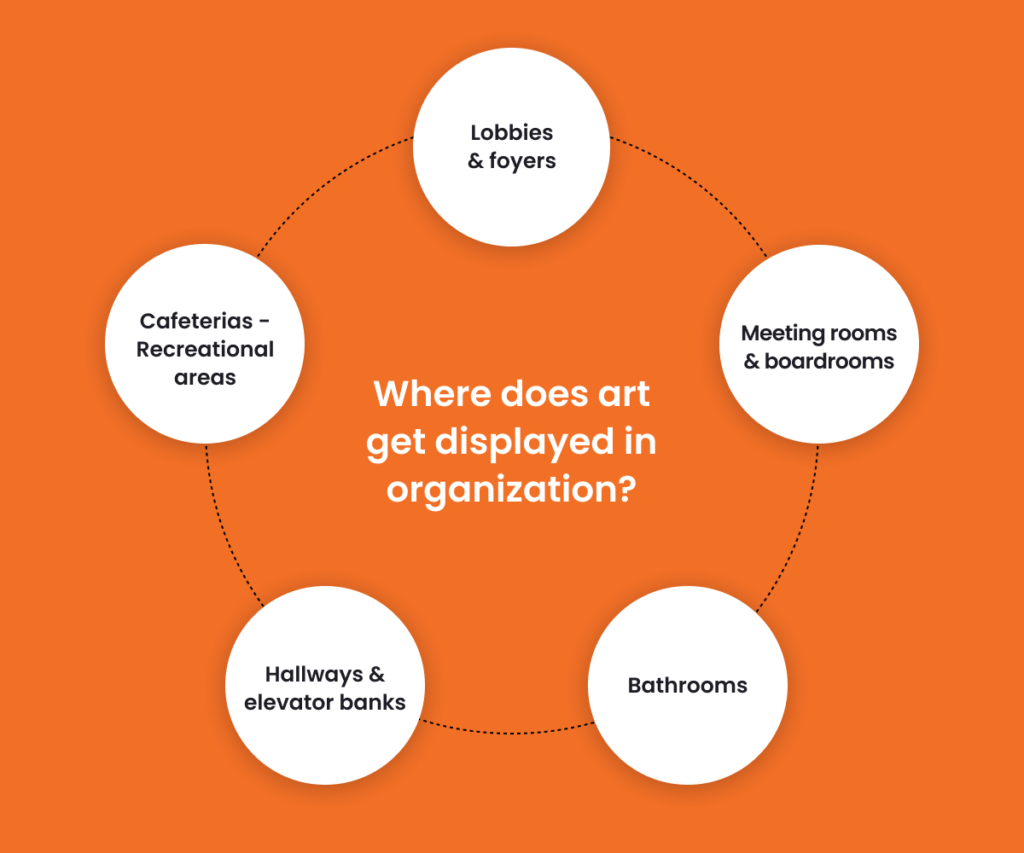 Firstly, we wanted to provide artists with an idea about who would view their art (employees or the general public) as well as the physical context it would get displayed in. Survey participants stated that the art they purchase chiefly adorns lobbies and foyers (62%), meeting rooms and boardrooms (60%) as well as cafeterias and other recreational areas (58%). Other popular locations include high-traffic areas such as hallways and elevator banks, with 52% of respondents stating that their companies install works of art in these settings as well. Survey participants also included bathrooms in their answers, coming in at 35%. NFT artists could benefit from this insight, since digital art offers a more robust alternative in such high-traffic areas.
The following data could also be of interest to artists and creators. Professionals purchase art in order to display it in hotel and hospital rooms, coming in at 43% and 42%, respectively. Therefore, artists could choose themes and color palettes that evoke a specific emotional reaction in tourists, patients and visitors.
Majority of participants purchase art to create an appealing corporate environment
The reason why corporations purchase art could also provide valuable information to creators. The most important reason of all, coming in at 67%, was to create a great environment for employees, customers and guests. Similarly, about 60% of participants said they also chose art based on aesthetics. Surprisingly, almost 55% of professionals said they also want to support local artists, and this informs their purchasing decisions. This might offer NFT art creators the impetus to reach out to businesses and organizations in their state.
Similarly, forging new connections with interior designers and architects could prove lucrative to artists. About 47% of participants also said that decorators and similar professionals decided to purchase art for their organizations. So we assume these consultants also made the final choice about what works of art to select.
Since NFT art is still in its infancy, educating designers and architects about this new alternative could provide significant business opportunities. The high-tech wow factor NFT art offers works especially well in sleeker, more modern environments.
Unsurprisingly, around 55% of those surveyed said that they commission art in order to build their brand identity. Therefore, artists who don't have an aversion to creating more commercial pieces could find a steady stream of income.
Significantly, 55% of respondents stated that their organization is actively building an art collection. This could prove especially important for NFT artists, since NFT art offers proof of provenance as well as a significant ROI. Perhaps launching an awareness campaign of NFT art's benefits could help forge new connections as well as offer revenue opportunities.
70% of companies depend on interior designers to purchase art
Survey answers showed that generally, 70% of participants outsource art purchasing decisions to interior decorators and architects. Especially in the corporate environment, this statistic is unsurprising. However, this highlights the impact a good NFT art outreach campaign can have on developing NFT art value and business opportunities for creators.
Similarly, about 53% also said that they source art from art dealers, galleries and auction houses. This, too, offers a significant market opportunity for NFT artists who manage to showcase their work in exhibitions. As major museums discover the groundbreaking potential NFT art offers when it comes to art shows, creators could organize local exhibitions to raise awareness of this burgeoning art form.
Once again, almost 62% of survey participants said they also purchase art from local artists. This insight also proves how important it is to organize grassroots NFT art exhibitions on a local level. Perhaps raising awareness among the general public could also "mainstream" this way of creating and viewing art.
In addition, a little over 50% of respondents also purchase art from local or online retailers. In contrast, it is a wonderful surprise that only 16% of participants stated they copied images from the internet or another free source.
What kind of budgets do corporations have for purchasing art?
Knowing how much revenue an NFT or traditional artist can expect from branching into the corporate sector also helps with setting a price tag on creations. Therefore, we wanted to get a sense of corporate spending habits when it comes to investing in art. Firstly, 22% of participants stated that so far they have spent up to $50,000 on art for their organizations. Approximately 17% said they invested between $50,000-$99,000 thus far. Similarly, around 16% spent $5,000-$9,999 on art for their corporations. However, 22% replied that they have spent over $100,000 on art – a very encouraging statistic.
On the other hand, determining what is the most an organization has spent on a single work of art gives artists an idea of how much a limited edition or commissioned work of art could sell for. This proves especially useful for NFT art creators. One of the major benefits of NFTs lies in the blockchain technology it relies on, as ownership and provenance of a work of art can be clearly traced. Therefore, NFT art offers corporations a guarantee that the artwork they invested in truly is one-of-a-kind or part of an exclusive series.
Generally, the most each organization spent on a single work of art seemed evenly distributed. Specifically,15% of participants identified with each price bracket ranging from $100 – $1M. On the other hand, only 6% said they invested more than $1M in a single work of art. Without a doubt this is good news for NFT and traditional artists, as there's a market for all artists, from absolute newcomers trying to make a name for themselves all the way up to A-list creators.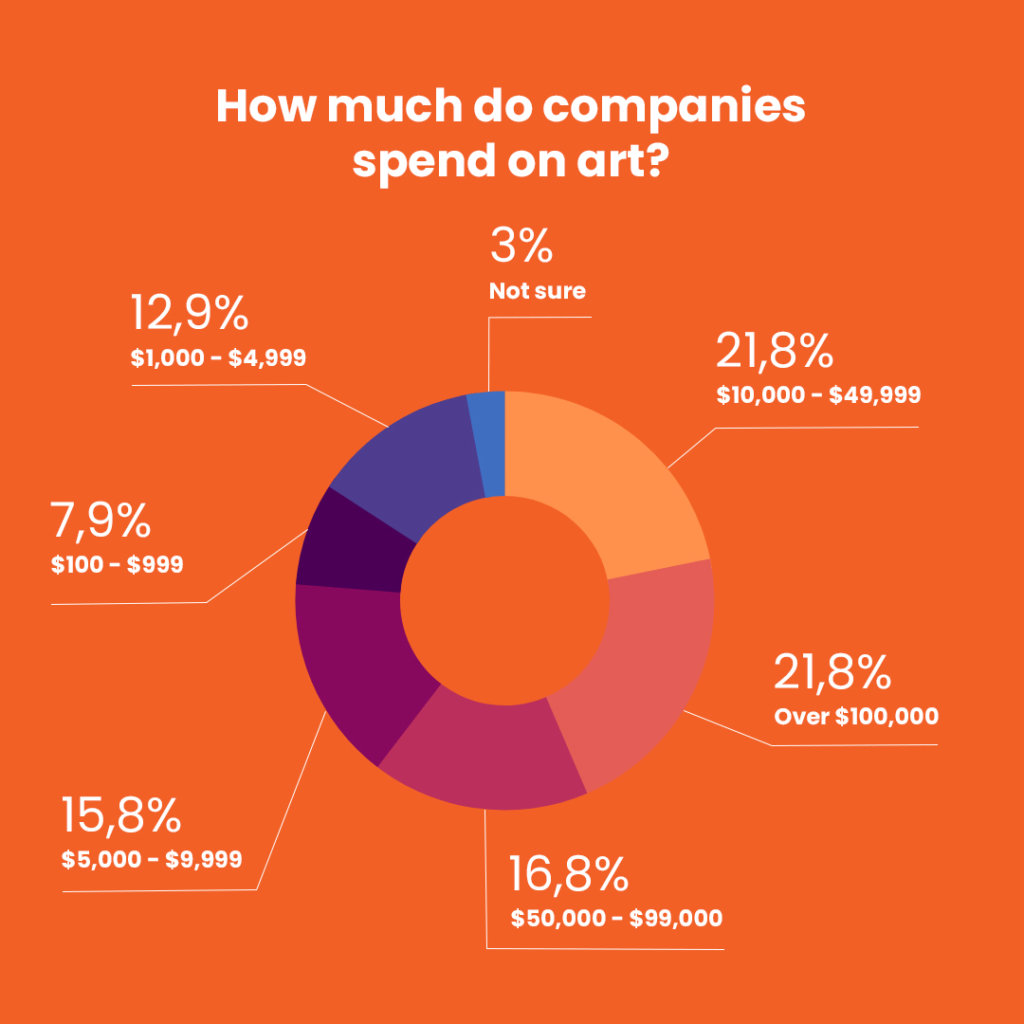 41% of organizations purchase art on a yearly basis
Our survey results also showed that over 41% of participants purchase art as part of their annual maintenance budget. This certainly confirms how the corporate sector could offer all artists a steady revenue stream. On the other hand, 21% of respondents said that they purchase art only once, during the initial interior design phase. Similarly, 13% purchase art whenever they redecorate. This further reinforces the need to build strong connections with decorators and architects. NFT artists in particular could benefit from reaching out to interior designers with a cutting edge or high-tech aesthetic.
It is most important to note that over 16% of survey participants said they purchase art whenever they see a work of art or an artist that intrigues them. Therefore, a good online presence coupled with exhibitions on a local level could help NFT artists catch investors' attention.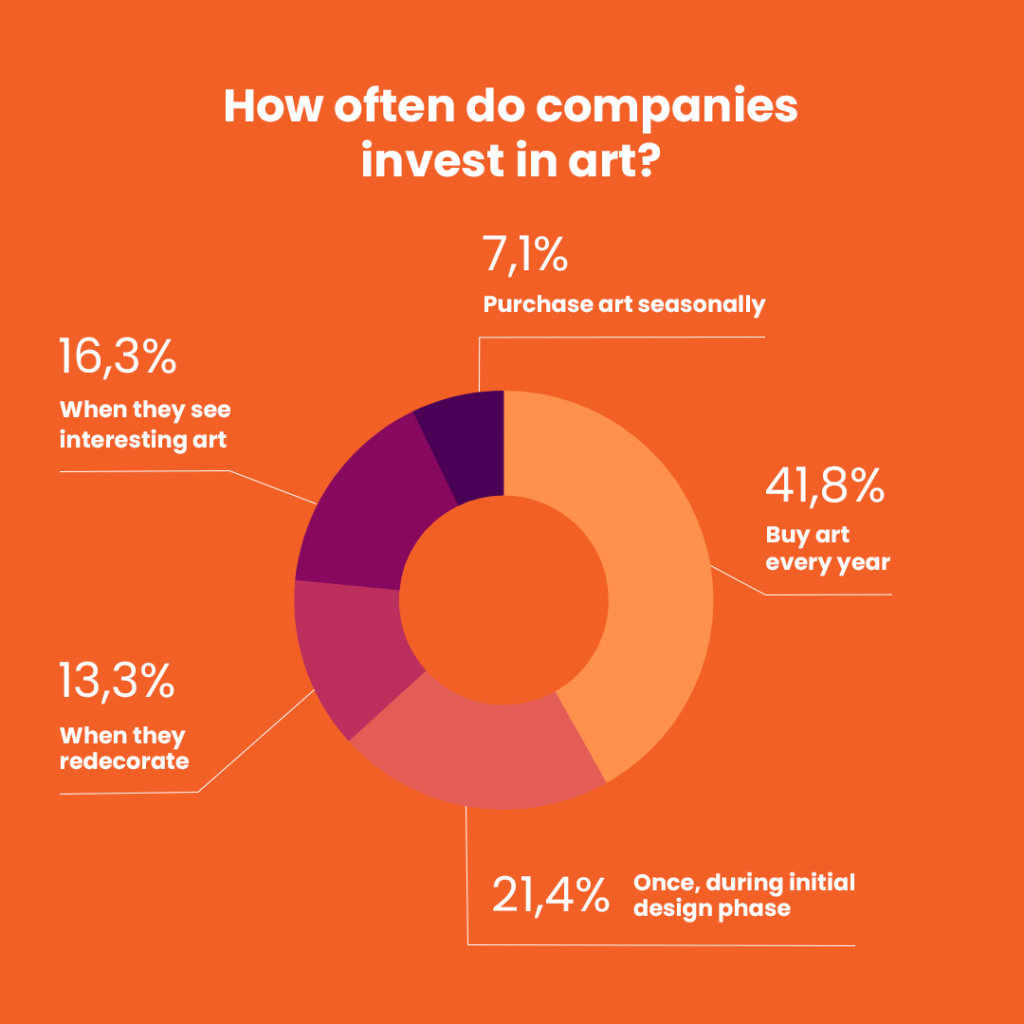 How do they currently display art?
Another interesting finding emerged when we asked participants what devices they use to display digital art. Although the question encompassed all types of digital art and not just NFTs, it provides insight for NFT artists too. Almost 60% of respondents said they use digital frames, while 57% also display art on their smart TVs. Similarly, almost 46% also use their digital signage screens, and 48% have digital signage video wall installations. Other popular choices include computer monitors and tablets, as well as devices created specifically for digital art.
There are a number of key takeaways from these statistics. Firstly, most of the top choices include versatile devices that corporations would already own and use for many different purposes. Secondly, ease of use seems to be a factor, since smart TVs and digital signage solutions offer intuitive user interfaces.
Digital signage platforms without a doubt include features that make it easy to upload and display image and video files. When it comes to NFT art files specifically, most signage solutions already support the most popular NFT art file formats. In addition, since a huge advantage of NFT art lies in the ability to prove ownership, perhaps partnering with digital signage content providers could offer more NFT art value and business opportunities for creators.
Check digital signage out for free!
Next steps in NFT art value and business opportunities for creators
Our survey showed that the appetite certainly exists in the corporate world for investing in NFT art. This bodes well for NFT art creators. A carefully crafted outreach campaign to raise awareness, coupled with more local NFT art exhibitions could strengthen prospects for NFT creators. Also, the creation of more business-oriented NFT art market platforms could streamline purchasing processes for corporations. Moreover, artists might be more open to selling to corporations if they had some sort of control over who purchases their artwork. This, too, would help both corporations and artists create a mutually beneficial business relationship.