Birthday messages on signage screens
Display birthday messages on signage screens automatically, with no manual input. Make your employees feel valued on their special day. Put a smile on their face as soon as they get to work! Also, it's quick and easy to do.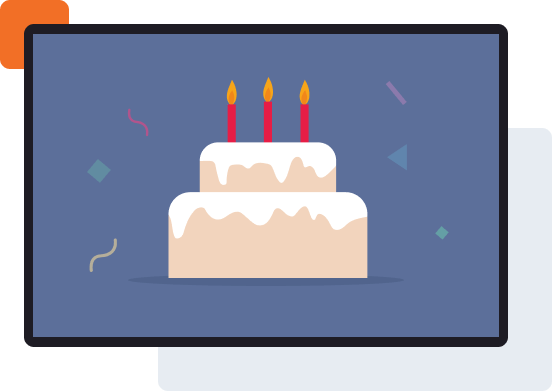 BENEFITS FOR BUSINESSES
How can using our Birthday App help you?



It's an automated process
All you need to do is import a file with your colleagues' birthdays. Then, set up your app in just a few clicks and you'll see personalized birthday messages on signage screens. Most importantly, you don't have to manually create birthday wishes on the day – so your teams save time.
Customize your message
You can choose the type of font you want to use, as well as the color for both the name and message. Also, you can select the background color. It's a great way to make your message stand out, and you can also add a touch of branding to reinforce that more corporate look.
Make employees feel valued
The happiness of your employees is one of your top priorities. So make them feel special on their birthday! Delight them as soon as they get to work and they'll appreciate your birthday wishes.
Content appears only when there's a birthday
You don't have to worry about creating placeholder content as messages appear on screen only if there's a birthday on that date. So content creation gets streamlined for your digital signage screens with our app.
Yodeck badges and awards

BLOG
Read Our latest news
Discover how digital signage solutions can empower your SMBs by engaging customers, boosting sales, and enhancing brand awareness!
In the world of digital signage where seamless performance is paramount, Raspberry Pi 400 stands out as a versatile and…
A Raspberry Pi screen is one of the first things you'll need, regardless of what you're using your raspberry pi…