The 4th of July is a very special day for every American. It is commemorated by engaging in various activities like going out, watching fireworks, and having a great time. From a business perspective, this day presents an excellent opportunity to attract customers and increase overall sales. Digital signage can play a crucial role in achieving these goals. By selecting appropriate content to display on your screens, such as exclusive promotions for this day or a "Happy 4th of July" message, you can enhance the overall experience for everyone, engage customers, and create a more festive atmosphere.
To enhance your sense of freedom of this day, Yodeck has created free templates designed to make your business stand out and connect with your audience.
"Happy 4th of July" Greetings
Wishing your customers a "Happy 4th of July" is a simple yet highly effective way to show your patriotic spirit, form a connection, and create a festive atmosphere. Use visually appealing digital signage templates specifically designed for this day, featuring vibrant colors, the American flag, fireworks, or other elements associated with the 4th of July. By spreading festive cheer throughout your business, this template will foster a welcoming environment and remind customers of the significance of the day.
"4th of July" Retail Discount
The 4th of July is the ideal time for retailers to attract customers with exciting discounts, offers, and promotions. Digital signage templates displaying a generous 40% discount for Independence Day can capture attention and entice shoppers to take advantage of the limited-time promotion. By displaying this template, you can drive foot traffic, boost sales, and leave a lasting impression on customers.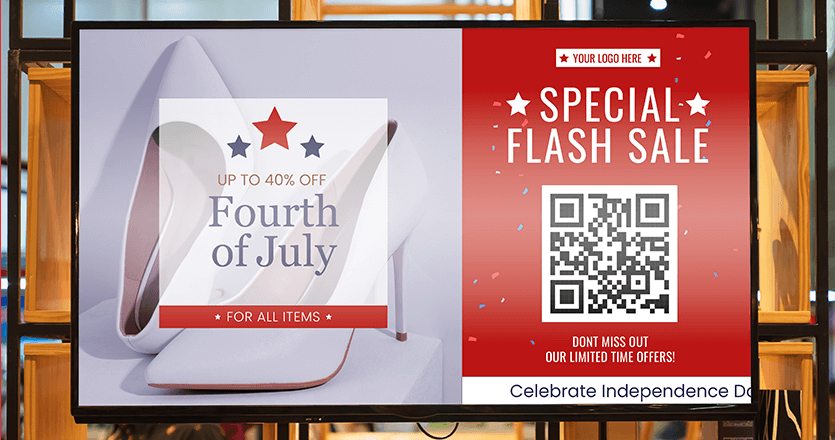 "4th of July" Event Invitation
Are you planning a special event to celebrate the 4th of July? Digital signage can be an invaluable tool for generating interest. Simply use an event invitation template to showcase enticing visuals and provide event details to inform your viewers. By displaying an event invitation on your signage screens, not only will you inform your audience, but you will also create anticipation and encourage participation.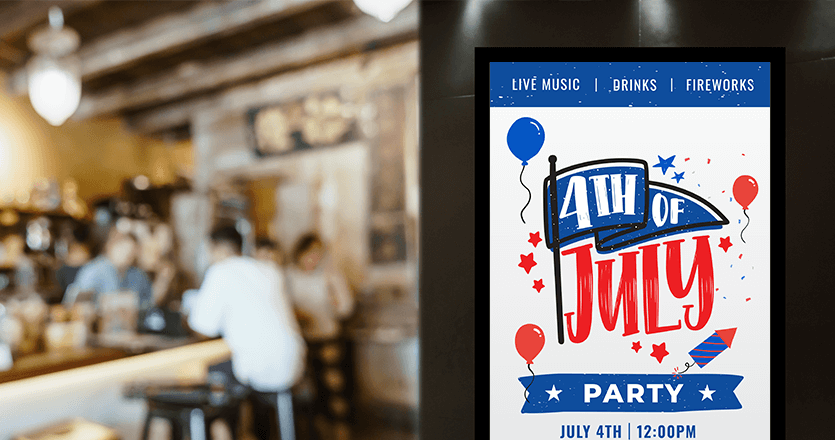 Closed for Independence Day
When planning for the 4th of July, it's essential to inform your customers about any closures or adjusted business hours. Utilize a "Closed for Independence Day" sign template to quickly display this information on your digital signage screens and inform everyone about the hours or days your business will be closed. That way your viewers can stay informed and avoid any inconvenience.
Free Templates for Everything
Looking for even more? We've got you covered! Yodeck offers a wide range of customizable free templates for everything you may want to cover, whether it's promoting sales, holiday specials, or just engaging content. The available choices are plenteous and super easy to meet your specific needs.
With the help of free templates, you can easily customize your signage content to reflect the holiday spirit. Digital signage enables you to capture attention, dynamically connect with your audience, and foster a sense of community. Embrace the power of digital signage this Independence Day and create a memorable experience for your customers while showcasing your patriotism and dedication to the occasion.