Spectrio ALTERNATIVE: YODECK
Same great features,
at a super low price!
Get a stellar digital signage solution that won't break your budget with Yodeck, the professional Spectrio alternative. Also, make sure your message hits the mark and engages your viewers, with our full suite of intuitive content creation features. Easy screen management capabilities and top security features also guarantee your digital signage aligns with your business goals.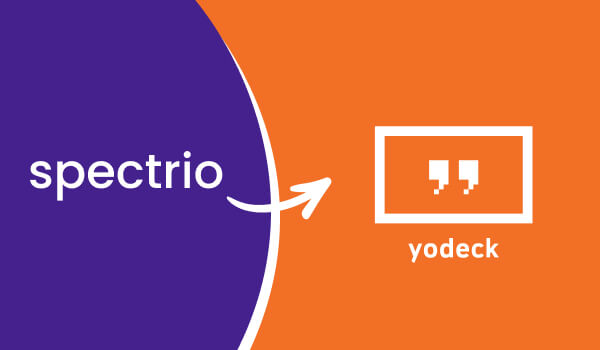 Global organizations trust Yodeck for professional and affordable digital signage.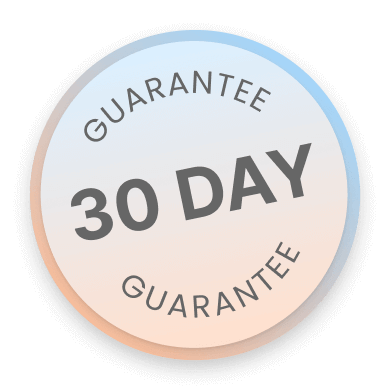 30 Days Money Back Guarantee!
Join us today to enjoy the value Yodeck Digital Signage Solution brings
to your business. With the 30 Days Money Back Guarantee, you can
enter the digital signage world risk-free!
| Features | Yodeck | Spectrio |
| --- | --- | --- |
| FREE Players with Annual Plans | | |
| Unlimited Storage | | |
| Advanced Scheduling | | Enterprise Plan |
| Works Offline | | |
| 4K Resolution Support | | |
| Support all file formats | | |
| Free stock Images | | |
| Tag-based Playlists | | |
| Playback Reports (Proof of Play) | | |
| Multi-User | | |
| Custom User Roles | | |
| Free Apps | 50+ | 42 |
| Custom App | | Enterprise plan |
| Free Templates (Layouts) | | |
| Drag-and-drop layout editing | | |
| Player Secure Lockdown | | |
| Price / screen per month | $7.99 | $99 |
| Price / screen annually | $95.88 | $1,188 |
Disclaimer: Yodeck and its products and services are not authorized by, endorsed by, sponsored by or in any way connected to Spectrio, Inc. All references to Spectrio are for purposes of comparative advertising only and the Spectrio trademarks remain the exclusive property of Spectrio, Inc.
Top 3 reasons why Yodeck is the #1 Spectrio alternative
1. Save up to $1093 annually per screen!
We made it our mission to offer professional digital signage that's price-accessible to all organizations and businesses. So that's why you save almost $100 on monthly plans. Also, if you opt for an annual plan, you save $1,000s if you choose Yodeck as your Spectrio alternative. Additionally, you get our complete, pre-configured Players for free! Most importantly, we offer top-quality content creation, screen management and security features at a fraction of the cost.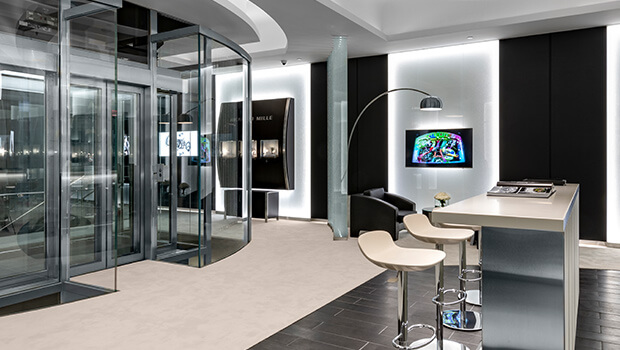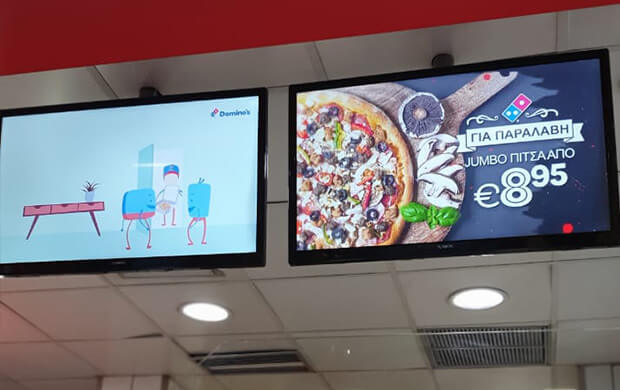 2. Get our hardware
for only $79 with monthly plans
Our Raspberry Pi Player offers extreme security, as well as robustness and reliability. So you know your digital signage hardware meets your expectations, at an affordable price. Also, you save $190/player with Yodeck as your Spectrio alternative. Additionally, you get the complete Player, with extra memory, an HDMI cable, a case with heat sink and a power adapter. It also comes pre-configured with your Wi-Fi credentials. Most importantly, it's easy to set up.
3. One-of-a-kind features
In addition, get unique digital signage features that make our solution a favorite with top businesses around the world. Player lockdown and storage encryption features mean you can also align your digital signage solution with your corporate security strategy. Additionally, with our drag & drop layout editing, you upload and create stunning content in seconds. So you know it's easy to use!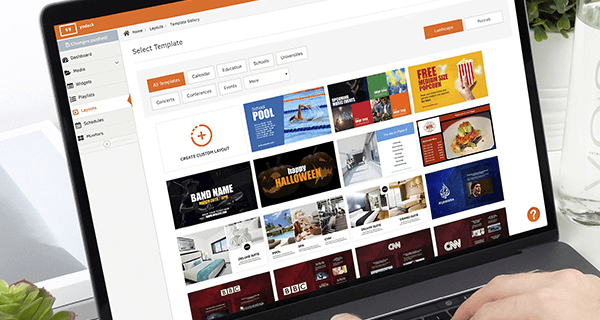 Choose Yodeck for your Spectrio alternative
Easy to Use Content Features
Choose from thousands of free stock images and videos that make content creation intuitive and impressive. Also, select the perfect screen layout from our free, professionally-designed, industry-specific, and totally customizable templates. You can also edit them and add free apps like weather forecasts, news tickers and many more. Additionally, upload files with just a few clicks using our drag & drop feature.
Remotely Save, Edit & Display Your Content
Upload your files, such as images, audio, videos and documents, while you're on the go, through our online, cloud-based platform. Also, we guarantee perfect playback as we support all file formats. Most importantly, edit and display content on all screens, without physically going to each one. Firstly, log in. Then, upload media, assign schedules and edit templates from your PC. Finally, see it on your TVs in seconds!
Extreme Security
Integrate our digital signage solution with your corporate security standards using our enterprise-grade security features. Use functionalities such as SSL, firewall and password policies. Also, rely on our Player encryption and lockdown capabilities. With Yodeck as your Spectrio alternative, you above all know your digital signage deployment and content are safe and secure. So you can have the security you deserve.
Affordable Plans & Hardware
Our extremely affordable pricing meets the needs of all businesses and organizations, no matter their size. Save almost $100 per screen, per month, with Yodeck as your Spectrio alternative. Also, do you have many screens you want to run? We additionally offer special pricing for large deployments. Also, you can check out our features before you subscribe, using our free plan for one-screen accounts.
Plug-and-Play
Set up your digital signage solution quickly and easily, so you can show content and engage viewers in minutes. Also, anyone can configure digital signage hardware using our plug & play solution. Additionally, sign up for an annual plan to get pre-configured, complete Players for free!
Remote Support
Our remote-access technical support is there to help you, whether you require step-by-step help, advanced troubleshooting or information about custom features. Want to see what Yodeck is like to make sure it fits your business? Book a demo now with our Customer Success managers!
Our clients love us because we provide a professional, affordable and intuitive digital signage experience.