Missed us? Good! Because we're back, all bright-eyed and bushy-tailed and bringing you a whole host of awesome new features for you to dive into.
And you'll want to roll up your sleeves and give them a try as soon as you click out of this newsletter because these features won't just make your Yodecking easier, they'll also make your content next-level amazing.
We've made it easy as can be for you to schedule and play media and playlists – no layouts necessary! Read on, find out more, and go work your own brand of magic.
Media & Playlists as Schedules and Default Content
Extra flexibility, more control and better content – that's what we're promising you with our great new feature. Want to display simple media content, no fuss no muss? In a hurry and don't want the hassle of scheduling a whole new layout? We've got you covered (and layout-free!) on both counts. All you've got to do is pick a playlist or choose any media you want, including images and videos, plug your content of choice into a schedule or set it as your monitor's default content and you're golden.
Your Account at a Glance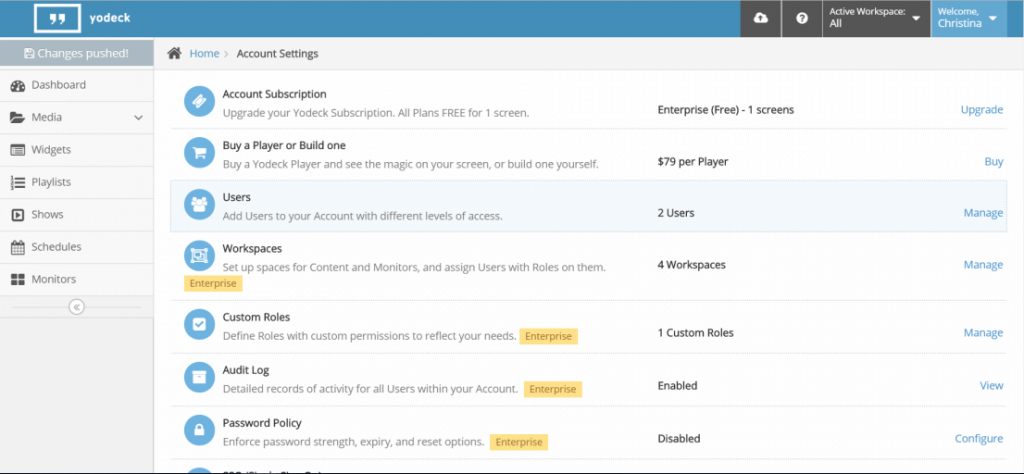 All your account settings and info are now grouped together, all on one page, so it's much easier to navigate and manage. If you want to see what permissions users have or if you need to create a new workspace, it's all under the same roof. Need to buy a player or upgrade your Yodeck subscription? That's there too. Just click on Account Settings, and you've got your account overview.
Reboot Player Revamped (& More)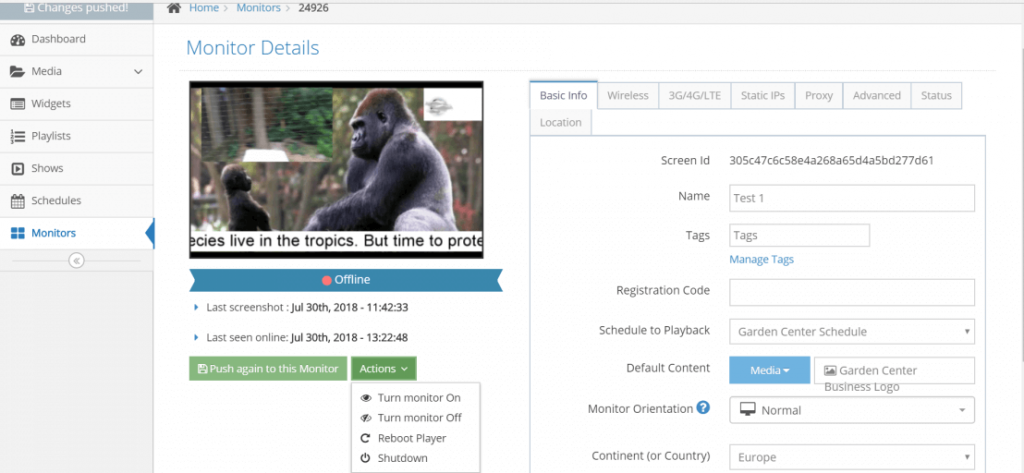 Our trusty old Reboot Player option got its first face-lift. This means all of you can now do so much more when you go to your Monitor Details window. Under the Actions tab, you can now manually turn your monitor on or off or choose to shut it down. Quick, easy and just what you've all been asking for.
And there's more. Editing your monitors became a whole lot easier because there's a nifty new Bulk Edit button right there on the Monitors home page. Make mass changes all at the same time and whether you're dealing with two monitors or two hundred, it will still take only a few seconds to get all your changes done.
Check out our Changelog, chock-full of improvements:
Release Notes
You can now set media, apps, or playlists as the "Default Content" in the monitor or as a Schedule entry – no layouts required!
Account settings are now all grouped together, making it much easier to navigate and manage.
We revamped the Reboot Player button and it is now replaced with a number of different options that make usage much more flexible, including the possibility to shut down or manually turn your monitors off and on.
Mass changes with a bulk edit of monitors is now possible.
You can now add all Workspaces each user has access to when creating a tag-based playlist.
We've simplified the purchasing process, so you can choose your plan, number of devices and also have a different billing and shipping address, all in separate and easy-to-use sections.
New regions dropped in the Layout editor no longer go outside the canvas.
You can now download detailed audit log files in JSON format.
Inactive accounts will be deleted at the six-month mark, but no worries! We'll give you ample warning, deleted accounts will still be recoverable within 60 days and those of you on more seasonal schedules are fully protected since account deletion will be disabled to meet your business needs.
Audit log 'push to players' and reset password actions now appear in the portal.
Unsuccessful sign-in attempts are now added to logs and audit logs.
A warning email is now sent if you have signed in from a different location.
We optimized Content Delivery Network functionality so UI loading times are now faster.
PSU power warnings are detected and included in the status report.
Sometimes, while updating the software on the Player, the watchdog timer might lose touch with the software and reboot the device. We improved it so that it works correctly.
We created a guide for GSuite SAML.
We improved the way updated language files are delivered to your browser, to make sure you always get the latest version.
Configuration and Schedule Files are now permanently deleted from S3 when a device is deleted.
An account deletion feature was added.
Shipping addresses can be removed from our system.
We added extra SAML configurations so that it works with some special configurations.
We fixed an issue with the WiFi name for Realtek WiFi dongles.
Partners now have the option of marking devices as inactive. Register them as usual, and they won't be used until you've set their status to active.
Partners can optionally create new accounts through the backend dashboard, and no initial password is required.
Whitelabel Partners can now set up their own link for the Terms of Service.