Huddle around fellow Yodeckers! Because we've jam-packed this software update with new features that deliver a real digital signage punch.
Want cool new media assets? You got 'em. Hoping to take your digital signage to the next level? Fear not, Yodeck's to the rescue. From awesome new audio files to customizable screen ratios, we help you make your business the best it can be.
Audio files as media content and background audio in Shows
There's just something about the perfect track that takes content to a whole new level. Which is why we're proud to bring you the power of audio files. Yodeck supports MP3, MP4, WAV files and more to give you all the creativity and flexibility you need when it comes to designing a killer Playlist or Show.
And the best part is we made sure audio files are super easy to use. Just treat your audio files like you do all your other media like images, videos and web pages. Drop audio tracks in traditional Playlists or Shows to spice up your visual content. Or create a rockin' audio-only Playlist. The musical world is your oyster. And fear not, we haven't forgotten how much you guys love using YouTube videos. Find the perfect YouTube video and this feature picks up just the audio track. Quick and easy.
But that's not all. We're bringing you background audio in Shows. Pick an audio playlist or file, plug it into the background audio field when you create your Show, and it'll mute all other visual content. What's even better is you can use this feature for in-store, in-office, or reception area background music. And just like that your digital signage system now pulls double duty.
Get the nitty-gritty details in our new how-to video!
Customizable layout resolutions and ratios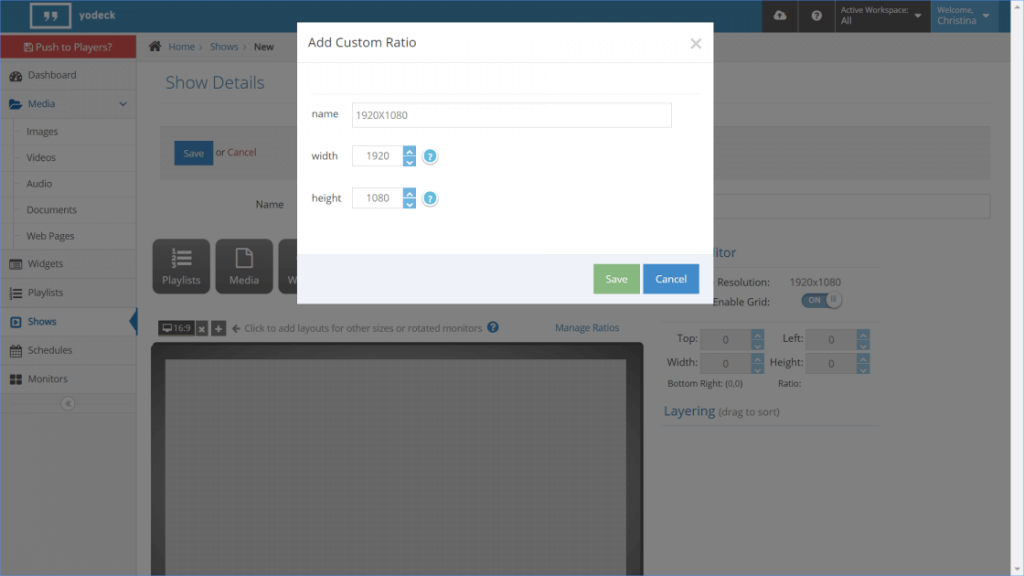 Your wish is Yodeck's command. And we deliver. We know all of you guys with non-standard-sized screens and LED digital signage matrix displays need a lot more flexibility. You've got it now. Set up custom resolutions and ratios so you can edit layouts to your heart's content. And to the highest standards.
Greater security in the Enterprise plan
What's important to you is important to us. So we've beefed up security options for Enterprise subscribers. Account admins, all you've got to do is restrict Users to log in only from specific IP addresses or subnets. Security mission accomplished.
Check out our Changelog, chock-full of improvements.
Release Notes
Yodeck now supports Audio assets! Upload audio files, use the audio track from YouTube or use audio streams as easily as all your other media files to give your Playlists and Shows that something extra.
You can now use Yodeck for background music combined with visual content! You can set the "Background Audio" for a Show, muting all other visual content.
We've given you extra flexibility so you can now setup custom resolutions and ratios for editing layouts, useful for non-standard sized screens and LED matrix displays.
Enterprise subscribers have a great new feature. We've given you an extra security option, and now account administrators can now restrict their Users to login only from specific IP addresses or subnets.
There is a new configuration option in Monitors to select the sound output port (auto-detect, HDMI, or analog jack), useful if using background audio and signage at the same time.
We now support sound output on Chromium (we enabled ALSA).
We improved support for USB 4G modems (to be released in the next SD card image file).
You can now specify the default duration of Media when mass uploading multiple files.
Action buttons are now disabled if the device is not online (or is Updating).
Upon request, customers may order subscriptions for over 100 units through our self-service system using a credit card.
We now show a pop-up when trying to use a feature from a higher plan.
If there is an error with SAML, we prompt users to contact our support team.
Yodeck now shows a specific informative message if the user provided through SAML does not exist in the Yodeck Account.
We increased the maximum HTTP request size, so that some big requests that were failing now work.
Fixed a bug with download time-slots handling that could cause failures in certain cases.
We improved the way we manage connections to the GPU of the Raspberry Pi, so as to prevent some raer lock-ups.
We improved discovery of changed sub-playlists and tag-based playlists, speeding up the process of Pushing to Players.
Fixed a couple of issues where audit log entries were not recorded properly.
We fixed an issue with mass editing of Media that caused active encodings to break.
When using Proxy credentials and Chromium, it failed to authenticate. We fixed that.
We fixed an issue with some cases causing the Media listing within Shows and Schedules not to refresh when deleting or adding Media.
Also, we changed some logo URLs for Whitelabel Partners so that they do not use Yodeck hostnames.
We added support for a distributor structure for Partners managing multiple sub-Partners.
Media attributes (e.g. Media Tags) are now copied along with media from the template user of each site.