As summer winds down and the fall season approaches, the anticipation for Labor Day begins to grow. It's a time of rest, relaxation, celebration, and appreciation for our hard work. For businesses, Labor Day offers a unique chance to connect with customers and create more engagement. Whether it's just celebrating messages on screens or your business's closing hours, digital signage is the most effective way to do that. Yodeck has taken it a step further by designing special templates just for Labor Day, saving you the trouble of creating them from scratch.
Get Everyone Excited
Labor Day is more than just a day off; it's a reason to celebrate, and it gives you the perfect opportunity to infuse your digital signs with the holiday spirit. You can use ready-to-use templates with Labor Day greetings to add a more festive touch to your business. Whether you run a coffee shop, a restaurant, or a store, the trick is the same: showing off these ready-to-go templates creates a stronger bond with your audience and shows that your business is part of the celebrations.
Keep Everyone in the Know
However, digital signage isn't just about celebrations; it's also a powerful tool for conveying important information. You can use your digital signs to let your customers know about any changes in your operating hours for Labor Day. Whether you're closing for the day or opening for limited hours, giving your customers a heads-up builds trust and ensures they can plan their visits accordingly.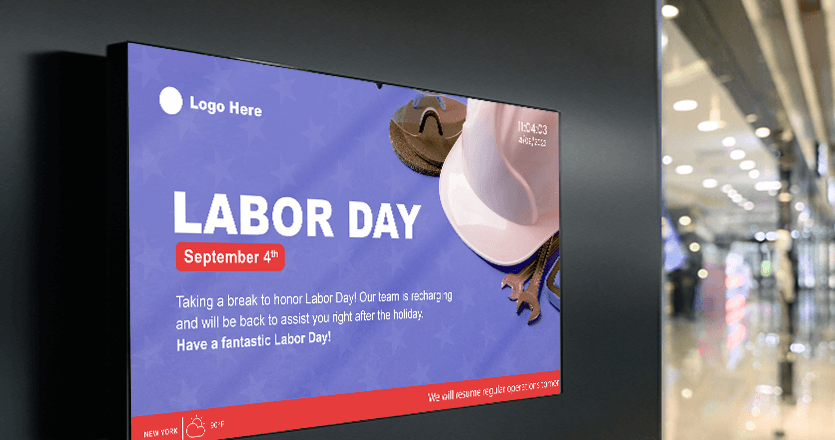 Yodeck Templates
When it comes to Labor Day templates, Yodeck has you covered. Our templates are carefully designed to suit the occasion perfectly. They're free and designed to be user-friendly, so you don't need to be a design expert to use them. With Yodeck's templates, your digital signage screens can effortlessly showcase Labor Day content that captures attention and engages viewers.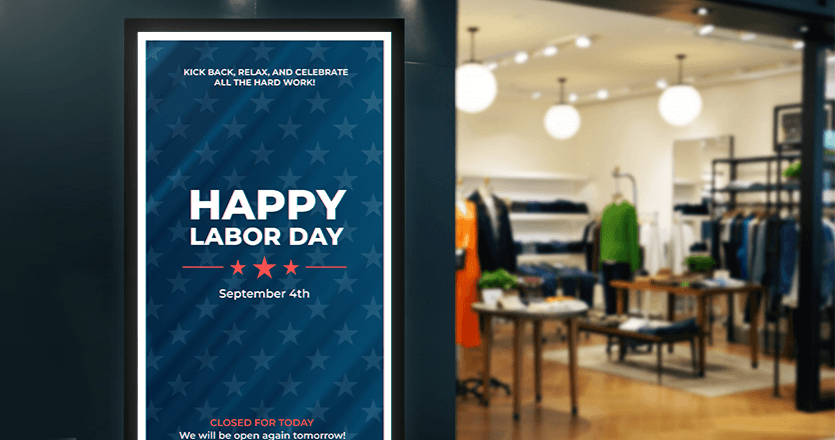 A Celebration to Remember
Labor Day is a special day that deserves special attention. By using Yodeck's templates, you can celebrate this day along with your customers in a meaningful way. These templates help you forge a deeper connection between your business and your audience, creating a memorable experience that goes beyond the ordinary.
"Today is your opportunity to build the tomorrow you want." — Ken Poirot
Labor Day and digital signage make a powerful combination for businesses seeking to connect and communicate with their customers. Yodeck's tailor-made templates simplify the process, allowing your brand to shine during the festivities. As fall sets in, let your digital signage bring life to your Labor Day celebrations and strengthen the relationship you have with your valued customers.