Engage viewers with the Date and Time app
Keep well-informed and on-schedule viewers while maintaining a visually appealing and clutter-free display with the Date and Time app that seamlessly integrates into digital signage systems.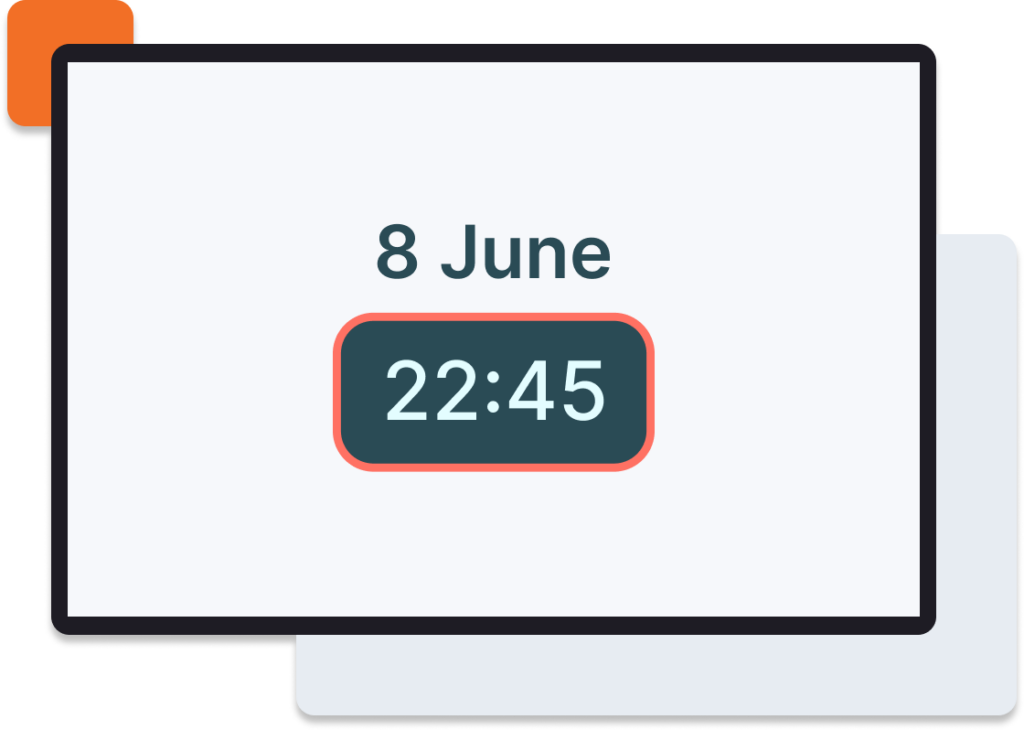 HOW TO USE THE DATE AND TIME APP ON YODECK
Keep everyone on time effortlessly!


BENEFITS
How can using the Date and Time app help you?
Precision and clarity
Showcase up-to-the-second date and time information with impeccable accuracy, whether it's for scheduling meetings, events, or simply keeping track of time. The Date and Time app will ensure your audience is always informed and synced.
Professional environment
By displaying sleek and customizable date and time you will elevate the visual appeal of your digital signage. Choose from a wide variety of layouts and designs that align with your brand, enhancing the overall aesthetics of your content.
Enhanced organization
By providing your viewers with the Date and Time app, you will streamline their experience. From corporate offices to retail environments, having this information readily available contributes to better organization and overall efficiency.
Global compatibility
The Date and Time app will allow you to easily cater to a global audience. By displaying information in different time zones, you will accommodate international clients, travelers, and remote team members effectively.
Yodeck badges and awards

BLOG
Read Our latest news
Discover how digital signage solutions can empower your SMBs by engaging customers, boosting sales, and enhancing brand awareness!
In the world of digital signage where seamless performance is paramount, Raspberry Pi 400 stands out as a versatile and…
A Raspberry Pi screen is one of the first things you'll need, regardless of what you're using your raspberry pi…