Enrich your digital signage content with the Current Weather app
Engage your audience in the up-to-date weather with the Current Weather app for digital signage. Keep them informed and captivated by displaying real-time weather updates that add depth and relevance to your content.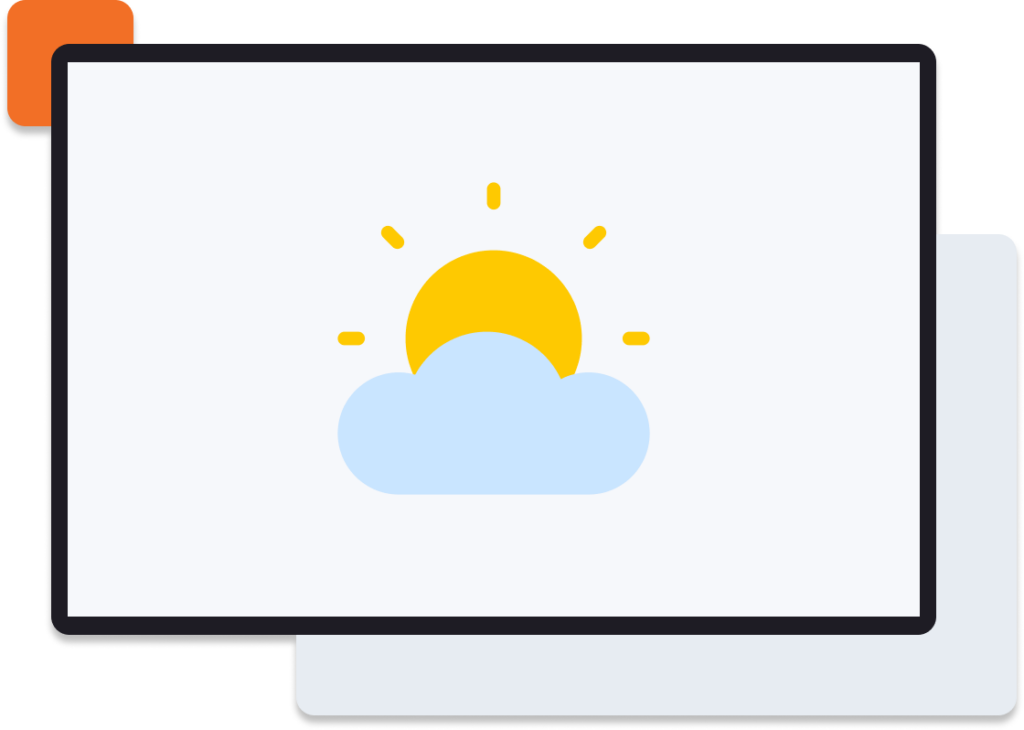 HOW TO USE THE CURRENT WEATHER APP ON YODECK
Display weather updates in just a few steps!


BENEFITS
How can using the Current Weather app help you?
Real-time weather insights
Elevate your digital signage content by displaying up-to-the-minute weather updates. The Current Weather app will provide accurate and localized information that will keep your audience informed about current conditions, helping them plan their day effectively.
Visual impact
Incorporating dynamic weather visuals will enhance the visual appeal of your digital signage displays. Whether it's sunny, rainy, or snowy, the app will offer captivating weather animations that will bring life to your digital screens and capture viewers' attention.
Contextual relevance
The Current Weather app will add an extra layer of relevance to your messaging. Whether you're promoting products, events, or safety tips, the app will enable you to tailor the content based on the weather conditions, fostering a deeper connection with your audience.
Travel-friendly
The Current Weather app is perfect for travelers and visitors as it will provide them with all essential weather information. An important tool that is extremely useful for the hospitality, tourism, and transportation industries, ensuring your audience is prepared for their journey or stay.
Yodeck badges and awards

BLOG
Read Our latest news
Discover how digital signage solutions can empower your SMBs by engaging customers, boosting sales, and enhancing brand awareness!
In the world of digital signage where seamless performance is paramount, Raspberry Pi 400 stands out as a versatile and…
A Raspberry Pi screen is one of the first things you'll need, regardless of what you're using your raspberry pi…