NOVISIGN ALTERNATIVE: YODECK
More storage & pre-configured Player!
Get a top-notch digital signage solution that's budget-friendly with Yodeck, the professional Novisign alternative. Benefits like annual plans that include free hardware, unlimited storage, and multiple user privileges makes Yodeck a frontrunner when it comes to cloud-based digital signage solutions. With a full range of intuitive content features you can immediately make impactful visual displays.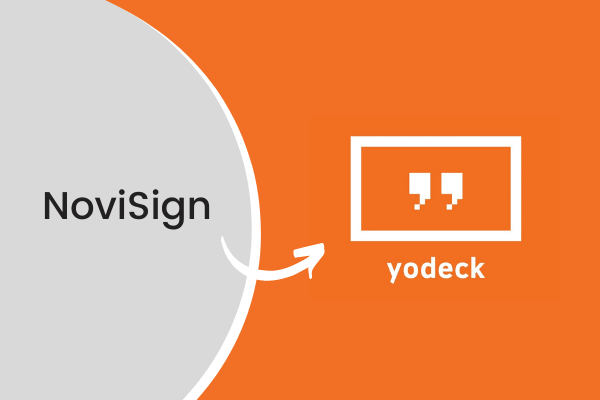 Global organizations trust us because Yodeck is affordable, professional and easy-to-use.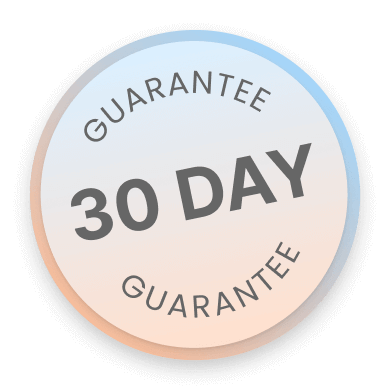 30 Days Money Back Guarantee!
Join us today to enjoy the value Yodeck Digital Signage Solution brings
to your business. With the 30 Days Money Back Guarantee, you can
enter the digital signage world risk-free!
Features
Yodeck
Novisign
Free Plan (1 screen only)
100% of features free and unlimited
(ad-free)
30 Days Trial, Basic features only
(Then NoviSign will display ads between your slides)
Pricing per screen
(monthly pricing)
Standard: $7.99
Pro: $9.99
Enterprise: $12.99
Business: $20
Business Plus: $29
Premium: $49
Enterprise: (undisclosed)
Hardware Player units
100% Free Players on annual plans
($79-$99 per Player when paying monthly)
Find & build your own Players
(est. $150-$300 per player)
Number of paying customers
6300+
5000
Control screens from the cloud
Total Storage
Unlimited
Max 500MB to 10GB
(depends on plan)
Max File Size
5GB
Max 100MB to 1GB
(depends on plan)
File Conversions
Unlimited
10 files to unlimited
(depends on plan)
Users
Unlimited
1 user to unlimited
(depends on plan)
Videos, Images, Web, Documents
Playlists
Dropbox & OneDrive Playlists
Schedule screen content
Custom multi-zone Layouts
Rebranding option
Only Secure Connections (HTTPS)
Instant Push to Players
Player Storage Encryption
Depends on OS
REST API
Premium & Enterprise
Free Stock Images & Video Library
Authenticate with SSO
Enterprise
Business Plus
Disclaimer: Yodeck and its products and services are not authorized by, endorsed by, sponsored by or in any way connected to Novisign, Inc. All references to Novisign are for purposes of comparative advertising only and the Novisign trademarks remain the exclusive property of Novisign, Inc.
Top 3 reasons why Yodeck is the #1 Novisign alternative
1. Save up to $432 per year, per screen!
We prioritize providing professional digital signage that's cost-effective and accessible to organizations and businesses of all sizes. No matter what industry you're in, we offer top-quality content creation, screen management, and security features at a fraction of the cost.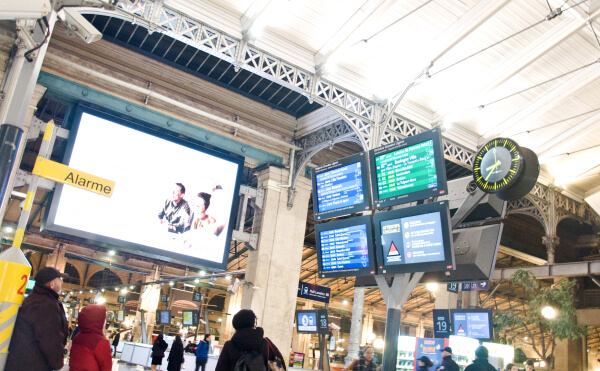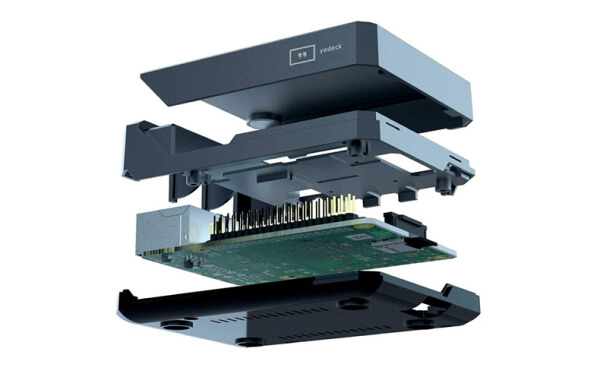 2. Free hardware on annual plans
With an annual subscription, you get the Raspberry Pi Player, pre-configured with your Wi-Fi credential, for free! Our complete Players include extra memory, an HDMI cable, a case with heat sink and a power adapter. Most importantly, the setup is simple with Yodeck as a Novisign alternative. With our plug-and-play digital signage solution, you can start creating and scheduling your content right away for maximum impact.
3. Unlimited storage
Additionally, with Yodeck as your Novisign alternative, you get optimized functionality with unlimited storage, unlimited file conversions, unlimited file sizes, and role permissions allowing for multiple team members. Also, it's simple to create dynamic tag-based playlists in order to streamline content management. Additionally, the Workspaces feature allows you to define multiple sets of content & screens, then assign user access rights for these sets.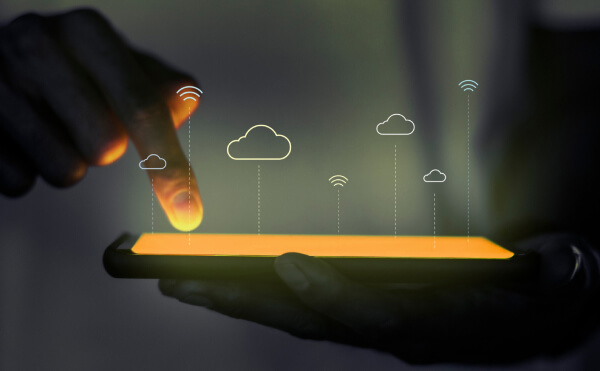 Choose Yodeck for your Novisign alternative
Affordable Plans & Hardware
Display great content, for less money! Our extremely affordable pricing meets the needs of all businesses and organizations, no what matter their size. Save up to $432 annually per screen with Yodeck as your Novisign alternative. Also, you can check out our features before you subscribe, using our free plan for one-screen accounts.
Plug-and-Play
Getting started with digital signage has never been easier, with no technical expertise required! Our easy plug-and-play installation offers a hassle-free deployment experience. Set up your digital signage solution quickly and easily integrate it into your business. With Yodeck, you can show content and engage viewers in minutes. Also, our Player works great with any TV you already own, including smart 4K sets or professional screens.
Create Compelling Content
Easily create content yourself with tools that help you to easily create and display polished, professional, and engaging content. Get designing faster with free ready-made templates to make your content more attractive to your audience. No matter what industry you're in, you'll find the template that is perfect for your business. Plus, we have hundreds of completely customizable templates you can tailor with your own branding.
Remote Content Management
Remotely upload and manage all types of content straight from your PC or smartphone! Save time and curate your content with advanced scheduling. You can make changes instantaneously, even offline, and remotely turn off screens. With a Pro/Enterprise plan Playback Reports provide complete records of all playback that can be produced daily, weekly, or monthly. Also, you can create custom roles and delegate access based on your specific needs.
Remote Support
Our remote-access tech support puts the help you need within easy reach, whether you need step-by-step guidance, expert troubleshooting, or information about custom features. Also, all our software upgrades happen automatically over the internet, so you get new features, hassle-free. Want to see what Yodeck is like to make sure it fits your business? Just book a demo now!
Extreme Security
With Yodeck as your Novisign alternative, your digital signage deployment and content are safe and secure. Integrating our digital signage solution with enterprise-grade security features offers functionalities such as SSL, firewall, and password policies. Ensure the security of online accounts with 2-Factor authentication and rely on our Player encryption and lockdown capabilities. Also, our emergency alert feature provides digital signage with templates for a variety of emergencies that you can customize in a few clicks.
Our clients love us because we provide an affordable and professional digital signage experience.