PISIGNAGE ALTERNATIVE: YODECK
Easy digital signage,
done right!
Turn your signage TVs into an effective sales tool with Yodeck, the easy, all-in-one PiSignage alternative. We maximize the power of the Raspberry Pi, so you can have a full suite of features with the exact same hardware. Intuitive content creation and screen management tools also mean you engage your viewers, make an impact, and grow your business, in just a few clicks.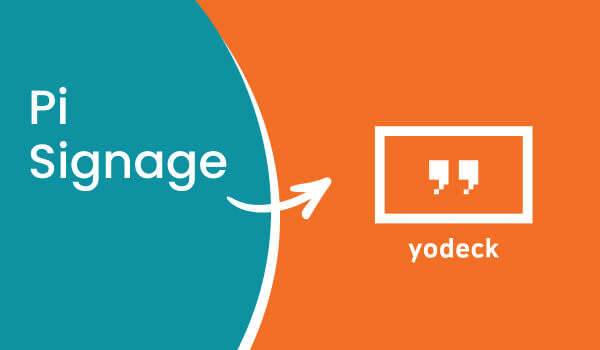 Market leaders trust Yodeck for easy and affordable digital signage.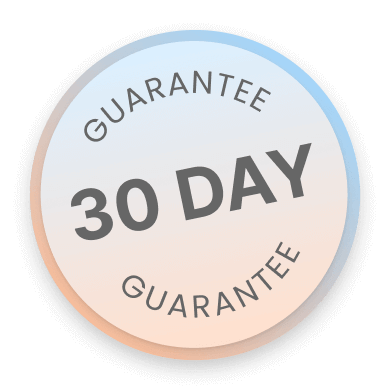 30 Days Money Back Guarantee!
Join us today to enjoy the value Yodeck Digital Signage Solution brings
to your business. With the 30 Days Money Back Guarantee, you can
enter the digital signage world risk-free!
| Features | Yodeck | PiSignage |
| --- | --- | --- |
| FREE Players with Annual Plans | | |
| Unlimited Storage | | 5GB per licensed player |
| Advanced Scheduling | | |
| Works Offline | | |
| 4K Resolution Support | | |
| Support all file formats | | No CSV format |
| Free stock Images | | |
| Tag-based Playlists | | |
| Playback Reports (Proof of Play) | | |
| Multi-User | | |
| Custom User Roles | | |
| Free Apps | | |
| Custom App | | |
| Free Templates (Layouts) | | |
| Drag-and-drop layout editing | | |
| Player Secure Lockdown | | |
| Price / screen per month | $7.99 | No available plan |
| Price / screen annually | $95.88 | $25 one-time + $20/year |
Disclaimer: Yodeck and its products and services are not authorized by, endorsed by, sponsored by or in any way connected to PiSignage, Inc. All references to PiSignage are for purposes of comparative advertising only and the PiSignage trademarks remain the exclusive property of PiSignage, Inc.
Top 3 reasons why Yodeck is the #1 PiSignage alternative
1. Complete & easy content creation features
Digital signage content must be polished, professional and designed to engage viewers, if you want to get your message across. With Yodeck as your piSignage alternative, you get a full suite of content creation features, so you can communicate effectively. Choose from thousands of free stock videos and images in our Galleries, from top services such as Unsplash and Pexels. Also, grab people's attention with our free, professionally-designed and totally customizable screen layout templates. Easy to edit and industry-specific, our free templates also let you add your own branding and media, in seconds. You can display free news tickers, weather updates and more useful info, too.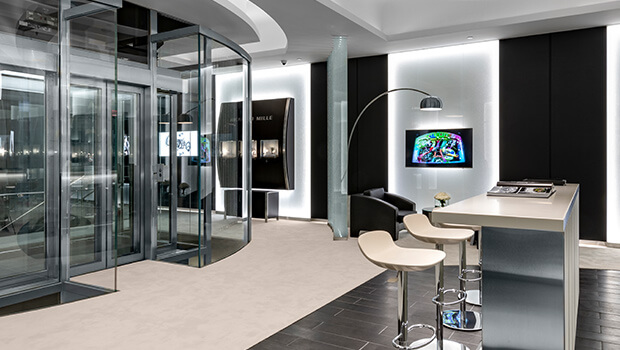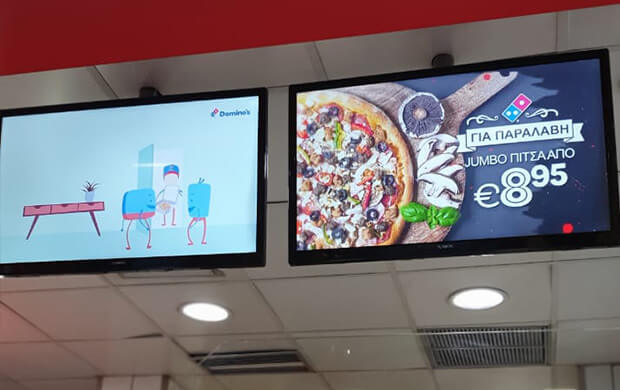 2. Easy to add screens & users
As your business grows, so will the number of digital signage screens and users you will need. Our platform makes it a breeze to add users with different roles and permissions, so you streamline management and control. With Yodeck as your piSignage alternative, you can use Workspaces, so each business branch or location has customized user access. Most importantly, with Yodeck you always have total control of your screens, content, media and branding.
3. Top security at an affordable price
Security makes or breaks a business, whether you run a diner with a few screens or a large corporation with branches throughout the country. That's why, as your savvy piSignage alternative, Yodeck offers enterprise-grade security protocols, such as password and firewall policies. At an unbelievably low price, your business also has the assurance of SSL, and Player lockdown and storage encryption features. We also provide you with two-factor authentication and SAML support. So that you get top security across locations and branches.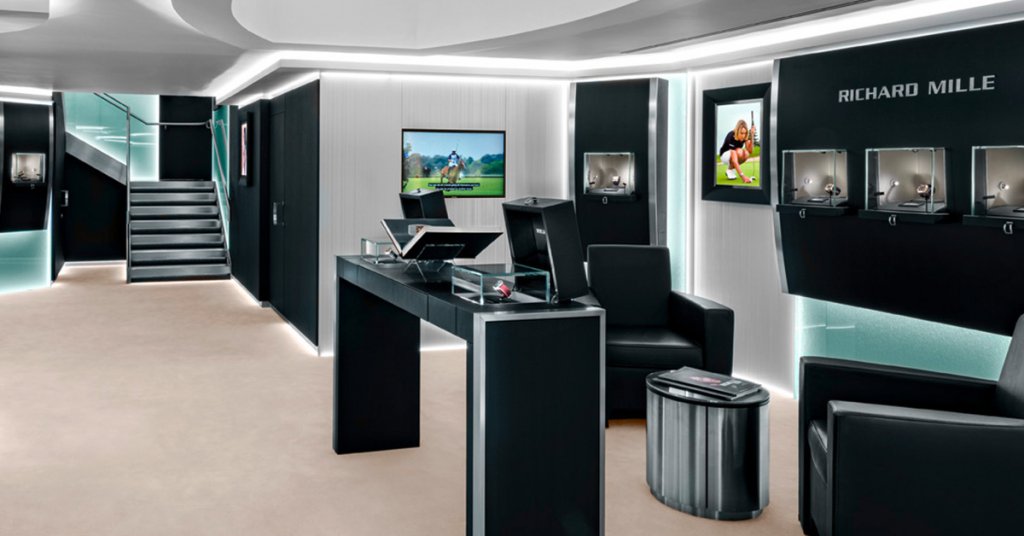 Choose Yodeck for your piSignage alternative
Full Suite of Easy-to-Use Features
Get free stock images and videos to create great content that wows customers, in seconds. Additionally, just drag & drop your media files in our platform from your PC. Also, search for the perfect screen layout for your business, from our free, completely customizable, industry-specific templates. Additionally, you can easily edit them or include your branding, from inside our Screen Layout Editor. Also, integrate free apps your viewers will appreciate, like weather forecasts, news tickers and more.
Remotely Upload, Edit & Display Content
Upload your saved images, audio files, videos and docs while you're on the go, using our online, cloud-based platform. Also, know you get perfect playback as we support all file formats. Additionally, you can edit and display content on all your signage screens, without physically going to each screen. It's all done through our easy to use, online platform. Also, create schedules and assign them to your screens, right from your PC, and see your content displayed on your TVs in seconds!
Extreme Security
Your business deserves a digital signage solution that offers top security. Our enterprise-grade security features are easy to use and also completely reliable and robust. Use SSL, firewall and password policies, as well as Player encryption and lockdown. With Yodeck as a piSignage alternative, you know your digital signage hardware and all your data and media content are both safe and secure.
Affordable Price & Free Players
Our extremely affordable pricing meets the needs of all businesses. Got many screens you want to run? We offer special pricing for large orders, so you know you get the best price possible. Also, you can check out Yodeck before you subscribe, using our free plan for one-screen accounts. Choose our affordable annual plan, and get free Players, too.
Plug-and-Play
Set up your digital signage solution quickly and easily, so you can show content in minutes. Also, anyone can install digital signage using our plug & play solution and there's no tech expertise required. Also, opt for our annual plan to get pre-configured, complete Players for free!
Remote Support
Our remote-access tech support team is there to help, whether you need step-by-step assistance, expert troubleshooting or information about features. Additionally, book a demo now to see if Yodeck offers what you need for your business. Our Customer Success managers will also answer your questions!
Our clients love us because we provide a professional, affordable and intuitive digital signage experience.