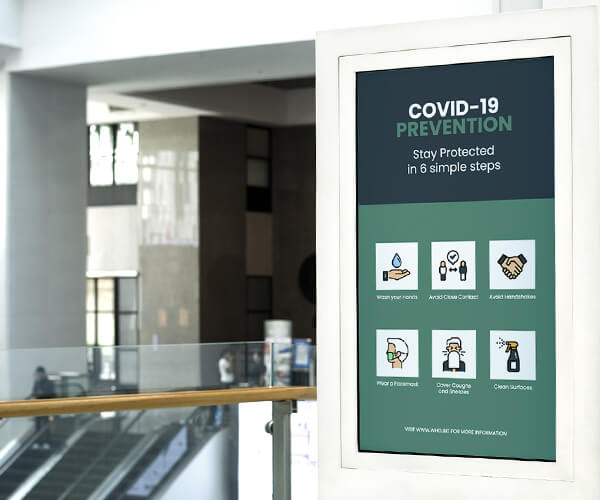 COVID-19 Free Signage Offer
With our COVID-19 free signage offer, our goal is to help you keep your clients and employees safe and healthy during this dangerous pandemic. It's part of our corporate philosophy to always do the best we can to help in trying times. We aim to be the kind of company that gives back. To this end, we provide this COVID-19 free signage offer to support pandemic-related digital signage deployments.

All new Yodeck accounts and new screens that exclusively communicate COVID-19 safety messages will be free. This COVID-19 free signage offer begins now and lasts until the end of 2020. Additionally, Players will be provided at cost-price and can be refunded upon return. All you have to do is fill out the form below. We will then contact you to help you deploy your free digital signage for Coronavirus.
Think Global, Act Local
We hope Digital Signage Partners across the globe will also take advantage of our COVID-19 free signage offer. We urge them to reach out to their local healthcare facilities and government agencies and propose deploying more screens in critical locations. They could prove useful when placed in locations such as hospital entrances, ports, public transportation and essential services. Please reach out to us using the form below if you are interested in being a part of this effort.
We also created free COVID-19 safety templates, in an effort to lighten the administrative burden. We hope they can be a quick and easy way for any organization to display COVID-19 screen warnings. These templates focus on health and safety tips, as well as guidelines for employees, patients and customers. We used information issued by the WHO and the CDC to guarantee accuracy. With graphics illustrating each safety measure, our free templates means health tips get communicated quickly and clearly. Most importantly, staff doesn't have to waste time creating content during their heavy workloads.
Communicating Coronavirus safety information is the most important tool we all have in fighting this pandemic. Yodeck's COVID-19 free signage offer could be one way to help keep patients, employees and customers safe.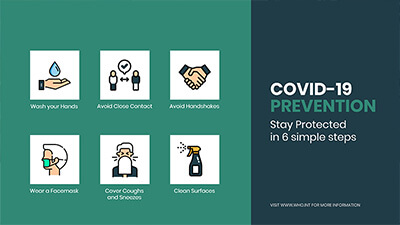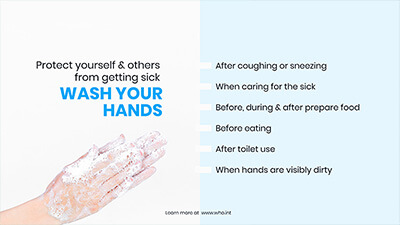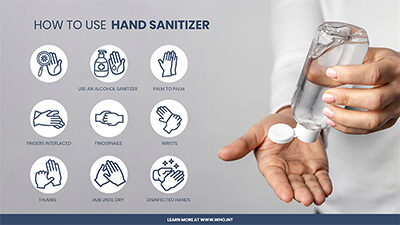 Book a Yodeck Demo
Get a walkthrough of Yodeck's digital signage solution from one of our Customer Success managers. See our user-friendly features in action!
Our clients love us
Because we provide free digital signage software that's intuitive and simple to use!