Key Use Cases
Advertise special offers
Promote time-sensitive special offers or seasonal events to increase engagement and boost sales. Create a mesmerizing playlist with images, videos and more media files, and display it on screens in high-traffic areas.
Inform & protect guests
Show wayfinding information and alert guests in case of emergency. Use our CAP integration or create emergency alerts using just our platform. Your digital signage screens can also be a crucial part of your emergency strategy.
Welcome guests
Engage, inform and entertain guests at reception with attractive playlists that highlight hotel services & facilities. Make their stay memorable from the very first second with impressive, media-rich digital signage content.
More great features for hotel digital signage
Show Your Media on Screen in Seconds
Harness the power of videos & images and make your message memorable. You can also display documents, web pages, YouTube & livestream videos. Browse our free stock image and video galleries.
Easy Scheduling & Screen Management
Set different content schedules to target the right viewers, at the right time. Manage thousands of screens and upload, edit & display content remotely from your PC, using our online platform.
Free Widgets & Layouts for Catchy Content
Display interesting & useful content that viewers will instantly love and appreciate, such as weather updates and news tickers. And add them to our free and fully customizable screen layout templates.
Extreme Security & Reliability
Enterprise-grade security includes SSL, firewall and password policies, Player lock-down & storage encryption features. Align your digital signage with your corporate security protocols.
Free Hotel Templates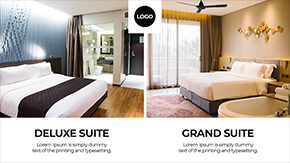 Showcase your hotel rooms
Advertise special offers and exclusive pricing at reception. Promote additional amenities, services and room upgrades.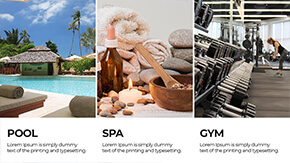 Upsell your hotel's facilities
Promote on-site spas, restaurants, events and activities, on in-room signage screens. Just use free digital signage templates for hotels.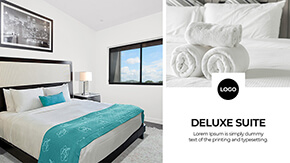 Promote luxury suites and villas
Entice guests at reception. Showcase luxury services like private chefs and personal trainers
TESTIMONIALS
What our clients say
Global leaders choose Yodeck