Summer's approaching and we want it to begin with a digital signage bang! With our new software release, you get all the goods. Want to add new media files? Simply drag & drop media right into the Yodeck portal. Also, our new RSS widget handles images, emoticons and more. So you can keep your ticker content nice and cool. And finally security is just as important to us here at Yodeck as it is to you. So our new strategy is all about freezing out any threats.
Adding files is a breeze – just drag & drop media
Give your wrist a rest and bypass all the media upload steps with Yodeck's new media drag & drop feature. Just pick a file from your computer, drag it into the list of media files in the Yodeck app and drop it in there. And you automatically get the screen for you to type in a name or select any advanced features.
Get colorful with our image-friendly RSS widget
Words and images have waged war ever since someone coined the phrase "a picture's worth a thousand words". Now you can have both, at least when it comes to your digital signage content. Yodeck's new RSS news widgets means you get all the awesome text in your ticker, along with any impressive graphics. So go forth and use any RSS feed you want from news sites like CNN, Google and ESPN– pics and emoticons included.
Screen bloopers begone with Yodeck's Player resolution menu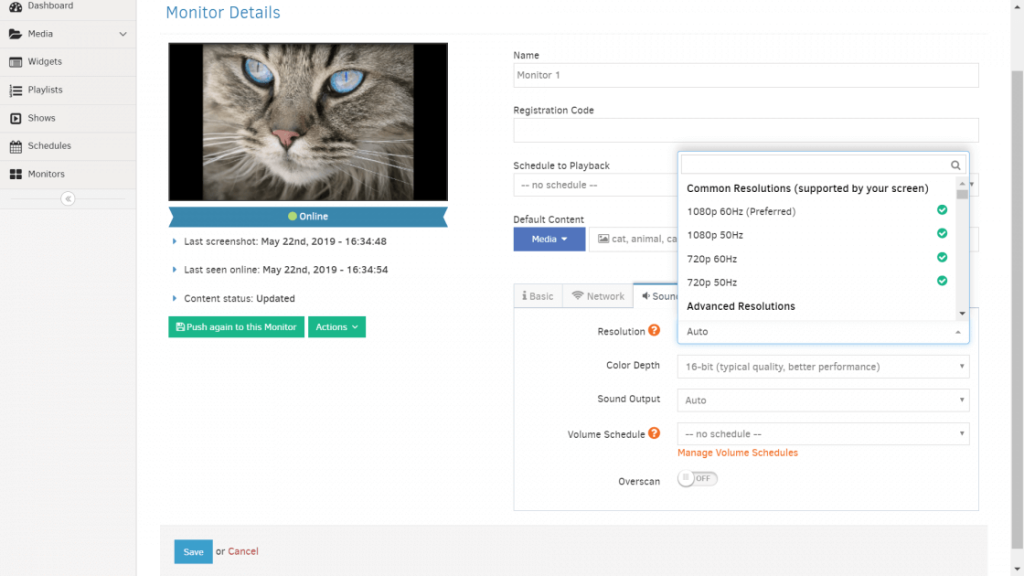 Sometimes TV screens take too long to boot after power cuts or during setup. And that means our Yodeck players revert to VGA because they don't correctly detect the resolution of your screens. Trust us, that's never pretty. So we made the whole process of selecting the correct resolution completely user friendly. How? With a handy dandy drop-down menu. Because who wants to fiddle around with advanced features.
Yodeck's new security plan
Security is a top priority here at Yodeck. Because we want our customers, our product and our company to be iron-clad. We hammered out a new security strategy, and you can learn more about it in our blog post.
Release Notes
New features
You can now add new media files from your computer with our new and simple drag & drop media feature! The file is then added to your media list, so you don't need to use the media upload prompt. It works for all media, and then you can go ahead and define all the usual parameters, like giving it a name, assigning tags and adding a description.
Also, Yodeck's launching a new RSS news widget which also handles images, emojis and more. Simply copy and paste the link from any news site, and all the graphics will appear on your screens when you use our new widget.
Additionally, with this release, we made it much easier to change the resolution of the Players. Sometimes during setup or after a power outage, screens took too long to boot and the Players couldn't detect the correct resolution so they defaulted to VGA. Instead of having to select the correct resolution through the advanced features in the Portal, we created a drop down menu. So now the process is extremely user friendly!
We've got a new strategy to beef up our security, because it's just as important to us as it is for our clients. Check out our blog post outlining our new security strategy.
Improvements
We made the show editor even more user friendly. You'll find icons in the layering of shows that represent each type of media.
Similarly, we're giving you more useful info in the monitors status tab. You'll see the Player's Public IP address, for easy reference.
Additionally, we improved the monitor details descriptions to make them more user friendly. Specifically, the Portal now says "No screenshot found" instead of "No image found" and "Initialized" instead of "Offline" for unregistered monitors.
Bugs fixed
Firstly, we fixed a bug where any changes made to the fitting option in a region of the show didn't get applied to the editor. Now all edits appear in the show editor.
Also, there was an issue with the WebM video format. It wasn't properly encoded by our encoding engine. It now works perfectly!
We fixed a bug where the Subscription Wizard froze in the Internet Explorer browser.
There was a problem with the Portal reloading or not taking any changes you made when you uploaded an image and assigned it a new name. We fixed it so your changes appear.
Additionally, we fixed another bug where the user didn't receive an email for password and email changes and the notifications went to the account owner instead. Users now get all password and email change notifications.
Lastly, sometimes users got an email notifying them of a login from a different location even though they signed in from the same location. We fixed it so users don't receive these incorrect emails.