PosterMyWall integration for digital signage
Display PosterMyWall designs on your signage screens quickly and easily. Engage and delight customers, visitors and employees with stunning content templates that appear on screen in just a few clicks. Rely on our PosterMyWall integration for digital signage, and content creation becomes seamless.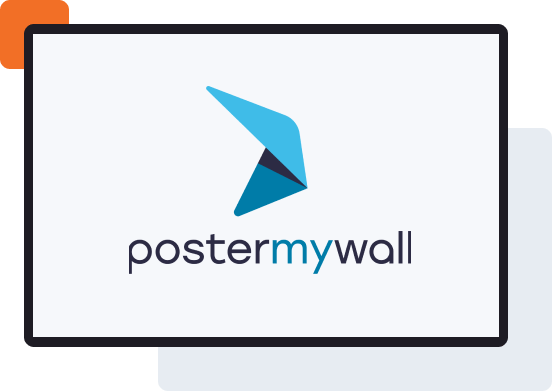 HOW TO SET IT UP
Get the PosterMyWall integration for digital signage on your screens


BENEFITS FOR BUSINESSES
How can our PosterMyWall
integration for digital signage help you?


Easy content creation
Now all your signage screens can look great in seconds. Our PosterMyWall integration for digital signage takes the guesswork out of designing and displaying flyers and posters, as well as menu boards and so much more. So you can focus on managing your shop, restaurant, school, office or hotel, while your digital signage runs itself. Also, just one copy & paste gets your designs on screens, amazing viewers, in seconds.
Save time and money
Get all your designing done in one place, without extra help or freelance expertise and expenses. Also, help your teams save time by easily editing and customizing designs, and then getting them on screen in seconds. In addition, with our app, you can display PosterMyWall files on hundreds of screens around the world, instantly. Remote screen management means great content, across the board, that you control centrally.
Engage your audience
Whether you want to make a sale or get vital information to the right people, great presentation helps get your message across. With our PosterMyWall integration for digital signage, you combine the power of creativity with technology that grabs people's attention. Most importantly, you do all this affordably, easily and without needing any tech expertise.
Effortless updating
You don't have to fuss with our app every time you edit or update your PosterMyWall templates. First, make any changes you need at PosterMyWall and then publish updates to your creations. The Yodeck iframe link you used when setting up our app stays the same. Most importantly, with our app your screens always show the most recent edition of your files.
Yodeck badges and awards

BLOG
Read Our latest news
Discover how digital signage solutions can empower your SMBs by engaging customers, boosting sales, and enhancing brand awareness!
In the world of digital signage where seamless performance is paramount, Raspberry Pi 400 stands out as a versatile and…
A Raspberry Pi screen is one of the first things you'll need, regardless of what you're using your raspberry pi…